Initially launched in August 2019, HarmonyOS started on IoT devices such as smart home equipment and TV. Now Huawei's latest operating system is coming to phones, tablets, and smartwatches for the first time with the launch of its 2nd major version.
On the June 2 HarmonyOS 2 event, Huawei announced a bunch of new products that preload the new operating system. In addition, nearly 100 existing devices, under the brand of Huawei and Honor (which spun off last year from Huawei), are compatible with HarmonyOS 2.
HarmonyOS is a platform designed for various devices in Huawei's roadmap, which is more of a competitor to Google's Fuchsia, the mysterious universal operating system, not Android. The development and implementation accelerated amid the ban from the US government.
Given the political situation between the US and China and its impact on Huawei's access to Android over the last few years, HarmonyOS will be Huawei's key to fight back.
HarmonyOS 2 (as a smartphone OS)
HarmonyOS 2 comes to smartphones and tablets for the first time. The most eye-catching feature of the new system is a common framework for different devices to connect and collaborate, providing a seamless experience inside the HarmonyOS ecosystem. According to Huawei, "distributed technology" is like a common language to fit all types of devices, enhancing the multi-device experience from the user side. Super Devices are the name of the combination of any HarmonyOS devices inside the ecosystem.
Control Panel is the management portal of the Super Devices through a drag-and-integrate gesture. Specifically, all HarmonyOS equipment, including phones and smart TVs, are displayed as icons inside the Control Panel when you have them under the same ID and network. With all the devices showing up in Control Panel, and it's up to you to decide how you can link them up. For example, you can reroute audio from the smartphone to the earphones while sending video to the TV or setting up the instant connection between your smartphone and PC.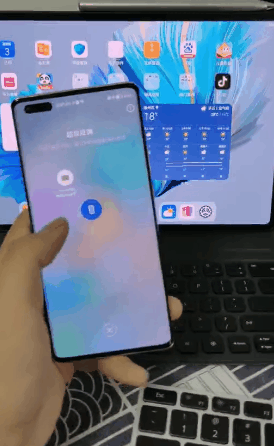 HarmonyOS 2's Task Center allows apps to travel between different devices without installing them. Once the app is installed on one device, it will be available across the whole system whenever needed. To switch to another device, use Task Center on the desired device, and the app will transfer to it.
HarmonyOS 2 also brings a redesigned Home Screen and Service Widget, a HarmonyOS Sans font, and Gravitational Animations.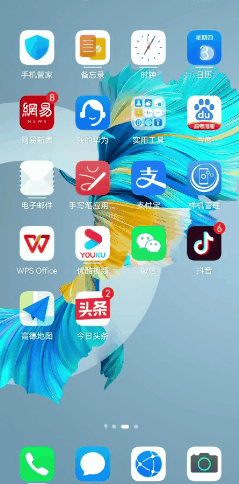 HarmonyOS 2 improves stability and power efficiency at the base. Huawei claims that a HarmonyOS 2 phone can maintain read/write speeds similar to those of a new phone after 36 months of use, even with very little storage still available on the device.
Multitasking on HarmonyOS 2 gets enhanced to run "dozens" of apps simultaneously without killing one app in the background.
What also gets upgraded is the privacy mechanic under the multi-device collaborative scenario. According to Huawei, HarmonyOS manages user data by category and protects devices by level, setting specific security thresholds for Super Devices. Only devices that meet strict security requirements can access data corresponding to their security level.
The technology giant announced that HarmonyOS 2 would hit nearly 100 existing devices in China. The public test program also opens for people who'd like to be the early adapter.
Tablet
At the event, Huawei also revealed a trio of iPad lookalike, a new 12.6-inch MatePad Pro, a smaller 10.8-inch MatePad Pro, and a new MatePad 11. The biggest tablet features a 12.6-inch high color accuracy OLED Display with a 90% screen-to-body ratio. The display also equips what iPad Pro has, like a high contrast ratio and DCI-P3 color gamut. And the tablet comes with the Kirin 9000E chipsets and runs stock HarmonyOS 2, of course.
Surprisingly, two smaller sets use Qualcomm Snapdragon 870 and 865 chips rather than Huawei's processor, resulting from the impacts of a global semiconductor shortage and US sanctions placed on the company.
Empowered by HarmonyOS, the tablet can work with smartphones and PCs using drag and drop inside the ecosystem, as mentioned before.
Like what iPad is to Mac, MatePad Pro can also become a drawing board or a monitor when paired with a compatible PC.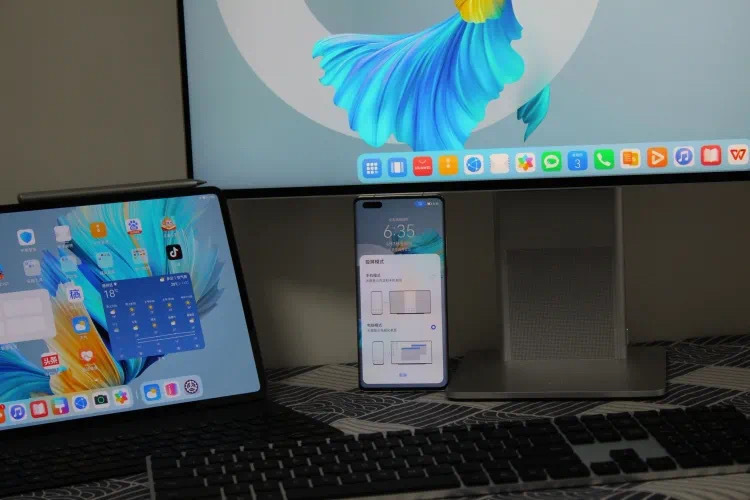 2nd gen M-Pencil is announced along with the tablet. The new smartpen features a new platinum-coated nib for high-precision handwriting and ultra-low latency, accurately differentiating between 4,096 levels of force.
Accessories
The Huawei Watch 3 lineup with HarmonyOS 2 was unveiled at the event, allowing seamless integration with Huawei smartphones to serve as a multifunctional assistant. The watch syncs with the phone and puts essential notifications on your waist when needed, like flight plans and direction.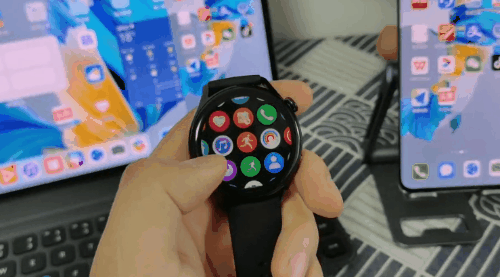 Thanks to the power-saving feature of HarmonyOS 2, the Huawei Watch 3 series features an ultra-long battery life. The pro version could last five days in smart mode and 21 days in ultra-long battery life mode. At the same time, the standard model has a battery life of three days in smart mode and 14 days in ultra-long battery life mode.
Huawei also released the HUAWEI FreeBuds 4, the open-fit Active Noise Cancellation wireless Bluetooth earbuds, two high-end monitors, the HUAWEI MateView, and the HUAWEI MateView GT, which all embed the HarmonyOS ecosystem and can work with other HarmonyOS devices in a new way.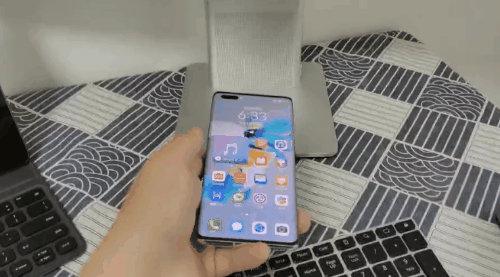 One more... a phone
As usual, there would be a part at the event to announce the company's latest flagship. However, due to the global semiconductor shortage that slowed its production, the P50 series was shown the back camera design as in a teaser video. Huawei executive Richard Yu didn't reveal more details about the flagship phones on specs, prices, or the release date. He only said it would have a "lightweight design" and an "iconic" design language.
Hands-on
PingWest has tried the HarmonyOS ecosystem, including phone, watch, display, and PC. The first few touches were pretty impressive and flawless, especially in the multi-device scenario. We feel that the system as a whole has a unique take. It is as what has been reported before that HarmonyOS isn't an emergency Google replacement. The concept of Super Devices is not to copy Apple's Continuity but to connect hardware and serve the software beyond the reach of a single product. Huawei's ambition is to make HarmonyOS the infrastructure of a de-hardware-centric system when Huawei's consumer hardware still faces a harsh ban, and there's no sign of reversal at any time soon.
So, can HarmonyOS free Huawei from its down spiral smartphone business?
The main problem is, HarmonyOS as a smartphone system is nothing new, which feels like just a polished and refined EMUI. Although Huawei intends to decrown smartphones in the HarmonyOS ecosystem, from our experience, the smartphone still weighs more than any other type of product. Smartphones are still the single most important device that people can reach nowadays.
At this point, HarmonyOS is better only when you have more than one device. It works better than ChromeOS and Android combined. But for the majority who only uses a smartphone, a phone without Google service is not going to sell. Questions like "can Huawei run [a popular app]" will not disappear in the overseas market. To solve the problem, Huawei has to lure more developers to the HarmonyOS platform. And that's more difficult than building a universal system.