Nowadays, people in China cannot navigate their lives without using at least one product by Alibaba, Tencent, ByteDance, Baidu, and other big techs you name it - Buying stuff online(Taobao), going to restaurants(WeChat Pay or Alipay), pulling up the COVID-free green code to enter malls (WeChat or Alipay), talking to friends and family (WeChat), communicating with colleagues (DingTalk of Alibaba, WeCom of Tencent, Lark of ByteDance), streaming your favorite TV show (Youku of Alibaba, Tencent Video) - it is near impossible to circumvent products by the big techs in China.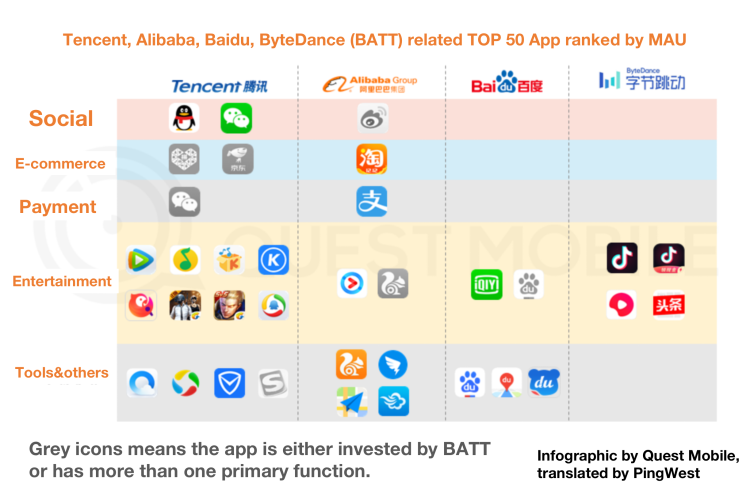 With 1.2 billion and 1.3 billion users each, WeChat and Alipay both trump most countries in terms of population. Both are prominent in the mobile payment sector — they even have their own credit score system. In a sense, they have become digital nations connected by the internet.
It is often frustrating when users cannot seamlessly roam between apps, as links from one platform are often blocked on another, due to digital walled gardens - closed ecosystems in which the operators refuse to share their technology, information, or user data.
Small business owners, especially ones in e-commerce, find the inconvenience detrimental. For instance, Taobao shop owners can't post direct links of their products in WeChat to attract customers and generate traffic, as Taobao links are not allowed in WeChat.
On July 26th, the Ministry of Industry and Information Technology (MIIT) launched a special rectification campaign for the Internet industry, to "guide the formation of an open, interoperable, safe and orderly market environment." Removing link blocking and achieving interconnectivity was listed as one of the primary issues to tackle. Four days later, the MIIT summoned Alibaba, Tencent, Byte Dance, Pinduoduo, Baidu, Sina Weibo, Kuaishou, JD.com, Huawei, DiDi, Meituan, Bilibili, 58 Tongcheng, Zhihu, Xiaohongshu, Netease, and others for a meeting on policy interpretation and deployment.
A brief Timeline of the interconnectivity progress
Interconnectivity took a turn
On the surface, the interconnectivity progress seemed to be smooth sailing until a viral post broke the facade.
Last week, a programmer's rant went viral. The programmer describes himself as a member of Taobao's grocery group-buying app — Taocaicai team, and was disgruntled by WeChat refusing to approve updates of their mini-program for the past seven months, rendering any promotion Taocaicai has planned or any new interface designs useless. Taocaicai shut down its service in Guizhou on November 16th, citing "obstacles created by interconnectivity barriers" as the reason. Tencent has not responded to Taocaicai's shutdown or the viral rant.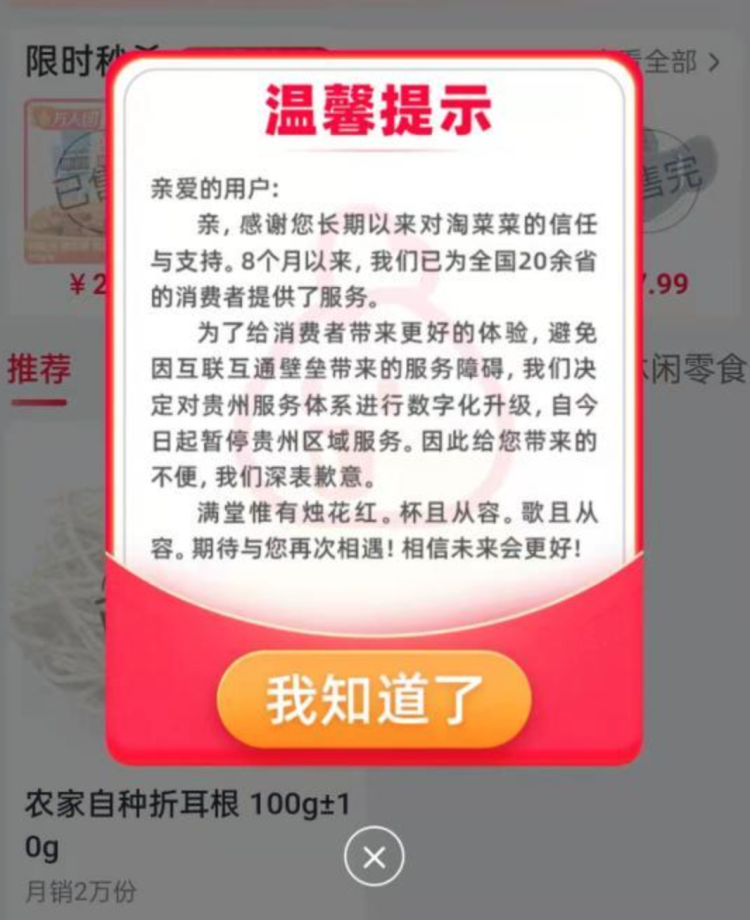 The incident shows how the tsunami of social media can hinder business growth as easily as it can boost business growth, depending on where the traffic flows. In an age which traffic practically dominates business growth, to unblock links means to redistribute the traffic that platforms have seized like Gollum seized the ring, thus wavering competitive advantages. No one is willing to forsake their regal status, offering their endless well of traffic on a platter to their opponents.
On October 28th, Alibaba announced that it had begun testing a new function for its e-commerce app Taobao — letting users share their Taobao shopping carts directly to WeChat with just one click. Alibaba anticipated the feature to be officially made available by October 27th, two weeks before Double 11, China's equivalent of Black Friday.
However, the function never came online. Instead, users shared their shopping carts inside Taobao with their Taobao contacts or the public.
Taote (Taobao Special Deals Edition), a shopping app with a firm grasp of China's second-tier markets, Xianyu, a mobile flea market, and office social software DingTalk all applied to launch mini-apps in WeChat earlier this year. Yet, as months go by, their approvals have not been granted.
According to a report by Procuratorate Daily on an industry seminar, if the major internet companies refuse to interconnect, it will cause a lock-in effect on the market, affecting the development of small and micro-businesses.
The lock-in effect is detrimental to both businesses and consumers. Small businesses would have no choice but to cling onto big platforms, choosing sides, increasing user acquisition costs, and limiting their growth potential. For consumers, their user experience and demands are often neglected. When the market is saturated, and companies have no way of acquiring new market share, consumers' needs are often superseded by the need to hammer opponents
Digging tunnels instead of dismantling the wall
Undoubtedly, users will benefit from interconnectivity, but there will be more data security needs as a result. Taking WeChat as an example, some analysts believe that if the ubiquitous super-app now fully opens link access and mini-programs to competitors, especially Alibaba and ByteDance, which have a large number of users, it will increase Tencent's management pressure on data security.
Therefore, the social media giant decided not to tear down the wall, but to dig a tunnel to achieve interconnectivity through other means.
On November 12th, ByteDance released a statement saying it had received Tencent's request to open an official account on Douyin. Tencent aims to complement Douyin's content with its large number of exclusive copyrights of popular movies and TV shows.
The new partnership would resolve a critical conflict between the two. In April this year, Tencent and other video streaming service providers jointly issued a statement, condemning short video platforms like Douyin for a dispute over derivative works, a type of video that has become popular on many short video platforms, often summarizing TV shows or movies in a few minutes. While the narration counts as original content, footage of shows or movies is protected under exclusive copyrights.
While the move signals exciting change, it is not a manifestation of interconnectivity that users or regulators had hoped for — months after MIIT's campaign, WeChat remains gated to Douyin. When Douyin users want to share a short video with their WeChat contacts, they either download the video or copy and paste a code snippet.
The slow progression of interconnectivity and the "tunnel digging" behavior boils down to one question — Technicalities aside, are big techs entitled to gate-keep their traffic?
According to Bao Xiaoli, a researcher at Beijing Institute of Technology, there are two contradicting views when it comes to data ownership; one believes the platforms owns the data and traffic generated on their platforms, thus it is within their rights to block others from accessing them; another view believes the data belongs to the user as well as the public, thus making other companies/platforms entitled to enter and share.
The key to dismantling digital walled gardens and achieving interconnectivity is to establish a clear, unanimously accepted definition of ownership. Only when ownership is established can the rights and interests of data and traffic be defined, allowing companies to connect while also resolving data privacy concerns.
According to MIIT's director Zhao Zhiguo at a press conference on September 13th, "platform economy will ultimately achieve an irreversible, irresistible interconnectivity through gradual progress with no strict deadlines."
Interconnectivity remains a crucial part of China's ongoing anti-monopoly campaign. On November 15th, China's National Anti-Monopoly Bureau was established, signaling regulators are dedicating more resources to tackle such problems.