Set by major internet companies, like Tencent and Alibaba, the long-standing protective barriers that were designed to block traffic to or from platforms of rival companies will likely be taken down shortly.
China's Ministry of Industry and Information Technology (MIIT), one of the most potent national tech regulators, said that it is launching a special rectification initiative targeting a list of market-disruptive issues that had plagued China's internet sector.
At the top of the list is what the Info-communication Management Bureau (a department of MIIT) calls "malicious blocking of web links and interference with the operation of other companies' products or services," which includes restricting access to web links without a justifiable reason, and various other discriminatory blocking measures. MIIT said that these measures disrupted the orderly business of the internet market.
(As we focus on the most important one first, other issues MIIT mentioned will be discussed later in this post.)
MIIT stated that it held a meeting on July 23 to form a plan and begin ordering companies to conduct internal investigations, making sure they take full responsibility for rectifications.
Tech-savvies who have lived in China during the mobile era would have known what MIIT indicates. But just in case you don't have a clue: for a long time in the past, you wouldn't be able to share a link to a product listing on Taobao to your friends on WeChat or a link to a song on Xiami Music to your WeChat Moments. This is because rival Alibaba owned both Taobao and the now-defunct Xiami.
Similar blocking measures are rampant across the industry, where dominant players exhaust their power to block access to rival platforms within their apps. But primarily, Tencent served as the culprit since its WeChat is the country's de-facto standard communication software. Below we share a list of instances of such blocking measures that we think are notable:
Back in 2013, Alibaba first blocked access to e-commerce website Taobao from WeChat, arguing that the links were "unsafe";
Tencent began actively blocking Alibaba's links in a retaliatory manner. One such instance happened in 2014 when WeChat forbade users from sharing promotion links of Kuaidi Dache, a rideshare service backed by Alibaba (a few years later, Kuaidi merged with Tencent-backed Didi.)
Then in 2015 came the landmark event in the history of big techs blocking each other. WeChat blocked the red packet sharing feature of Alibaba's Alipay during the Chinese New Year holidays, prompting Alipay to launch a special feature that uses text strings to replace links. Since then, Alibaba and other companies had also been using gibberish to circumvent WeChat's blocking. Users had to resort to copying these coded strings and then open up target apps to be taken to the pages that those gibberish represented initially.
Last month, ByteDance published a physical brochure that contained a comprehensive timeline of all the past instances where Tencent blocked its products and services, dating back to March 2018.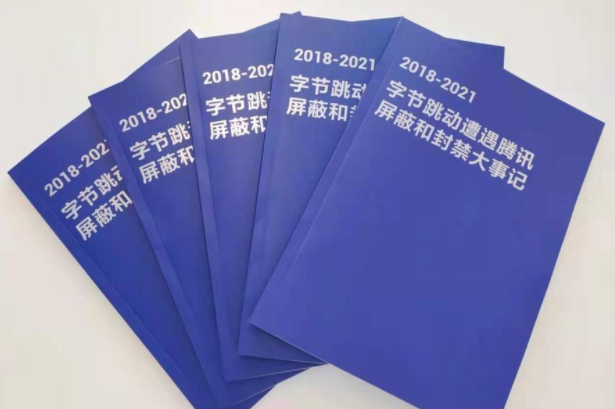 By blocking each other, big techs set up secluded tech ecosystems in which accessing information and services from rival ecosystems leads to a bad user experience. Eventually, they can retain users, traffic, data, and all that's valuable in the internet age. We dubbed this the "Two Internets" of China (of Alibaba and Tencent) in a post by PingWest's Chinese edition back in 2015.
China has significantly ramped up efforts to combat monopolistic behaviors of big techs since earlier this year, with a recent highlight being the State Administration for Market Regulation (SAMR) handing out big penalty orders to internet companies, shutting down past and ongoing mergers and acquisitions. Adhering to President Xi Jinping's directive to improve the healthy development of the platform economy, MIIT's initiative to crack down on big techs' protective barriers is one step beyond conventional market oversight and deeper into the realm of sophisticated technological regulation.
In fact, prior to the MIIT announcement of the new initiative, industry chatters heard by PingWest already suggested that Tencent and Alibaba are facing increased regulatory pressure to set good examples and open up their platforms to each other. Citing insider sources, Chinese outlets also reported that Tencent is finally giving Alibaba the needed access so the latter can launch mini-programs on WeChat's platform, while Alibaba is also making preparations to allow WeChat users to open links to its e-commerce platforms.
At PingWest, we have long been a critic of the "Two Internets" of China. So suffice to say, we are more than excited to see these blocking measures being cracked down. Although the big techs' market dominance is not likely to be significantly diminished, the riddance of the access blockings will most likely ensure better cross-platform compatibility, which generally leads to a better user experience. In the end, the users win.
Besides the aforementioned topic, the MIIT is also cracking down on various other issues, including internet companies using splash screens and fake "close" buttons to manipulate users and sell data to third parties without explicit consent from users. The tackling of these issues follows the theme of protecting the rights and the experience of users.
Image Credits: Alexander Wells via Fortune