While no one watching the events unfold from the outside can be certain about even the rough terms of the TikTok-Oracle-Walmart deal, both ownership and technology transfer-wise, ByteDance, the Chinese parent company of the short video app, just presented a clear indication that it might need to actually export some technology.
The company announced in a Chinese statement that it has applied for a tech export permit to the Beijing Municipal Bureau of Commerce, pursuant to China's recently revised export control rule.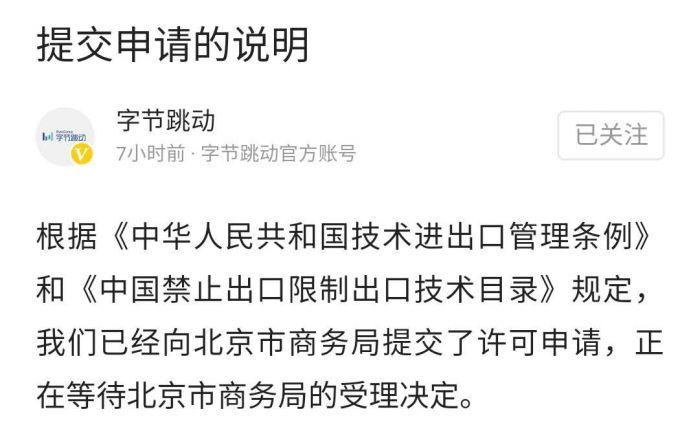 It isn't clear what technology will be transferred and to whom under the export permit application. ByteDance did not immediately respond to PingWest's request for comment.
China revised its export controls and restrictions catalogue on August 28, effectively restricting, though not banning, the export of "data analytics-based personalized information push service technology", which nearly all of ByteDance's popular products including Toutiao, Douyin, and TikTok, heavily rely on.
The most likely scenario of this export permit application is that ByteDance would need to transfer some algorithmic technology to TikTok Global, a new US-based entity that is on track to become a joint venture after Oracle and Walmart come on board through a Pre-IPO financing round.
However, a key confusion lingers on as ByteDance and Oracle's issued sharply conflicting statements on the ownership structure of TikTok Global.
ByteDance, on one hand, asserted that TikTok Global will be at first 100%, and 80% ByteDance-owned after a Pre-IPO round with Oracle, Walmart, and other investors. Its statement says that it will maintain 80% stakes Oracle and Walmart will own only about 20% of the new entity.
Oracle, however, endorsed a comment by US President Donald Trump on September 19 that TikTok in the US will be "totally controlled" by Walmart and Oracle.
It does look like the deal is falling apart. While TikTok and ByteDance withdrew a prior lawsuit against Trump and Commerce Secretary Wilbur Ross on September 20, they filed a new lawsuit against the same defendants two days prior, re-alleging its case, only this time modifying their arguments to be strikingly similar to that of another case filed by USWUA, a non-profit organization representing WeChat users in the US.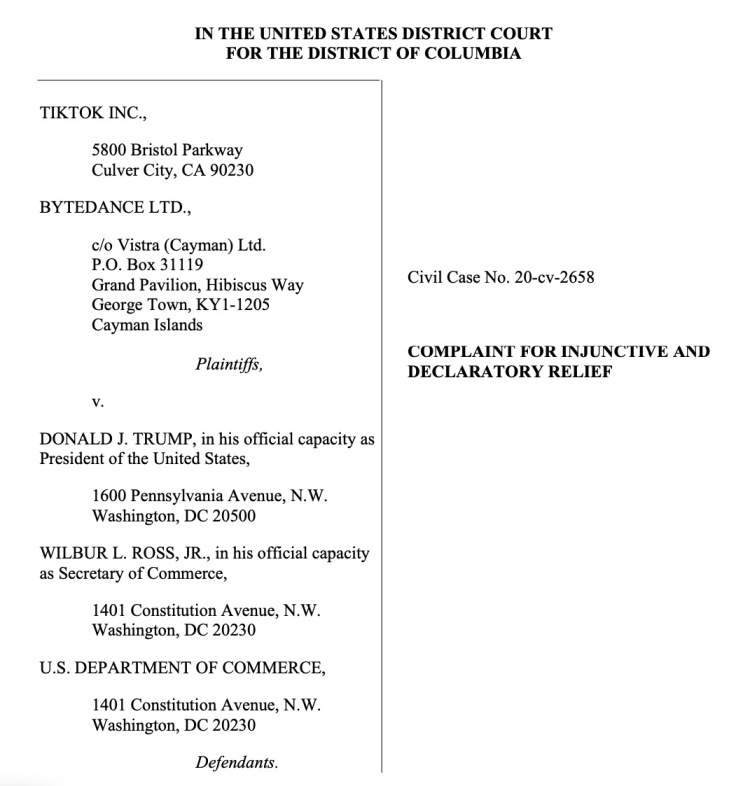 The new case is still after Trump's August 6 TikTok ban order. This time the plaintiffs argued that the Executive Order violated 1st Amendment Right to Free Speech, 5th Amendment for lack of due process, and being ultra vires (beyond the legal power).
Most of these allegations were also made by USWUA in stopping Trump's WeChat ban. The non-profit actually won a favorable preliminary injunction, resulting in a nationwide halt on enforcing the WeChat ban order that was scheduled to begin on September 20.
On September 23, TikTok and ByteDance even drafted a proposed order that was filed together with its motion for preliminary injunction, without the court asking, an indication that it is in quite a rush to expedite the legal process, particularly since the TikTok ban is, after Commerce Department's 7-day postpone, scheduled to come into effect on September 27.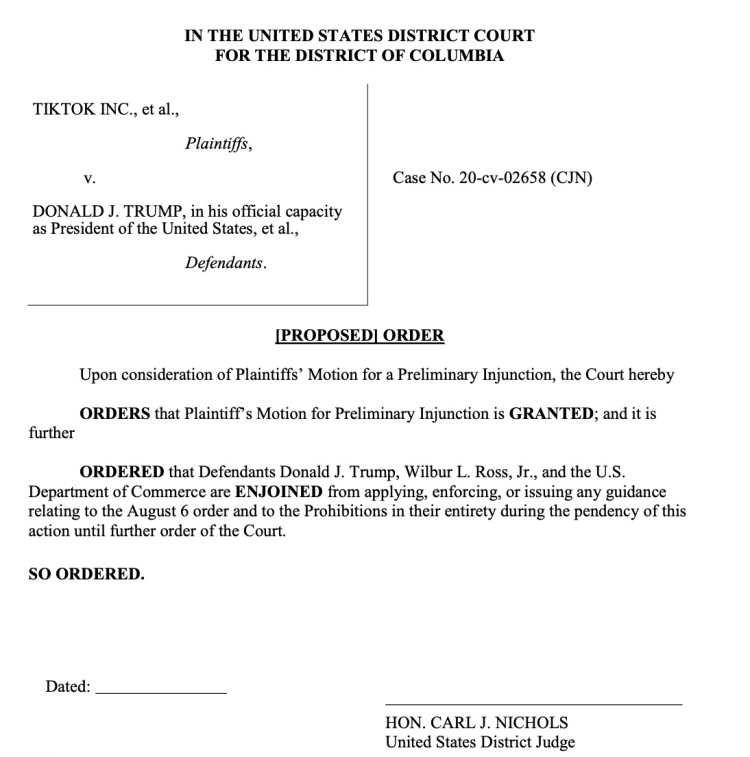 With Chinese state media outlets including Global Times and People's Daily launching several opinion pieces bombarding the TikTok-Oracle-Walmart deal, the prospect of the deal remains grim.