ByteDance, the Chinese tech behemoth behind global sensation TikTok, quietly launched its first online encyclopedia service Toutiao Baike for the Chinese market earlier this month.
When accessed on smartphones, the wikipedia-like website will display as Toutiao Baike (头条百科), while still showing as Hudong Baike (互动百科) when viewed in desktop browsers. A ByteDance representative told PingWest that the desktop version of the new product isn't ready yet. A statement posted on Hudong Baike's front page indicates that a new version is coming up on April 30.
ByteDance acquired 22.22% stake and became the largest shareholder of Hudong Baike in August last year, followed by buying the remaining 77.78% later in the same month.
ByteDance's new encyclopedia website is not to be confused with another website, whose domain name is toutiaobaike.com and has no relationship with the company, according to the representative.
The new service is able to utilize technologies including what's known in the industry as knowledge graph, in order to display information most relevant to users' search keywords in an organized manner, exemplified by Google.
However, other results returned from searches are mostly comprised of articles already on ByteDance's Toutiao content platform, rather than from the open internet.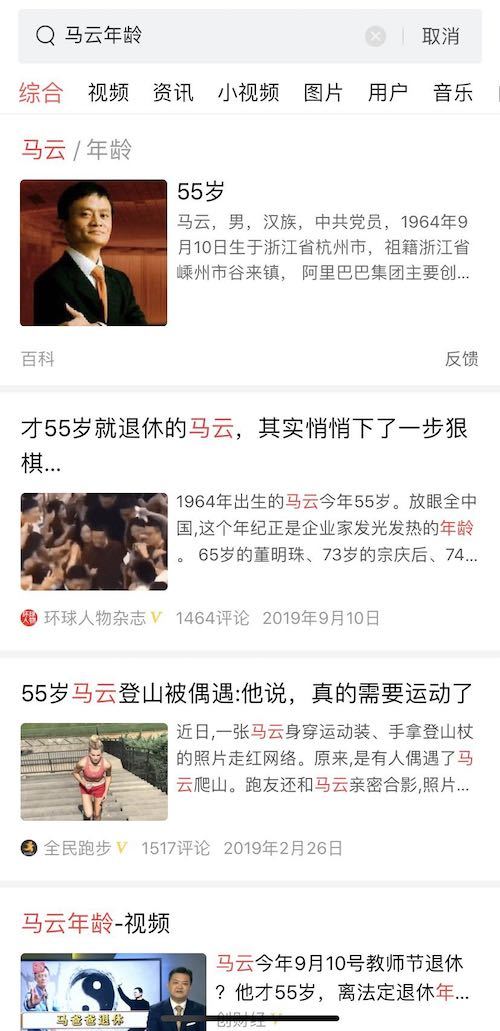 In addition to an independent wiki site, content of from the new product is also integrated into search results of the company's AI-powered news aggregator, Toutiao.
The integration came after two April 2019 lawsuits between ByteDance and Baidu, China's largest search engine company and a dominant player in the online content distribution sectors. Baidu claimed that ByteDance for illegally indexing search results from Baidu to be shown on its own search features, while ByteDance accused its accuser for stealing short video content from its Douyin (a TikTok sister app for China).
ByteDance currently has a news aggregator that has significantly changed the way hundreds of millions of Chinese people consume news and content in general, despite having been blamed for lewd content during its early years.
It also owns or has controlling stakes in numerous popular interest-based content communities, including Hupu for basketball and sports in general, Dongchedi for automobile, Pipixia for meme content, and BCY for anime-related subculture.
With the launch of the new wiki service, the 8-year-old company ramped up its effort to compete with Baidu in every aspect available regarding content, including search, news feed, online encyclopedia, content distribution. ByteDance also operates Wukong Q&A, a Quora-like product that directly competes with Baidu's immensely popular Zhidao service.
One key reason ByteDance was able to nurture the growth of its matrix of in-house products at incredible speed is likely its content discovery and recommendation algorithms.
As its external portfolio expands, more content and data are being fed into that complex system to make it even smarter and more capable to distribute more diverse content to users in its ecosystem, effectively reducing the effect known in the industry as information cocoon, where users are constantly fed with content similar to what they already consumed.
Baidu, as an ad revenue-driven company and one of China's traditional three tech giants, has been losing ad buyers and losing ground to competitors including ByteDance since 2018. It's pivoting efforts in short video and live streaming to compete with ByteDance also failed to come to fruition.
ByteDance launched its first search product in Febuary 2020, mounting its first direct challenge against Baidu.
Both search and wiki services complements ByteDance's existing products, especially Toutiao, as users could gain more insight about topics without leaving the company's content distribution empire.