China reportedly shut down sales of parallel imported Animal Crossing: New Horizons, a popular simulation video game developed and published by Nintendo for the company's Switch console platform.
The new order, delivered through Alibaba's e-commerce platform Taobao to sellers during late hours on April 9th, is expected to take full effect on the 10th. Screenshots that went viral on social networks claimed that all products related to the title, including physical copies of it, merch, and special edition consoles, are all subject to the ban.
Sales of regular Nintendo Switch consoles, including parallel imported standard and Lite versions, were not affected.
The ban likely came after gamers were found using a pattern creation feature of Animal Crossing to draw up and share materials that are generally sensitive on the Chinese internet, including political slogans and portraits of senior leaders. Overseas players were alsofound to have been engaging in politically motivated activities in the game, which came with a high degree of freedom.
Additionally, PingWest has found that many chat groups on WeChat dedicated to the game were limiting discussions about the ban, and some even kicking out members who violated the group owners' new rules.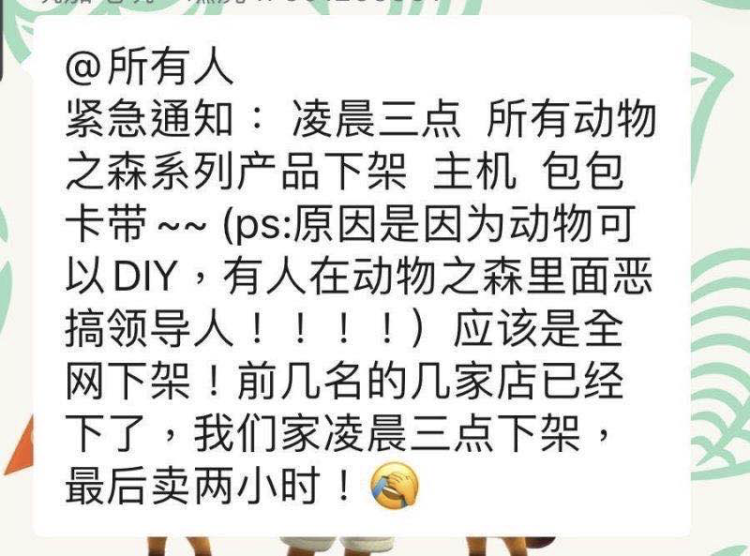 Nintendo partnered with local gaming giant Tencent and launched a licensed console for the Chinese market. However, the duo is yet to bring Animal Crossing, as well as a few other top-grossing titles, including Ring Fit Adventure and Legend of Zelda: Breath of the Wild, to China.
Meanwhile, Chinese gamers have been playing these games with parallel imported Nintendo Switch consoles, often sold by third-party sellers on e-commerce platforms like Taobao and Pinduoduo. In fact, Animal Crossing and Ring Fit Adventure's trending in China has caused Switch console, game and accessories prices to skyrocket.
PingWest detailed in a yesterday's article that price of standalone consoles nearly doubled from 2,100 RMB (MSRP of $299), to nearly 4,000 RMB, or $566, while the price of the joy-con accessory used with Ring Fit Adventure more than tripled from $79 to $254 (1,800 RMB).
While Animal Crossing has been localized in Chinese and available for all gamers around the world to play in, it is currently unknown if a Chinese region-specific version is in the regulatory approval pipeline. Local gamers worry that if such a version exists, features might disappear and the degree of freedom would likely be severely affected.
Unconfirmed rumors also suggested that authorities issued cease-and-desist order to Nintendo to shut down online features of the game. However that is extremely unlikely the case. As of 1pm April 10th, gamers can still log on to their Switch consoles and play the game, in offline singleplayer or online multiplayer modes, and all features work properly.