Zhang Yiming, the co-founder of TikTok owner ByteDance, told employees in an internal memo, which had since been posted publicly on company website on Thursday, that he will step down as chief executive, to be succeeded by co-founder Rubo Liang.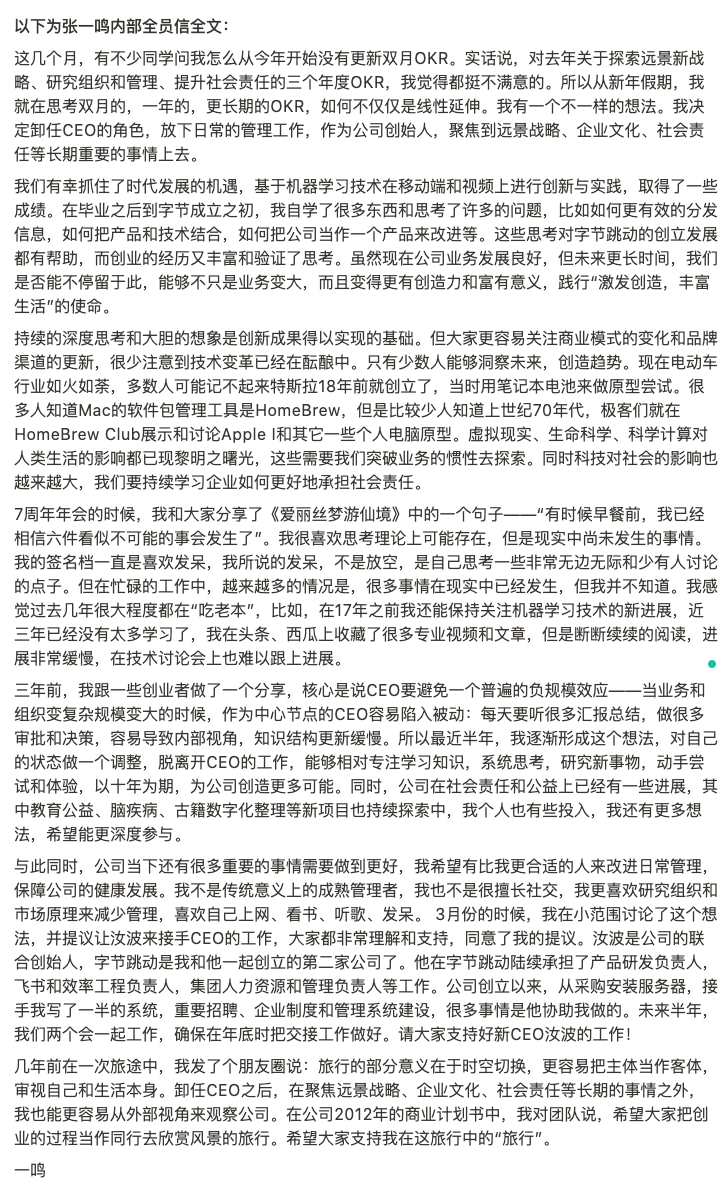 Details: In the memo, Zhang said that after months of deliberation, he concluded that if he transitioned out of the CEO role, it will have a greater impact on ByteDance's long-term plans. Therefore, he decided to put aside the company's daily management and focus on long-term issues such as strategy, corporate culture, and social responsibility.
"Frankly, I feel I did not achieve as much as I had hoped to on my previous objectives in the areas of new strategic opportunities, organizational management, and social responsibility. Since the beginning of this year, I've spent a lot of time thinking about how to better drive real long-term breakthroughs, which cannot simply rely on steady, but incremental, progress," Zhang wrote.
Zhang told employees that Liang is more capable of managing the company than him, and he will work with Liang for the next six months to ensure "the smoothest possible transition."
Context: Bytedance was co-founded by Zhang and Liang in 2012. From then to 2016, Liang had been the head of ByteDance's product development department, looking over various important products and internal systems, including Toutiao, Douyin, and the company's advertisement and user growth systems. In 2016, Liang was put in charge of Feishu/Lark, ByteDance's Slack-like work collaboration app. In 2020, Liang moved on to run the entire company's human resource.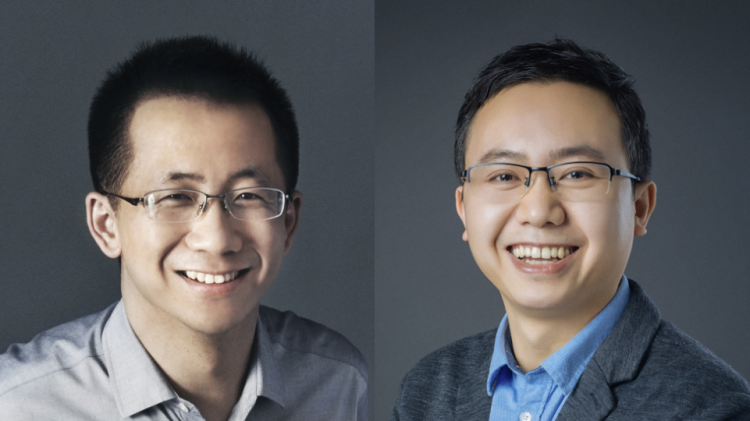 The diverse career path within ByteDance signaled that Liang was definitely not the other co-founder under the shadow of his classmate and boss, and served as an indication that there are much more prominent roles planned for him.
As for Zhang, as much as he tried to appear humble in the internal memo, saying he sucks at management, his track record says otherwise. ByteDance grew quickly in 10 years, becoming a mobile internet giant of itself and a major threat to incumbent companies. And that has much to do with Zhang's technology prowess, as well as his willingness to delegate.
ByteDance is not a company that is inexperienced in terms of corporate structural changes and leadership reshuffles. Facing difficulties, including geopolitical pressures and growth issues, it was quick to make necessary changes. Zhang moved on to Global CEO last year after delegating leadership of the Chinese operations to Kelly Zhang (current CEO) and Zhang Lidong (current chairman). A year later he is now ready to move to a behind-the-scene role.
The main takeaway: that Zhang's always going to be ready to make big changes when necessary, and that he's definitely still going to influence the company a lot in this decade.