On September 20 US time, TikTok and parent company ByteDance had withdrawn their lawsuit against US President Donald Trump and the Commerce Department for the TikTok ban order that essentially became non-standing after Trump verbally approved TikTok's deal with Oracle and Walmart.
The decision to withdraw the case was confirmed by a notice the plaintiffs filed to the US District Court Central District of California Western Division. The withdrawal is an indication that ByteDance and the Trump administration have settled on the deal.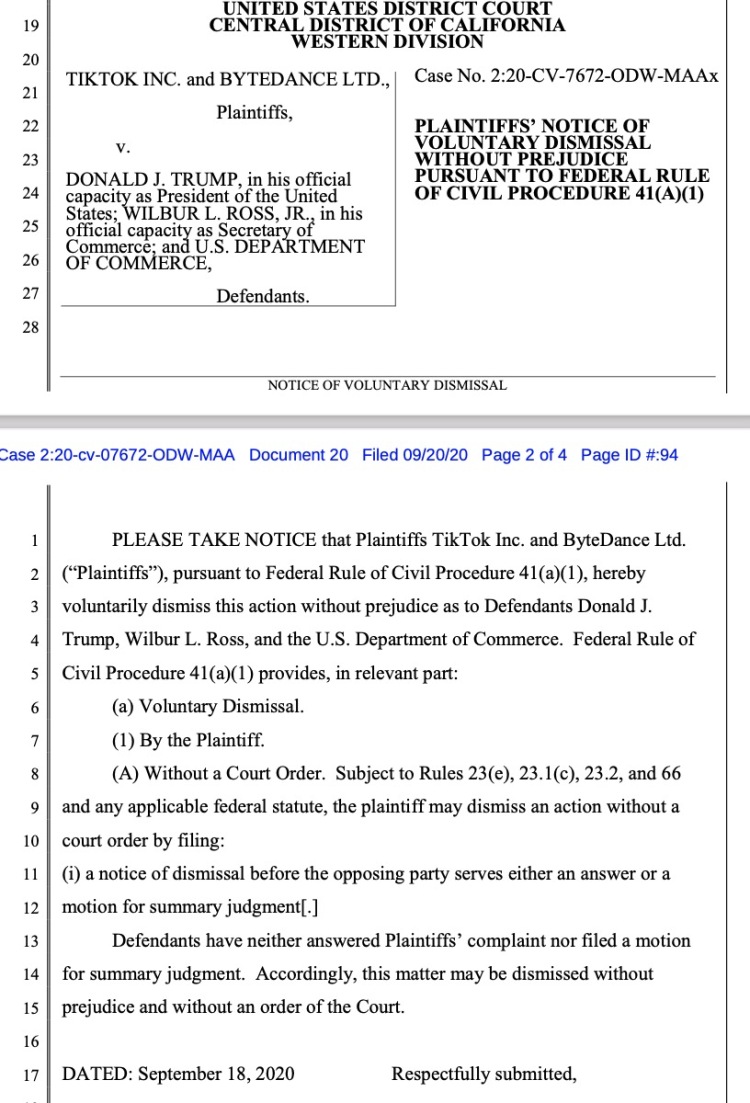 Trump issued an Executive Order on August 6 ordering the ban on "transactions" with TikTok in 45 days, citing national security concerns. The Commerce Department issued a more detailed definition of such transactions and a plan to shut them down on September 18, and ordered the ban to be carried out in two days, or exactly 45 days after the original Executive Order.
TikTok and ByteDance mounted a legal challenge against Trump, claiming the Executive Order "has the potential to strip the rights of that community without any evidence to justify such an extreme action, and without any due process."
TikTok had been in discussion with US companies including Microsoft, Oracle, and Walmart for a potential sale of its US operations. But the situations changed dramatically recently as the final deal was more structured as a partnership based on a joint venture, rather than a clean sale.
The company confirmed earlier today Beijing time that it has reached a deal with Oracle and Walmart to set up a new entity called TikTok Global, which will be 100% ByteDance owned at first. TikTok Global will then become a joint venture after a Pre-IPO financing round in the near future, with Oracle and Walmart taking as much as 20% stake, in exchange for them being put in change of running TikTok's cloud infrastructure and e-commerce businesses, respectively.
ByteDance founder and Global CEO Zhang Yiming, together with the company's current board members, and Walmart CEO Doug McMillon, will all sit on TikTok Global's board.
Trump said that he approved the deal "in concept." "I have given the deal my blessing. If they get it done, that's great. If they don't, that's okay, too," said Trump, who seems no longer focused on addressing national security and Chinese ownership concerns posed by TikTok, which he criticized throughout the past weeks.
Commerce Department also postponed the ban on the downloading of TikTok to September 27, or seven days after the original scheduled ban.
A separate Committee on Foreign Investment in the United States (CFIUS) order mandating that ByteDance divest itself from TikTok by November 12 remains in effect and has not yet been addressed by either ByteDance or the Trump administration. The CFIUS order, in theory, conflicts with how the TikTok-Oracle-Walmart deal is structured.