Major Chinese phone maker Oppo and its sister brand OnePlus, have released their latest foldable smartphones, the Find N3 aka OnePlus Open and Find N3 Flip on Thursday. Marking the firm's continued commitment to tech innovation and ambition in the global market.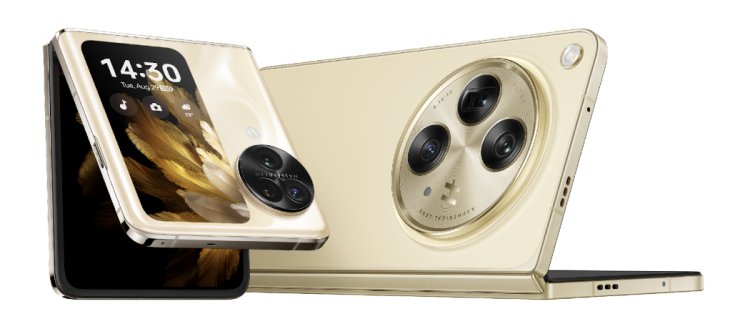 The Oppo Find N3 comes in two color variants: black and champagne gold. Dimensions would slightly differ depending on color options. Its weights range from 239 g to 245 g. The 120 Hz 6.3-inch AMOLED display, accompanied by HDR10+ and Dolby Vision standards, ensures bright, dynamic imagery.
The internal screen extends to a 120 Hz 7.8-inch AMOLED display. It also includes a side-mounted fingerprint scanner and face unlock feature for biometric security. The Find N3 operates with the Qualcomm Snapdragon 8 Gen 2 and ColorOS 13.2 based on Android 13.
On the camera front, the phone offers a 48-megapixel (MP) wide camera, a 48 MP ultra-wide lens, and a 64MP telephoto lens. The Oppo Find N3 is priced at $2,399 for the 16 GB plus 512 GB model.
It has a large 4,800 mAh battery with a 67W fast charging. The firm claimed a 30-minute charge delivers 80% power, and it charges to 100% in just 42 minutes.
The Find N3 Flip is slightly lighter at 198 g, with an open design of 166.2mm × 75.78mm × 7.79mm, which folds to a size of 85.54mm x 75.78mm × 16.45mm.
It has a 3.26-inch AMOLED cover screen and a 120 Hz 6.8-inch main screen. Find N3 Flip also has a high-end processor MediaTek Dimensity 9200, enhanced by ColorOS 13.2.
While Find N3 Flip has a 4,300 mAh battery with a 44 W charging speed.
For cameras, the phone comes with a 50 MP main camera, 48 MP ultra-wide lens, and a 32MP telephoto lens. The Find N3 Flip model is priced at $1,499 for the 12 GB plus 256 GB model and comes in three colors: Cream Gold, Misty Pink, and Sleek Black.
Pre-orders of OPPO Find N3 Series start from Oct. 20, 2023.