Chinese AR headset manufacturer RayNeo has launched two new products: the AR glasses RayNeo X2 and the RayNeo Air 2, and a Nintendo Switch companion, JoyDock. Additionally, the company reported securing million yuan Series A+ financing.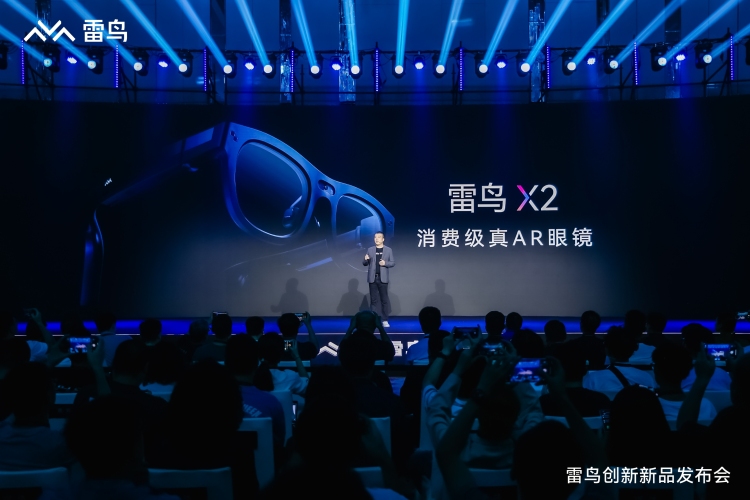 The RayNeo X2 uses MicroLED plus Waveguide technology, boasting high brightness and low power consumption. The device features a transparency rate of over 85% and a peak brightness level of 1,500 nits. It offers a resolution of approximately 640x480 and a battery life of three to five hours, depending on usage from heavy to moderate.
In terms of spatial interaction, the RayNeo X2 uses algorithms for quick initialization and a low-power consumption mode, boosted by a built-in Qualcomm Snapdragon XR2 processor.
The RayNeo Air 2 features a lightweight design at just 76 g and uses a power-efficient OLED display from Sony, offering up to 120 Hz refresh rate. The glasses' field of view is 46 degrees, equivalent to a 201-inch screen viewed from six meters away, and it delivers up to 600 nits of maximum brightness.
As per the company, RayNeo will also offer nine sets of adjustable temple and nose pad positions to ensure a personalized fit for every face shape.
For availability, the RayNeo X2 is priced at RMB 4,999 ($684.38), with a first-release reservation price of RMB 4,499. It is currently available for preorder on JD, Tmall, and its official website.
The RayNeo Air 2 is priced at RMB 2,499, with a first-release promotional price of RMB 2,299; the JoyDock is priced at RMB 599. A bundle offer including the JoyDock and RayNeo Air 2 is now available at a first-release promotion price of RMB 2,699. All three new products launched will officially go on sale on Oct. 31 in China.
RayNeo Air 2 is also coming to the global market. It will be available on Amazon for an early bird price of $299.
Established in October 2021, RayNeo is a technological venture fostered by TCL Electronics, a firm listed in Hong Kong. Comprising its core group are former team members from formidable tech titans such as Tencent, DJI, Meta, Oppo, and iQiyi, as detailed in a post on RayNeo's WeChat account.