On Thursday, the famous but controversial American rapper Cardi B announced that she has opened her personal accounts on major Chinese social media including Douyin, Weibo and Xiaohongshu (AKA Red).
For those who may not be familiar with the Chinese social media landscape: Douyin is the sister platform to TikTok, Weibo is the equivalent of Twitter, and Xiaohongshu is the fast-emerging photo-sharing app.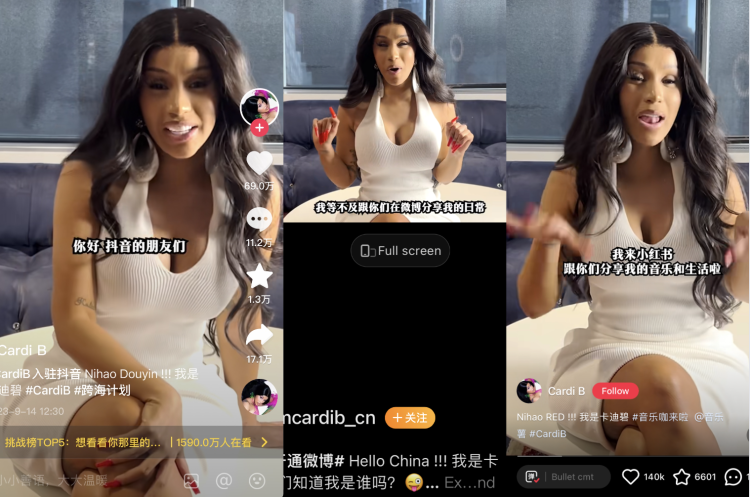 Born in New York City in 1992, Cardi B became the first solo female artist to win the Grammy Award for Best Rap Album in 2019 for her album "Invasion of Privacy."
Due to her candid lyrics, bold music videos, and unfiltered public demeanor, Cardi B often sparks debate. However, fans worldwide, including in China, admire her for her genuine authenticity and her fearless approach to challenging norms.
In addition to her unique personality and musical achievements, Cardi B is "beloved" in China after she condemned former US President Donald Trump's racist use of the term "Chinese virus" during her Instagram livestreaming on March 21, 2020.
She also praised the measures taken by the Chinese government to prevent and control the COVID-19 pandemic and criticized the distortion of facts by some media outlets, as well as those who attacked the Chinese people on the streets.
The hashtag for Cardi B praising China's protective measures has earned 120 million views on China's Twitter-like Sina Weibo as of the afternoon of March 22, 2020, Global Times said.
When Cardi B debuted on Chinese social media apps, her fans eagerly expressed their excitement and support. Many joked that they hoped those platforms would not restrict or remove her posts in the future because they might be too explicit.