Aqara, a notable Chinese smart home gadget vendor, announced its attendance at IFA 2023, introducing five new products. The updates include the Smart Lock U200, the Camera E1, the Dual Relay Module T2, the Ceiling Light T1M, and an EU-style wall outlet.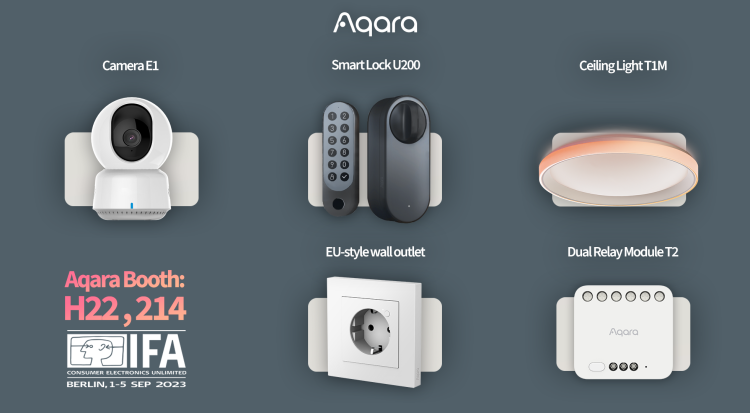 Apara has noted that four of them supported Matter, the next generation of universal smart home standards with seamless experience across major platforms. Smart Lock U200 works via Matter-over-Thread, while the new relay, ceiling light, and outlet work via Matter-over-bridge like other supported Zigbee devices, according to its press release.
Aqara can not share more details on its plan to introduce Matter support to the new camera with PingWest, as Matter specfactions have yet include such devices.
Smart Lock U200 would support a wide range of unlocking options, including NFC card or NFC-enabled mobile devices, along with PIN, fingerprints, auto-unlock, and mobile apps. This is Aqara's second Thread device after its release of a contact sensor earlier this year.
The new 2K-resolution Camera E1 supports Wi-Fi 6 and Bluetooth 5.2. It works with major third-party platforms, including Apple Home (including HomeKit Secure Video), Amazon Alexa, and Google Home. The camera also features AI-enabled person detection, person tracking, and flexible storage options such as cloud storage, microSD card, and NAS storage.
The Ceiling Light T1M, featuring an approximate diameter of 50 centimeters, offers a broad spectrum of hues — from dimmable whites to a vibrant palette of 16 million colors.
Aqara is also introducing a smart wall outlet for the EU market. The outlet can also work as a repeater and track energy consumption.
The five new products previewed at IFA are expected to become available for order in the coming months overseas. Aqara planned to initiate its first crowdfunding campaign on Kickstarter for the Smart Lock U200 later this year.
Update: The article is updated with the response from Aqara on availability and Matter support for the new outlet and camera.