Chinese electric vehicle startup Xpeng Motors officially unveiled its G9 SUV on Wednesday, calling it "the world's fastest-charging electric vehicle."
According to the company, this model, which could recharge 200 km (124 mile) of range in just five minutes, will start deliveries in China in October.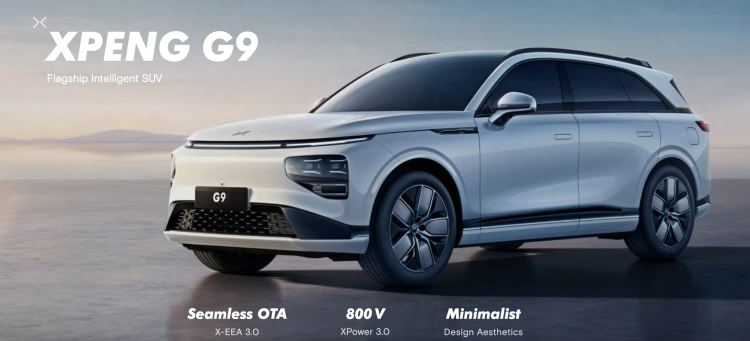 The G9 is equipped with Xpeng's latest assisted driving system, which will outperform the previous model thanks to the high-power Nvidia Orin chip in the new SUV.
"We think the volume of G9 next year will exceed what we have achieved for P7, which makes it one of our top-selling vehicles," Brian Gu, the company's president and honorary vice chairman, said in an interview with CNBC this week.
The P7, Xpeng's first sedan launched in May 2020, quickly outsold the company's existing G3 SUV, which was launched in December 2018. The P7 ranked 10th among all new energy passenger vehicles (except SUVs) sold in China in the first eight months of this year, according to the China Passenger Vehicle Association.
CNBC's calculations based on Xpeng data show that as of the end of August, more than 123,000 P7 had been delivered, nearly twice as many as the cumulative delivery of roughly 67,000 G3s.
Gu said the market is now very competitive and Xpeng needs to "come up with better and cooler products to resume growth". Its main rivals NIO and Li Auto have also introduced new SUV models to customers this fall.
The Guangzhou-based company, which began its international expansion in December 2020, already has experience centers in the Netherlands, Sweden, and Denmark, and is selling its G3i SUV and P7 sedan in Norway.
Gu explained that the priority right now is to ramp up production of the G9 in China to satisfy that market first. XPeng expects that when production does successfully ramp up next year, it will reach monthly outputs of around 10,000 units.
From there, XPeng will then bring the G9 to the EU, probably beginning in Norway where it is already selling EVs, while also displaying it and offering test drives at its other European experience centers.
Gu said the company may introduce the G9 to the European market once the production capacity of the new SUV can meet demand in the Chinese market. Next year, Xpeng is going to launch two additional models, a smaller car and a larger vehicle.