Black Friday is right around the corner. Unlike renowned sellers such as Shein and Patpat, Povison has a new story to tell in cross-border furniture arena.
With a deep understanding of China's comprehensive production capacity and robust supply chain, former software engineer Ayden Lin founded Povison in the US in January last year, expecting to gain an edge in the North American furniture market.
Povison gained the attention of Skyline Ventures and raised nearly $10 million from it early this month in Series A. It was backed by eWTP Capital of Alibaba last February. The company has its stand-alone website, app, and a site on Amazon.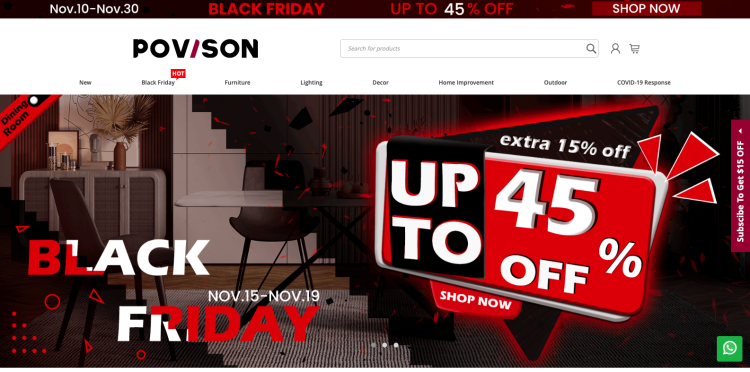 In an interview with PingWest, Lin talked about the strategies of providing furniture settings when selling their products and his business approaches to potential growth in the incoming shopping festival.
The interview has been edited slightly for length and clarity.
PingWest (PW): How did everything start? What was the original idea?
Ayden Lin (AL): We borrowed our experience in domestic e-commerce sector, and we were very optimistic about the dividends of China's manufacturing development. China's cross-border e-commerce has been booming in recent years, and we expected some well-known brands to mushroom.
Specifically, China is competitive in furniture production as data shows that China accounted for 60% of global furniture exports to the US.
As for the products, we design by ourselves a part of the furniture. We also cooperate with our suppliers, and all products are with the label Povison.
PW: What is the portrait of the customers in North America?
AL: Yes, we target North America, and in the second half of next year, we are likely to expand our footprint to Europe.
We are clear about our target customers, the young American buyers from 25 to 45 years old in the middle class group, or the new middle class.
We target these middle to high-end shoppers, who have their standards for design and quality. Their annual income ranges from $60,000 to $100,000. But as they are not super wealthy, they also care about price–performance ratio. So we make splendid designs and fulfill their needs. Our advantage is that our product prices are only 1/3 of that of other producers in the US.
PW: What will be the critical Black Friday strategies of Povison?
AL: This is the first time we have participated in Black Friday. We have two basic plans. First, we provide the customers with product settings, which means the furniture are shown in different scenarios, like in the kitchen and the living room. We use the settings as guiding forces as we provide customers with spatial solutions. And this kind of shopping settings will be shown and rotate as the Black Friday month unfolds.
Secondly, we cooperate with hundreds of online influencers, and they will promote our products on Tik Tok, Facebook, Youtube, Instagram, etc.
PW: What is your view on the general situation of Black Friday this year?
AL: The behaviors of shopping will become more scattered. Because of the general boom of e-commerce in the world and the Covid-19 pandemic, we thought the shopping festival would expand to more than one week, even to the whole month. And the online sales contribution to the general revenue will improve, compared to off-line business.
However, the online sales may not surpass the corresponding contribution of last year because the reopening process has already begun.
PW: Usually, Chinese furniture companies will pick up limited categories of products in the early business stage. Why Povison tries to cover them all?
AL: We didn't intend to cover them all actually, because we still focus on furniture products. Indeed, we didn't narrow down the inventory, and as I said, we want to offer settings rather than presenting them to shoppers one by one.
PW: Which are the sales channels that have the highest conversion rate?
AL: Our website is the major channel, with GMV growing 60% month to month. It stands for the best conversion rate.
PW: In what areas will the new financial resources be helpful?
AL: We are following the path of market-oriented financing. We will utilize the capital to speed up our business growth. We hope that more overseas warehouses will be established and the proceeds will also be used for the informatization of our internal networks. The establishment of overseas warehouses will guarantee our deliveries on time, which is the priority. Only after that will we consider the possibility of lowering the costs.
PW: What kind of influence does Alibaba have on you?
AL: I spent 8 years with Alibaba. When I started my own business, I thought it resembled the situation and experience of how Alibaba developed in the early stage. I was enlightened by the atmosphere there. Secondly, I think Povison is a technology e-commerce company, and this positioning also relates to my former employer.