With Netflix's survival drama "Squid Game" becoming an overnight success, the online sandbox game Roblox, which unobtrusively launched its service through the partnership with Tencent in China in July, began to gain more attention in the country.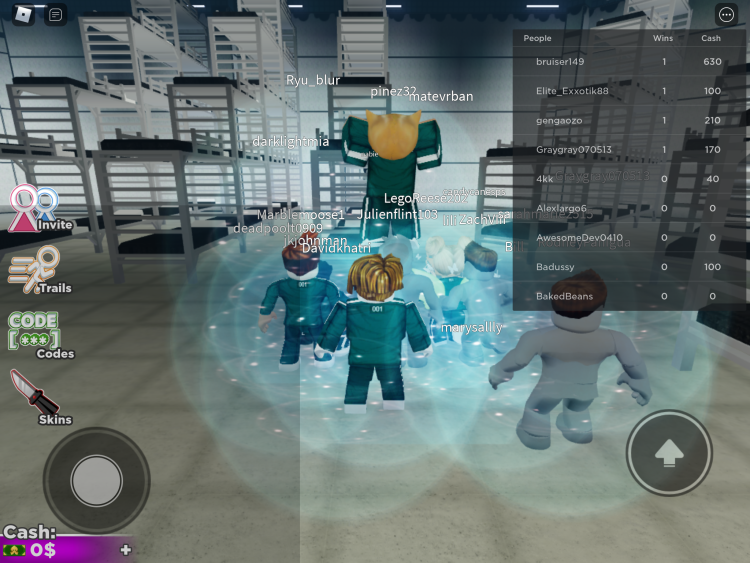 In the last week, video clips about playing "Squid Game" on Roblox are widely circulated and discussed on various social media platforms, including Xiaohongshu (also known as Red to international users), Weibo, and WeChat.
Although the original version developed by Trendsetter Games is not open to Roblox's users in China, a similar one named Xianyu Game swiftly became an alternative option for Chinese users who are eager to try the game derivatives from the global hit Korean drama.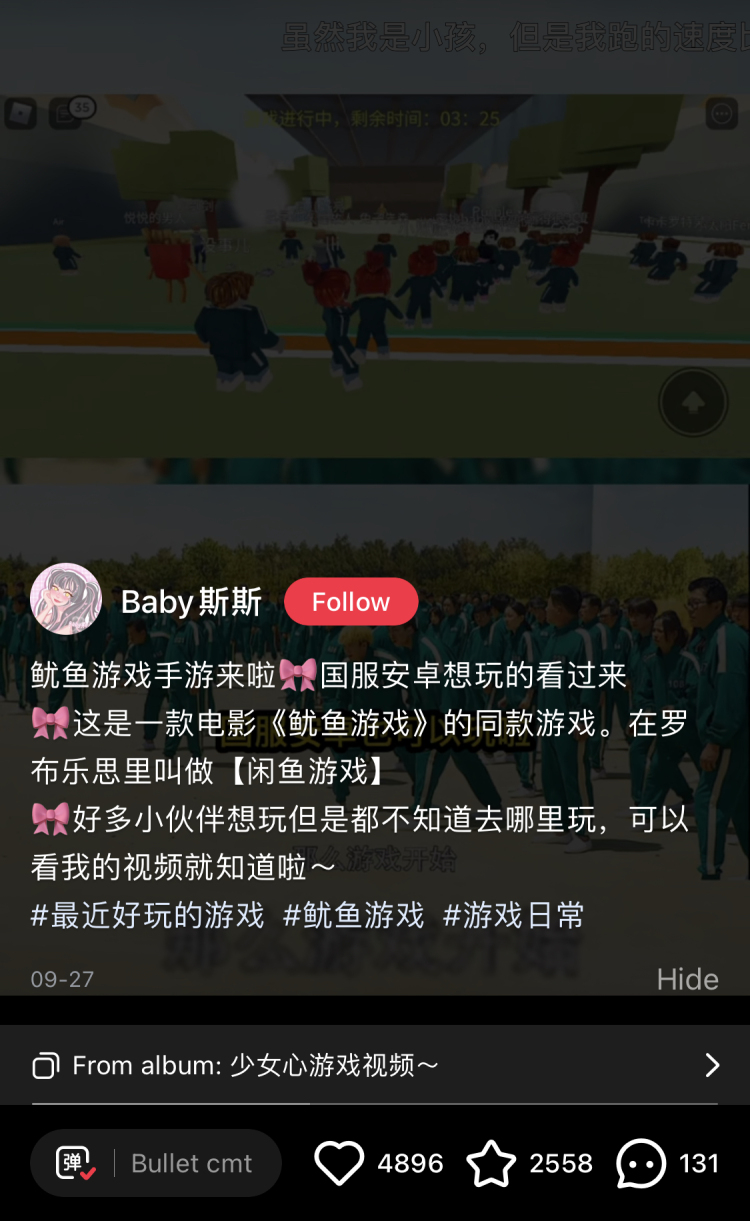 The post introducing Xianyu Game published by game streamer "Baby斯斯" on Xiaohongshu has received 4896 likes and 131 comments so far, and other related posts are also highly talked-about.
As a big name in the US and most Western countries, Roblox is less-known in China, therefore, lots of people said on social media that this is the first time they have heard of Roblox, and ask how to download the Chinese version to access the game.
With 43.2 million DAUs worldwide, Roblox is an online game platform and game creation system that is popular among teenagers under the age of 18. The company generates revenue by selling Robux, an in-game digital currency that can be used to purchase virtual goods and enhance avatars.
Through a joint venture with Chinese gaming giant Tencent, Roblox entered China, one of the largest online gaming markets, for the first time in 2019. The San Mateo-based company holds a 51% controlling stake in the partnership, while Tencent's affiliate Songhua holds the remaining shares.
Establishing JVs with Chinese companies is a standardized approach for foreign businesses to step into this emerging market because the country has strict regulations on foreign investment. Meanwhile, with the participation of the Chinese side, foreign capital can better understand and abide by the country's changing policies and environment.
Even Roblox founder and CEO Dave Baszucki said that Tencent is the perfect partner for his company in China. "They have a deep understanding of the Chinese market and share our belief of the power of digital creation and our vision to bring the world together through play," the CEO explained.
However, as China has strengthened its control over the gaming industry in recent months and forbidden under-18s from playing video games for more than three hours a week, the "perfect cooperation" has also been affected. The fewer hours people spend playing games, the less opportunity for Roblox to earn revenue.
Besides, the awareness of the "learning from gaming" concept that Tencent highlighted when marketing Roblox is still relatively weak among Chinese parents, which slows up its development in the region.
"Though Chinese parents are known for their generosity in investing in next generation's education, the truth is that most of them are not willing to let their kids learn from video games," Catherine, a teacher at a private elementary school in Beijing, said. "Children may be purely addicted to playing games instead of learning from it, because the boundary between learning and entertaining is blurred to them," she explained.
Catherine told PingWest that when it comes to video game-related stuff, even Roblox, a platform that can inspire children to learn programming and make tedious subjects more appealing, most parents hold a distrustful attitude. "From my experience, it may be related to what industry the parents are in, parents who work for internet companies are more open to Roblox and encourage their children to use it."
"Generally speaking, I feel that Roblox's current presence is relatively low, and Minecraft is more well-known among parents and children," said the teacher.
As reported by industry analyst Daniel Ahmad in November 2020, Minecraft has surpassed over 400 million registered users in Mainland China. Roblox did not disclose how many players it has in China, but said that of its 43.2 million DAUs, 7.2 million are from the Asia-Pacific region, accounting for about 17%.
The teacher also told PingWest that Roblox cooperates with a few schools in Beijing, motivating teachers and students to develop game-like courseware based on its platform to make the learning process more enjoyable. "The conception is attractive, but it may take longer to be widely accepted," she said.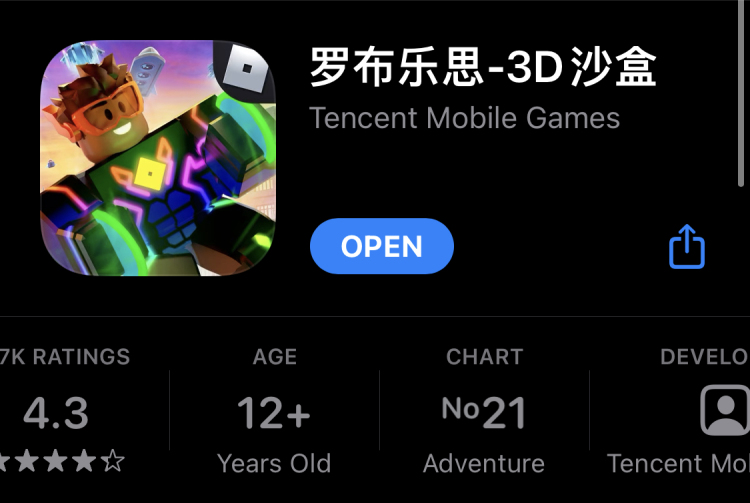 Now, with few available games, the lately-launched Roblox China ranks below 20 in the adventure game category of the Apple Store, which falls short of expectation. But considering the building of content-based community requires long-term investment, the ranking is reasonable.
At the moment when the gaming industry is under pressure, it may not be easy to win Chinese parents' support, but Roblox has indeed witnessed the rise of Chinese developers after entering the country.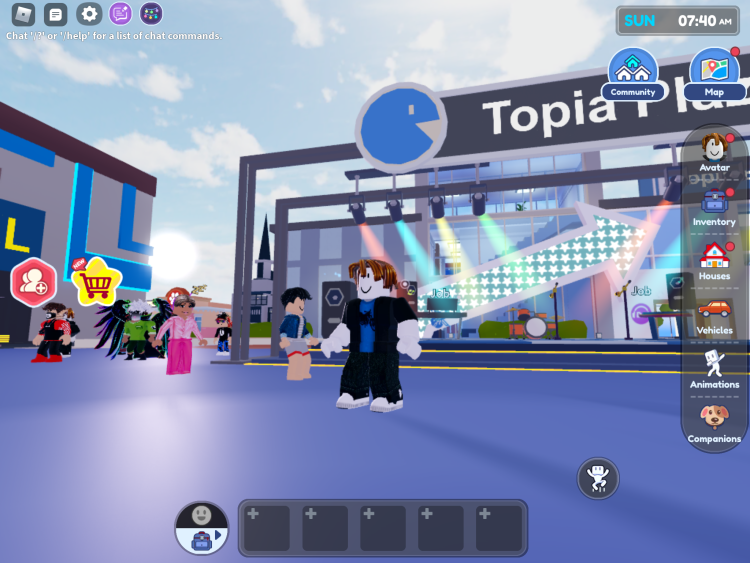 Livetopia, an open-world game developed by Shanghai-headquartered Century Makers, has been a trending game on Roblox for a while. "We started to see amazing content come out of China and started to hit the worldwide platform...We take a very long view in China," Roblox's CEO said in the latest earnings call.
The JV counts on working with universities and college students to lure and train more game developers, thereby expanding the community. "Working with universities and college students is the top priority for future development," Duan Zhiyuan, vice president of Roblox China, said, adding that the company aims to utilize Roblox to help the next generation embrace new technology, including Metaverse, which the company values most.