China is the most advanced country in terms of the development and popularization of the mobile internet, and there is no question. Citizens carry smartphones that get them into subway trains, paying for food, logging into work, being stuffed by a never-ending stream of messages and various types of information, helpful or not, everywhere, every, single, day.
There are also noticeable disparities among age groups in terms of smartphone apps that carry those mobile internet technologies and services. Most notably, many of the elderly population, who experienced much poorer upbringing than young people today, were not exposed to tech prior to its democratization. They have trouble using many of China's leading mobile apps, resulting in difficulties living their daily lives. Meanwhile, China's disproportionately tech-savvy underage netizens are so used to and hooked on the internet that parents are worried about them being exposed to dangers, scam schemes, or falling to "addictions" prematurely, leading to mental issues and property loss.
Interestingly, since late last year, the Chinese government has been increasingly focused on these aforementioned issues and is taking swift actions to balance things out.
For more than a few years, smartphones have taken over the country. Almost everything, from buying groceries to accessing public places (Covid-19 control measures), requires apps. However, elderlies face difficulties accessing such mobile apps due to their complicated interfaces and features and are more easily tricked into features that are not of use due to product design, causing further confusion. The apps have steep learning curves so that social workers and college students even hosted physical workshops in Shanghai to help elderlies better learn the ins and outs. A recent internet report by CNNIC shows that among the 250 million citizens aged 60 or higher, 80% never used the internet. As the country's population continues aging, the situation would probably ease off. Still, the vast population base and even more new, advanced technologies that are coming out mean that the issues will still remain, lowering elderlies' participation in the technology-transformed public lives.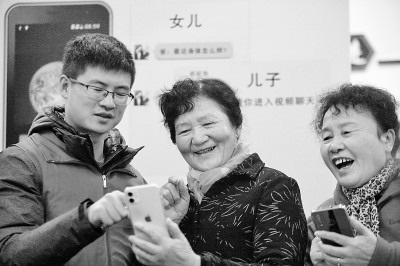 In November 2020, China's State Council issued an implementation plan on solving the technical difficulties experienced by elderly citizens when using smart technologies. It called for improvements in applications such as the health code, rideshare, payment, hospital appointments, as well as many areas that disruptions of usual habits have been experienced by elderlies.
In retrospect, the last article of the plan might have been the most important one, as it called for the device and app makers to immediately improve on making their products elderly-oriented and barrier-free. This State Council document was followed by an MIIT action notice in April this year, which ordered service providers to fix their websites and apps before the fourth quarter so that elderly and physically challenged citizens can have less of a headache when using them.
Based on published national and industry standards (Chinese GB/T and YD/T standard documents), MIIT orders websites and apps to present certain accessibility features and design elements, such as larger texts and buttons, high-contrast coloring, retractable operations that link to legal promises or monetary transactions, limited use of internet slangs to avoid confusion, etc. Most importantly, MIIT orders that the websites and apps adapted for elderly users must not contain ads content or plugins.
The Internet Society of China, an industry organization, sponsored by the national government, will certify websites and apps compliant with the elderly-oriented and barrier-free design.
Within a few months following the MIIT notice, Chinese netizens began to notice that an increasing number of daily used apps, including Ant Financial's Alipay, Tencent's Weixin/WeChat, Meituan, JD.com, Douyin, etc., launched "elderly modes" that have larger texts and buttons, easier to navigate user interfaces--and most importantly--no ads.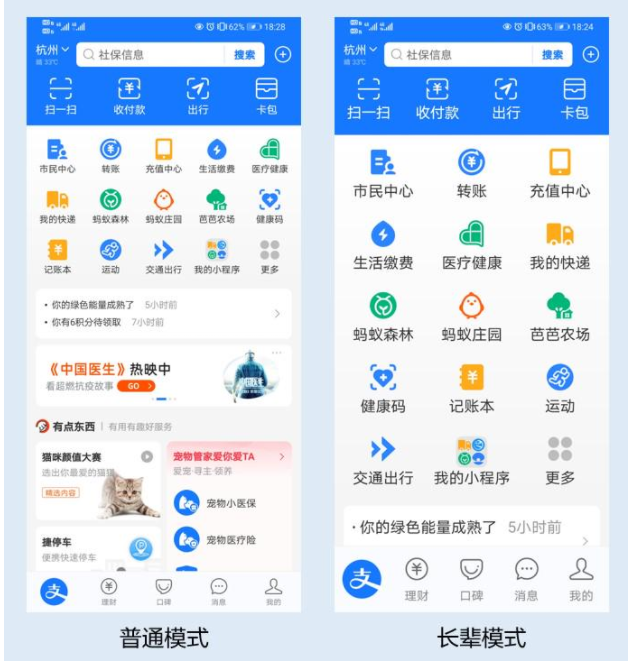 Although some users still argue that the new modes are merely visually exploded UI elements, the change is still drastic enough that even some of those not in the elderly groups began using the new modes since they make apps feel so much "lighter", "cleaner", and more distraction-free.
But for the underage netizens, it's another entirely different story.
Around the same timeframe, the Chinese government began improving elderly participation in mobile internet. The country is also going tough on internet service providers, telling them to refrain from grooming the country's kids into their next-gen loyal user base.
Recently, state media have called internet games "spiritual opium". Government apparatus have issued numerous orders and documents, restricting minors' gaming ours to mere few hours weekly and only during weekends and national holidays, as well as banning the gray market sales of a comprehensive list of foreign games that were never officially published in China.
Just as the country actively promotes elderly modes in apps, the industry is also keen on implementing minors mode/parental control for a while. Although there were no concrete orders from regulatory bodies yet, the industry already caught wind that underage user protection is sure to become another major focus in the Chinese government's internet regulation.
In fact, on the eve of upcoming regulation, major Chinese tech companies are so afraid of appearing as non-compliant that they react to controversies in a rarely seen swift and public manner. For example: in one case where a 60-year-old's Honor of King account was found climbing the player rank, landing "Penta kills" (wiping the entire rival team) at 3AM, Tencent attempted to appear as innocent by claiming that the account did trigger its minor monitoring system but eventually passed the facial recognition authentication 17 times.
In another case with ByteDance, the company made a rare public statement refuting a media article that called the anti-addiction and parental control features in its short video/live streaming app Douyin lackluster, directly putting "rumor" marks onto the media article. In the comment section of the statement, which was published on one of ByteDance's WeChat Official Accounts, the company directly responded to users calling the parental control too annoying and hurting the experience, claiming "this must be done" and its "attitude must be demonstrated".
Then two days ago, the State Council finally made it official that internet service providers, including live streaming platforms, streaming websites, social networks, and online games, must implement strict minors control.
In the latest high level outline document of the Development of China's Children (中国儿童发展纲要) for the next decade, the Chinese government orders the prevention and intervention of children's "internet addiction" to be highly prioritized to ensure children's safety.
In detail, the document calls on internet service providers to implement features that manage the usage time, permissions, and purchases of underage users. For live streaming specifically, platforms must not allow users under 16 years old to register accounts and initiate broadcasts. In terms of online games, the document calls for a nationally unified system for verifying minors' identity, as well as the establishment of a national video game content rating and auditing system.

Reducing the disparities in terms of tech democratization among age groups remains a tough problem to solve. From the outset, measures may seem like "crackdowns" on companies after companies, industries after industries. However, the bigger picture here is that technological advancements have completely transformed the way people live, not just in China, but around the world, making the world a better place in some regards, creating inequity in others. While tech companies are to be positively guided and protected so innovation can continue to happen, the actions of some particular big for-profits are the direct cause of the tech-induced problems we are discussing today.
It is unclear whether the negative impact of such government reprimand outweighs the positive influence on China's robust internet and tech industries in the short term. But for the time being, it looks like the state is fixated on solving the issues in this manner. After a good decade of incredible growth in the mobile internet sectors, the broader narrative is that it is finally high time for the cumulated dregs to be cleaned out.