Salesforce is building its first engineering team in China, becoming the latest global big tech to raise bets on the country.
Instead of locating the team in first-tier tech hubs such as Beijing, Shenzhen, and Shanghai, the top customer relationship management (CRM) platform chooses Guangzhou, which holds a well-developed manufacturing industry, as its tech base.
"This is Salesforce's first engineering team in China, and software engineers at all levels are needed," an employee posted on a WeChat group with more than 400 programmers. Some coders immediately replied that they would like to apply for the job because foreign companies always provide a better work-life balance.
On the career page of the CRM giant, open positions of entry-level engineer, senior engineer, and tech lead are displayed. "We are focusing on solving problems and delivering the best products to our China clients to drive their success," wrote the job description.
Previously, Salesforce had not expanded business in China. The offices in Shanghai and Beijing are mainly responsible for sales and consulting. The positions at its Asia-Pacific headquarters in Singapore are primarily related to sales, marketing, business development, etc.
With the assistance of local technology companies and the "Big Four" accounting firms, this giant extended its reach to the domestic market.
Beijing-headquartered Celnet claimed to be the largest partner of Salesforce in China, providing CRM software consulting, sales, technical support, and more. It is also recruiting Salesforce developers in Guangzhou to be responsible for the daily operation and maintenance of the CRM system and function optimization to meet customer needs better.
For small and medium-sized enterprises (SMEs), a CRM system is crucial for providing online customer service. Therefore, its penetration rate is much higher in the Yangtze River Delta region and the Pearl River Delta region, where the e-commerce and manufacturing industry is booming.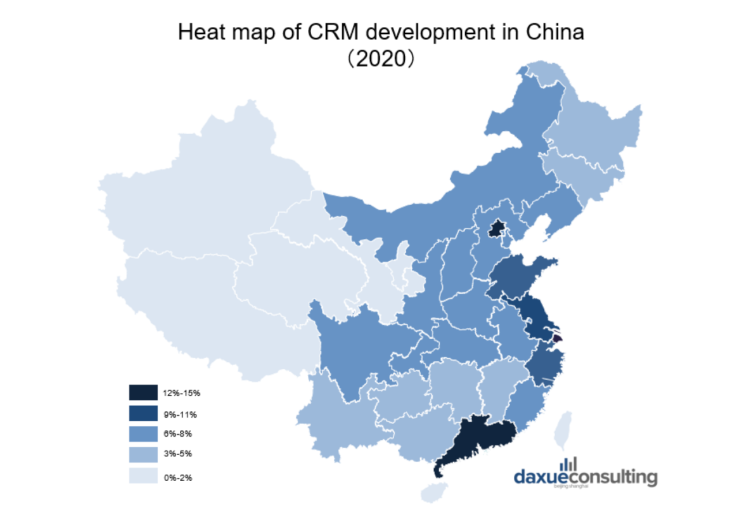 The Heat map of CRM development released by Daxue Consulting presented that Guangdong province, to which Guangzhou belongs, has the highest level.
In addition to Celnet, the cloud-based SaaS company in 2019 settled a partnership with Alibaba, in a bid to sell more products in the world's second-largest economy. "More and more of our multinational customers are asking us to support them wherever they do business around the world. That's why Salesforce announced a strategic partnership with Alibaba," said Salesforce in a statement.
The establishment of an R&D team in Guangzhou is likely to prove that more investment is needed as the company's business develops smoothly in China. On the other hand, it also reflects the attractiveness of China's large and more capable IT talent pool.
As a growing number of multinational companies focus on leveraging the global talent pool, China has benefited a lot. Numerous global enterprises operate R&D teams in China, even if some of them have little business in the country. According to data from the Chinese Ministry of Commerce, China currently has more than 1,200 foreign R&D centers, including Microsoft, Google, Snapchat, Cisco, General Electric, AMD, and AstraZeneca.
Coupang, an e-commerce titan serving the Korean market, has also set up an R&D center in China, hiring engineers and other IT talents in large numbers throughout the year.
This kind of deployment also helps global companies stand out from the fierce competition and maintain a leading position. A Microsoft employee told PingWest that due to work visas, the shortage of qualified senior engineers, etc, it is troublesome for the US team to absorb experienced talents in a limited time to participate in a fast-growing project, so they have to entrust the Chinese Microsoft team to expand personnel to further join the project.
"Usually, it may take at least two months from the interview to the onboarding in the US. However, the whole process is faster in China, so the manpower gap can be quickly filled," said the employee who requested anonymity.
As generations become wealthier, well-educated, and more tech-savvy, China is changing from "demographic dividend" to "talent dividend". The massive talent pool is not only the driving force of China's development but also brings benefits to international big techs amid the irreversible globalization process.
Although China is a complex and government-led market, with the cost-effective engineer advantage and massive potential market, more global big techs like Salesforce will be enticed.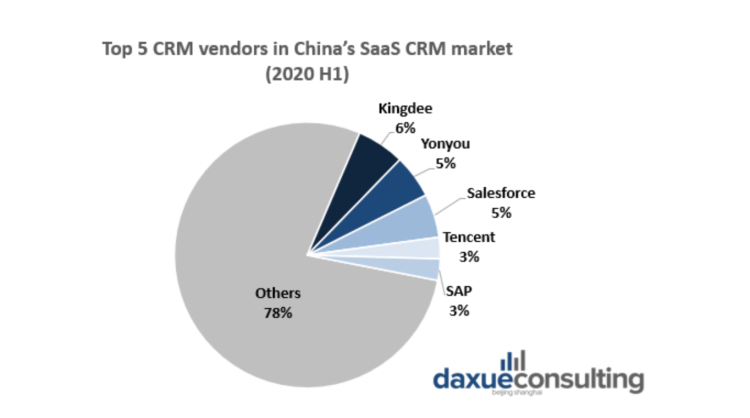 According to data from Daxue Consulting, as of the first half of 2020, Salesforce accounted for 5% of China's CRM market.
Cover image credit: Salesforce