Even in the face of the global slowdown caused by COVID-19, the internet economy in Southeast Asia remains resilient with a GMV of $100 billion in 2020, said eConomy SEA 2020 report released by Google, Brain&Company, and Temasek.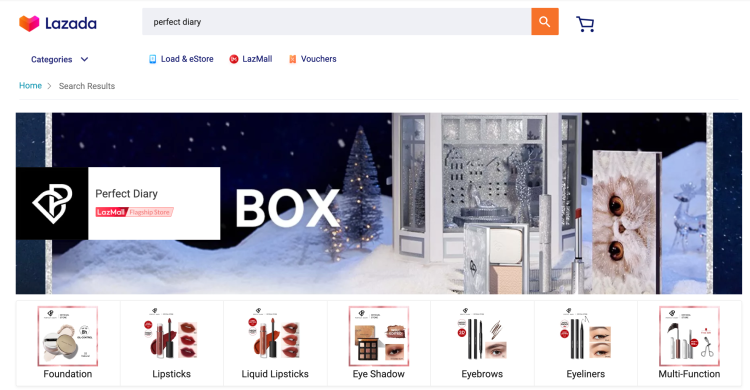 China's cosmetics brands are also leveraging cross-border e-commerce platforms to penetrate the SEA market further. For example, instead of choosing global e-commerce giant Amazon or local top players, Perfect Diary, a Guangzhou-headquartered cosmetic maker, jump onto Tencent-backed Shopee and Alibaba-owned Lazada, achieving impressive gains in SEA.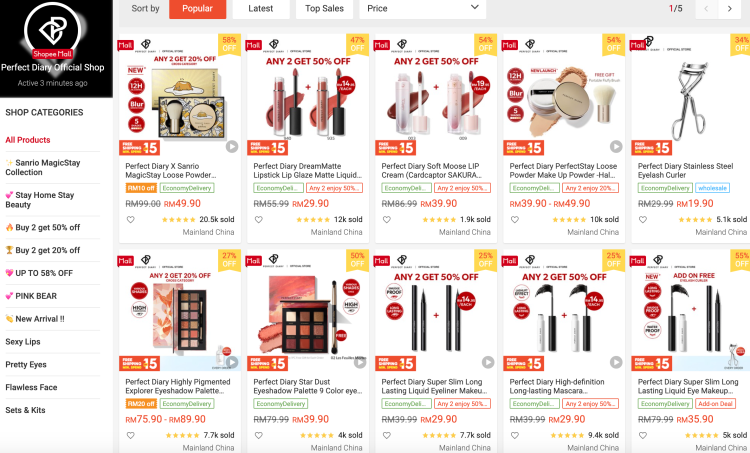 On Shopee, the most sought-after online shopping app in SEA, the Chinese cosmetics brand Perfect Diary ranked No. 1 in the beauty and makeup category in Vietnam and became the top seller in the color cosmetics category in Singapore and Malaysia.
"We can swiftly realize localization and establish a favorable brand impression with the support of Shopee's immense user base and solid infrastructure," Maria, Perfect Diary's head of overseas marketing, said.
Compared with Amazon's focus on star products rather than highlighting brands, these two e-tailers with Chinese backgrounds have more similarities in operation with Alibaba's marketplace Taobao and Tmall, rendering far-reaching assistance for brand publicity.
Shopee builds momentum for Perfect Diary on its platform and launches a series of marketing solutions, including advertising for the brand through Facebook, Google, and influencers. As a result, it has considerably enhanced the brand's popularity in SEA, so sales have also increased.
In China, the willingness of Gen Z consumers to accept homegrown products has served the widespread acceptance of Perfect Diary. Besides, its rise is also fueled by blending low prices and intensive marketing on social media platforms like TikTok's sister app Douyin, universal messaging app WeChat, Pinterest-like Red.
Now the approach has been duplicated to SEA and is working smoothly. As of the end of 2020, it has reached cooperation with 15,000 influencers at home and abroad.
Perfect Diary invited Vietnamese pop singer AMEE and Malaysian celebrity Joey Chua to promote their products, aiming to lure the young generation. As a result, the brand has generated over 250,000 followers on Instagram, 215,927 fans on Facebook.
With the increase of cultural influence and the reliability of "made-in-China," the acceptance and the competitiveness of Chinese brands are increasing. Therefore, going overseas is trending among Chinese companies, and SEA, which has a population of more than 750 million, is undoubtedly the top pick.
Guangzhou, where Perfect Diary's parent company Yatsen E-Commerce is headquartered, is well-known for having a cluster of OEM companies for international cosmetics brands. For example, some Lancome products, Estee Lauder, Bobbi Brown, and other mass-marketed cosmetics, are manufactured in Southern China. OEM was for decades the primary business model for China's industrial and economic development, and it earned China the nickname of "World's Factory."
Based on the sophisticated manufacturing system and the comprehensive supply chain, the company, established for less than five years, launched three fast-growing cosmetics and skincare brands, namely Perfect Diary, Little Odin, and Abby's choice.
However, the excessively high marketing expenses make analysts question its ability to achieve sustainable development.
The company's revenue in the first quarter was 1.44 billion yuan, a year-on-year increase of 42.7%. In the meantime, net losses are also expanding, with a loss of 319 million yuan ($48.7 million) in the first quarter of 2021, compared with a loss of 191.7 million yuan in the previous quarter.
Selling and marketing expenses for the first quarter of 2021 were 1.04 billion yuan ($159.1 million), accounting for 72.1% of the total net revenues, increasing 17.1% from the previous quarter. Research and development expenses for the first quarter of 2021 were 27.7 million yuan ($4.2 million), accounting for 1.9% of the total net revenues.
By way of comparison with the global cosmetic giant L'Oréal's, the advertising and promotion expenditures were approximately 8.65 billion euros ($33.93 billion) in 2020, accounting for 30.9% of 27.99 billion euros in revenue.
Currently, L'Oréal has a market cap of $63.07 billion, while the market value of Yatsen, which has a revenue of 5.233 billion yuan ($0.82 billion) in 2020, is $6.619 billion. Thus, although the Chinese upstart's revenue in 2020 is equivalent to 2% of the French veteran's, its market value stands at 10% of the latter.
Not only Yatsen, other Chinese beauty, and cosmetic brands are also stepping up overseas expansion. According to the data from the "2021 Beauty Industry Trend Insight Report" released by the China Commercial Data Center and Tmall, the number of domestic cosmetics going overseas has increased by more than ten times.
According to data released by the General Administration of Customs, in the first three quarters of 2020, China's cosmetics exports amounted to 752,500 tons, with a value of $3.139 billion, while in 2018 and 2019, the export value of cosmetics was $2.5 billion and $2.774 billion, respectively.
Affected by the pandemic, manufacturing in some countries has not yet fully recovered. Therefore, the following 3-5 years will be a good opportunity for domestic brands, especially cosmetics brands, to enter the overseas market," Hu Qimu, a senior researcher at the Digital Economy Think Tank, told Chinese news outlet Jiemian.
In SEA, the revenue of the beauty and cosmetics industry in 2020 will reach $25.449 billion, and the market is expected to grow by 5.3% annually from 2020 to 2023. The revenue contributed per capita was $38.6, of which 74% of sales contribute to mass-marketed cosmetics and 26% on luxury items, according to iSTRATA.
The Nasdaq-listed company is continuing to expand. In October, It signed an agreement to buy high-end makeup brand Galénic from Pierre Fabre, one of Europe's largest dermatology and skincare groups, and in March, it acquired prestige skincare brand Eve Lom.
"Yatsen E-Commerce has always had a vision of creating a domestic beauty brand with true international influence," Huang Jinfeng, founder, and CEO told Reuters.
Image Credits: Perfect Diary