After China rolled out the pilot test of its sovereign digital currency, or Digital Currency Electronic Payment (DCEP) last April, commercial banks have continuously come up with new design ideas for hardware wallets to be used with the new "Digital Yuan".
A hardware wallet is a high-security physical device that enables users to store cryptocurrency funds offline, in the form of cryptographic alphanumerical strings. There are all types of cryptocurrency hardware wallet manufacturers today who provide devices in various sizes and styles.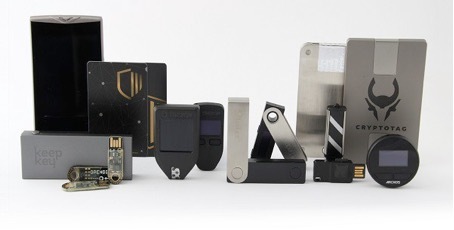 It was not until this Chinese New Year that a wild bunch of DECP-compatible physical wallets came into being for China's only legal digital currency. When the existing overseas hardware wallets look mysterious, complicated, and geeky, Chinese makers, mostly state-owned commercial banks, differentiate themselves vastly by offering wallets that don't necessarily incorporate any modern design at all. Some of the wallets are made adorable, for example, a panda keychain or Tamagotchi alike. There are weirder ones too, like gloves or walking canes.
The Postal Savings Bank of China, not commonly used by customers due to its lacking in technology and service innovation, is, believe it or not, actually the first commercial bank to introduce a digital yuan biometric hardware wallet. In a shape of a real debit card, the PSBC wallet comes with a small display that shows all payment details and balance information. The fund is secured by an engraved Norwegian IDEX Biometrics fingerprint sensor.
To sweeten the deal for potential adopters, the PSBC wallet can also serve as an alternative health code badge in case the user did not bring a smartphone. If you think about it, this actually makes sense, since Chinese citizens use their phones to pay for things and show their health codes at security checkpoints. If they ditch their phones they might as well not worry about getting into places as well.
PSBC's hardware card was first trialed in January 2021 at the Shanghai Tongren Hospital, where staff had been using the card in their hospital canteen. During the Spring Festival in early February, the card also appeared at the first e-RMB trial in Beijing, where 10 million digital yuan was given away via a lucky draw to individuals to boost consumption and lure more people into staying put in the city during the upcoming holiday.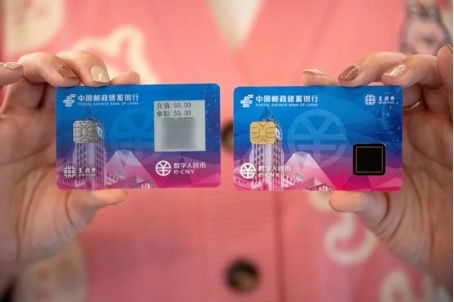 A total of six banks participated in the Beijing pilot program. Other hardware wallets that showed up during the trial include wearable models in collaboration between the Bank of China (BOC) and China Unicom, one of the country's largest cellular operators, plus other participating technology solution providers.
The physical wallet product line BOC launched is targeted to meet the 2022 Beijing Winter Olympics theme, from snowboard gloves to smartwatches (made by Amazfit, a well-known wearable company), and also badges and cards. A BOC spokesperson said that their wallets are designed to provide the digital RMB payment experience to sports enthusiasts and benefit foreign visitors who will come for the Winter Olympics but may come into issues opening Alipay or WeChat Pay accounts.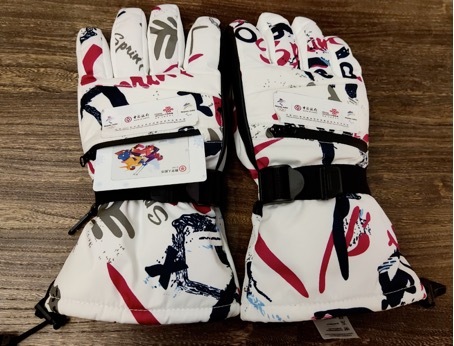 The ICBC also revealed several digital yuan wallets. Besides keychains, wristbands, and cards that have already been common in the field, the developers of ICBC also embed the wallet into a power bank. A representative for the bank's digital currency department suggested that they have also developed a walking cane that can make contactless digital payments. What they wanted to do is evade the barriers of financial technology for the elderly people.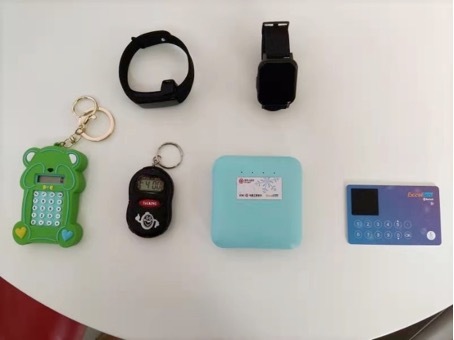 Meanwhile, in the Xiong'an New Area, a group of cities and surrounding areas designated by the government as future political capital of China, the Agricultural Bank of China released the region's first hardware wallet, made in the shape of a traditional copper coin to signify both China's rich history and promising future in terms of currency innovation. Technology-wise, the wallet supports dual offline payments, which means sending and receiving RMB without using the internet but via the built-in NFC chips.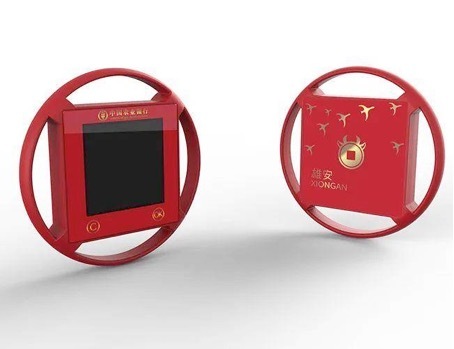 These hardware wallets are tools to expand fintech inclusion to youth, the elderly, and expatriates, enabling efficient payments, and enhancing China's monetary policies. The push for these wallets, as an integral part of a larger plan to make DCEP more available, fits China's goal of becoming not only a technological but a financial superpower. The earlier these wallets can get to the market, the better chance the DCEP gains even greater momentum domestically and expand beyond the country's borders via foreign visitors to the Winter Olympics.
However, at this moment the People's Bank of China (PBoC), China's central bank, offers no fixed timetable for digital yuan's official, nationwide rollout.