Despite Chinese netizen's rage against overtime work culture throughout the years, the notorious 996 working hour system remains unchanged and caused yet another death of a tech worker. This time, the victim is a young female who worked for e-commerce firm Pinduoduo.
An anonymous post appeared on the professional social-networking platform Maimai condemned Pinduoduo's ignorance over the pass of the 23-year-old Ms. Zhang over the New Year holidays. It soon triggered another wave of intense criticism of the long hours commonly practiced at China's tech companies.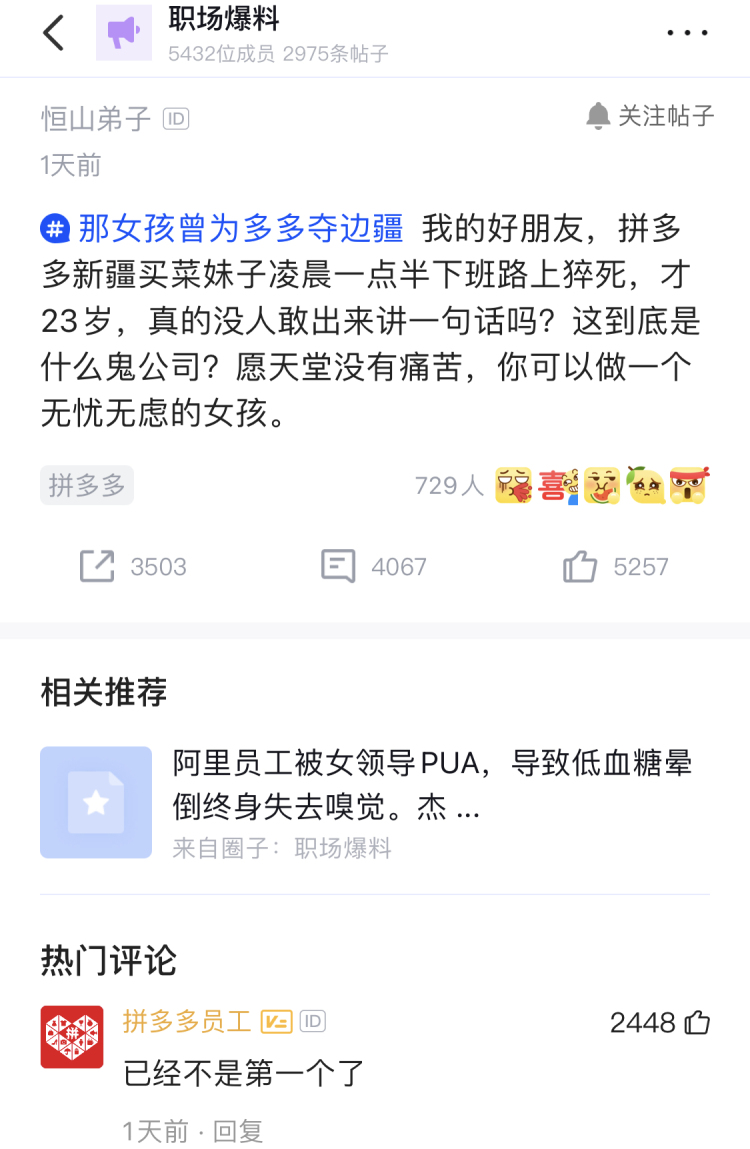 What made the public angrier and made things even more uncontrollable was Pinduoduo's initial remarks on Zhihu, China's Quora. Under the question, what do you think of the recent Pinduoduo employee's death, a certified Pinduoduo official account bylined answer not only backed the company but also implied that good life comes at a cost.
The post was soon deleted, but the screen-captured version was reposting on the internet.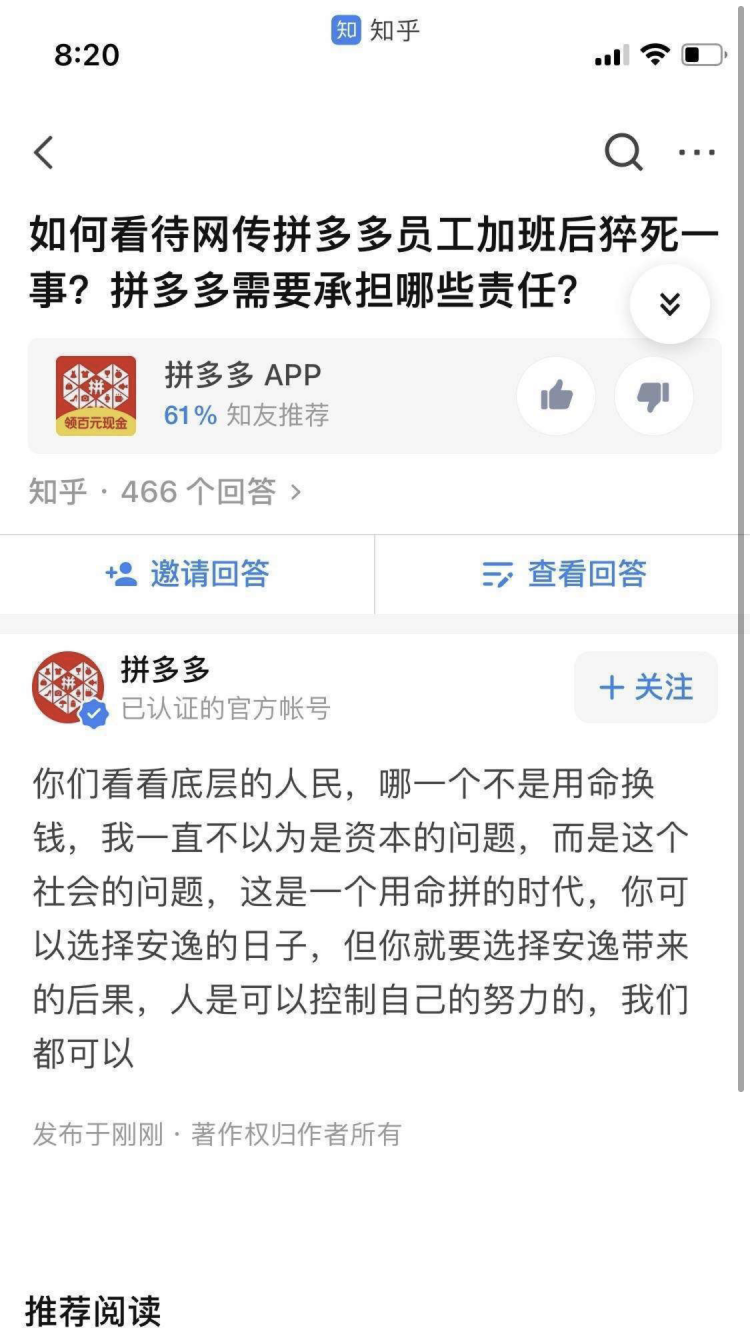 On Monday, the e-commerce company confirmed and stated that the deceased passed out while walking home with colleagues at 1:30 am on December 29. The employee could not be resuscitated and died after nearly six hours of first aid.
At the same time, Pinduoduo pointed out that the Zhihu answer was fake. However, Zhihu immediately pointed out that the Pinduoduo account is an authentic registered user since it implements a strict identity authentication process and mechanism on its platform.
Later that day, the e-tailer issued a statement saying that after investigation, it was found that the content was posted by an employee of its third-party marketing partner. "The remark does not represent the official opinion of Pinduoduo, and we strongly oppose it," declared the company.
Pinduoduo, the second-largest e-commerce platform in China in terms of market capitalization, is growing at an alarming rate. Three years after its establishment, the company went public on the Nasdaq. In just one year, its market capitalization has grown from around 50 billion at the beginning of 2020 to 200 billion now. That helped elevate founder Colin Huang to China's second-richest man, overtaking fellow internet entrepreneurs like Jack Ma and Tencent's Chairman Pony Ma.
Behind the rapid growth is high-intensity work. At the 5th anniversary celebration of Pinduoduo, Colin Huang emphasized that all employees should "switch on the hard-core fight mode." Being an ex-Googler, Huang has obviously forgotten the flexible, fun, open, and innovative culture that prevailed in Silicon Valley.
"The company is notorious among programmers for its excessive overtime work and toxic corporate culture, but it also offers a more competitive package. So despite the lousy reputation, there are always people willing to join," an unnamed user discussed on Maimai.
The young employee's death ignited an intense backlash against Pinduoduo, with a hashtag about the incident drawing more than 200 million views on Weibo. Meanwhile, working long hours, which is widely promoted by Chinese tech companies, has once again been raised by the public.
A comment trending on social media reads: "why 996.ICU protest has been launched for more than a year, but these internet companies have not changed?"
996.ICU project, the most prominent protest over work hours, went online at the end of March on code-sharing community GitHub. The three digits describe a work schedule from 9 am to 9 pm, six days a week. "By following the "996" work schedule, you are risking yourself getting into the ICU (Intensive Care Unit)," says the "996.ICU" project description.
It calls on tech workers to add names and evidence of excessive hours to a "blacklist," proposes requiring companies to agree to an "anti-996 license" as a condition for using open-source software, and urges people to "go home at 6 pm without feeling sorry."
Within a week, the project received a lot of supports. Beyond Pinduoduo, other Chinese big-techs, including Huawei, Alibaba, Ant Group, ByteDance, JD.com, 58.com, Suning, and DJI, were also added to the blacklist.
Although the project caused a sensation, the regulator did not take any substantive action. The absence of the labor protection department and China's ineffectual labor union system enable those companies that implement the 996 work schedule to fly under the radar.
Now, the regulators are eyeing big tech firms closely since the central government has vowed to strengthen anti-monopoly measures and prevent disorderly capital expansion. Just two weeks ago, China's top market regulator summoned Pinduoduo, Alibaba, Meituan, and other firms, warning their monopolistic behavior in the community group-buying field.
According to a Beijing Youth Daily report on Monday, the district's labor protection department in Shanghai, where Pinduodouo is headquartered, began a probe into the retail giant's working conditions and employment contracts.
Pinduoduo's stock closed at 166.78 on Monday, down 6.13%.