Many have wondered how Pinduoduo grew from a little-known startup to a listed public company and one of China's top contenders in the e-commerce field in just Five years, with much stronger incumbents always on the lookout to crush threats. The answer was not solely "China speed," which is another word for immense funding and aggressive subsidies.
The company's sheer will is to tackle the most challenging problems that competitors have left behind. Their smart tactics to remove the sales channel overhead and work directly with growers and manufacturers to build brands from scratch were the real key factors, said Pinduoduo's Chen Qiu, who just gave a speech laying out the company's secrets to success at PingWest's annual tech summit TIC 2020 in Beijing.
Branded "more affordability, more fun," Pinduoduo has built a massive cult-like loyal customer base that enjoys the company's cheaper offerings and social network-based group-buy shopping experience. Chen said at TIC 2020 that the company knew from the get-go that it needs to deliver customers higher cost performance than that of its established competitors to survive.
But that was not an easy task, at least in terms of conventional merchandise selection like light industrial products, which China is known for. Instead, Pinduoduo went directly to the sector that is traditionally near impossible for e-commerce platforms to maneuver: agriculture.
Chen mentioned three distinct sets of characteristics that made it quite hard for other e-commerce companies to tap into the agricultural sector.
The first set is on the demand side. Usually, customers don't search. Some younger people don't even know the name of the fruit they like. People also tend to buy products for immediate consumption, while online shopping, with fulfillment and delivery time, is taken into consideration, turns that into a semi-planned consumption. "To be able to make people buy agricultural products online, you are essentially forcing them to change their buying habit," said Chen.
The other sets are on the supply chain and the platform: established e-commerce companies listing more standardized industrial products can get by merely by focusing on the logistics. Also, farmers hardly have the budget to compete for better spots and buy more traffic. Therefore Pinduoduo needs to go deep into the fields, select a closer relationship with growers and local channels to optimize the efficiency of the entire supply chain to better tap into the agricultural business.
To start off, Pinduoduo slashed commission and fees for farmers to remove their entry barrier. That's is still the case today, five years after founding. The company also dives deep into producing areas to acquire first-hand intelligence on what they're planting, what the production cycle looks like, what problems do growers face, etc., to gain knowledge and better anticipate the production.
More importantly, according to Chen, who leads Pinduoduo's data-driven effort to optimize the sales platform, the company uses algorithms to find the product listings with the best cost performance and automatically match them with the most likely customers using the data it gathered. Chen calls it a "decentralized traffic routing system," as the growers can focus on offering better products, worry not about paying higher to compete, and still retains meaningful traffic from the company.
Chen spoke at the summit that Pinduoduo's namesake social network-based group buy feature was initially developed to suit the need to make agricultural products more accessible on its app and website. It essentially groups up the non-standardized demand for produce that was previously fragmentized across the entire nation, resulting in a more approachable supply-demand match.
According to Pinduoduo, the result is significant enough that, while farmers worried about leftover harvest in the past, the massive demand from the company's customers can create a stable stream of orders and even consume the entire seasonal production capacity of individual growing regions within days.
By 2019, agricultural products' annual merchandise value on Pinduoduo reached 136.4 billion RMB, making China's single most extensive platform of farming products upstream. That same year, about 1,500 individual agricultural products achieved more than 100,000 in the number of orders.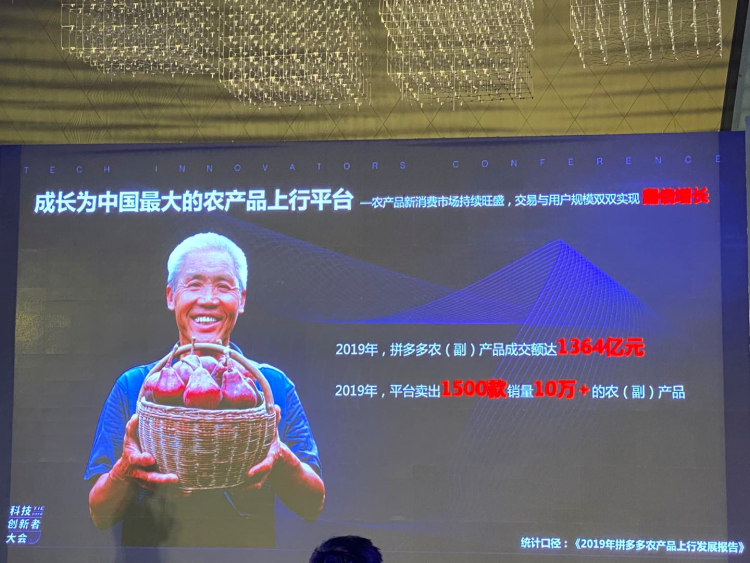 The average order size is still relatively small since these products can be sold at an even lower price than before; agriculture sales always count for 14% of the company's gross merchandise value, much higher than the average 1-3% of other e-commerce platforms. Working hard to grasp agriculture granted Pinduoduo a position in the e-commerce market so steady that even if it loses competition on other fronts, it is footing in agriculture is still far from reachable by competitors.
When another opportunity in the industrial sector made itself available, the experience Pinduoduo gained working with growers was put to use again. "Our experience with agricultural product upstream pretty much dictated our company's entire methodology," said Chen, "as many of you may have become aware of: our basic logic is to disrupt the supply side by first disrupting the demand. We achieved stable growth in agriculture. Similarly, we found immense space to employ the same logic and ideas."
Pinduoduo found yet another set of unique problems China's manufacturing scene faces: the production power is strong, the comprehensive cost advantage is unparalleled, and they are perfectly situated to serve a country that may soon overtake the United States as the country with the top consuming power. However, many domestic manufacturers have become too comfortable doing OEM for overseas brands, making cents on the dollar. However, many domestic manufacturers have become too comfortable serving as primary OEM for overseas brands, making cents on the dollar.
After studying the problems that this is a similar situation to when Pinduoduo first got into agriculture: industrial products used to pay expensive entry fees to channels—mostly department stores and supermarkets—to be displayed, the same logic later utilized by e-commerce companies. Too few domestic brands made it as household names. It is increasingly challenging to build home-grown brands from scratch, which often requires significant funding, i.e., Xiaomi.
Pinduoduo started by looking at the data is gathered from customers. For example, there are frequently X million people looking for shoes of a specific color and design at Y price, but couldn't find any; it seems like there are millions of people searching for cheap AirPods, but none are available. Pinduoduo then goes to manufacturers with these data (and lots of other data too, even including the optimal packing size to fit as many boxes in a truck,) minimize the uncertainty in their R&D, dilute cost, and then again do what they do best, matching these supply with demand.
Chen said that the company made attempts in many categories and achieved higher-than-expected results. In the tissue category, not only the brands it developed with OEMs for known brands such as Kleenex achieved significant sales on Pinduoduo, they even took over other e-commerce websites as the top-selling in their category. Many of the Pinduoduo-cultivated brands gained hundreds of millions of, if not billions of RMB in annual sales within a much shorter period, significantly boosted these manufacturers' survivability facing a global slowdown in orders due to the COVID-19 pandemic.
Pinduoduo plans to expand its initiative within the next 5 years and work with at least 5,000 manufacturers and launch 100,000 products customized using consumer data, creating an additional 1 trillion RMB in market value.
Read the Chinese transcript of Chen Qiu's speech at PingWest's TIC 2020 here.