The cash-burning war is happening in China's online education industry. Just a few years ago, this kind of cutthroat game wiped out small and medium-sized players, and gave birth to the on-demand delivery giant Meituan and the ride-sharing titan Didi Chuxing.
With the measures taken by the Chinese education authorities to reduce the academic burden, children are asked by parents to participate more in after-school classes. Meanwhile, the COVID-19 pandemic has made e-learning the primary approach for students to continue their learning activities. Thereby, intense competition is inevitable since various institutions have forayed into K-12 online education, trying to gain a juicy market share.
However, the high cost of customer acquisition and the difficulty in achieving profitability have made the online education industry crazy and anxious.
Yuanfudao and Zuoyebang, the two online education unicorns, have conducted large-scale financing this year to expand their market share and attract more users.
Yuanfudao has secured $2.2 billion from major Chinese and international investors in two recent rounds of financing, making it the world's most valuable education technology company.
It raised $1.2 billion in the Series G1 financing round led by Chinese gaming giant Tencent, with participation from Hillhouse Capital, Boyu Capital, and IDG Capital. The G2 round was led by DST Global, and other investors include CITICPE and Singapore investors GIC and Temasek.
In March, the Beijing-headquartered company raised $1 billion, valuing it at $7.8 billion. Currently, the company's valuation has been doubled, standing at $15.5 billion.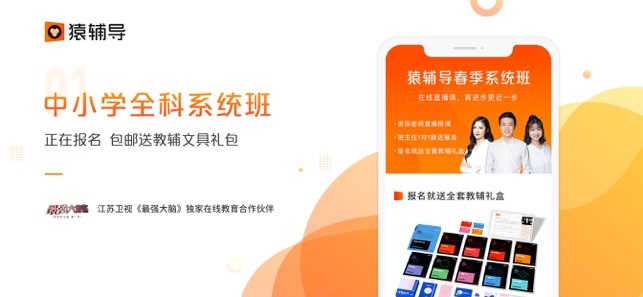 Baidu-backed Zuoyebang, the major rival of Yuanfudao, has also started a new fundraising drive at a valuation of $10 billion. The company just completed its Series E funding round in June, with 750 million being raised.
There's a consensus for K-12 online education business: although well-designed products are good for children, parents, as the ultimate payers, depend more on advertising to decide which company's services to use.
Amid the fierce competition in the entire online education industry, in order to acquire more users, almost all online education companies began to pour their resources into marketing.
In addition to R&D and operations, a large sum goes to advertising to increase company's visibility. For the whole year of 2019, Yuanfudao spent 1.49 billion yuan ($221.43 million)on marketing, while in 2020, its monthly marketing cost has exceeded 500 million yuan ($74.31 milion).
The marketing expense of GSX, an NYSE-listed Chinese online education firm, hit 1.205 billion yuan ($179.08 billion) in Q2 2020. Zuoyebang also invests hundreds of millions in marketing per month.
To seize the new market opportunity, especially for K-12 online education, selling and marketing expenses increased by 15.5% year-over-year to $116.9 million, New Oriental, the veteran in edtech, wrote in its latest financial report.
The person in charge of marketing at a leading online education company revealed that customer acquisition costs have risen by more than 50% in the summer of 2020, but the take rate dove lower than last year. At present, the cost of acquiring a user who pays to attend official classes is as high as 3,000 yuan($445.84), which is much higher than that of games, cash loans and other industries.
"Compared with consuming cash, investors care more about return on investment. However, the ROI of online education this year has shown an undeniable downward trend, especially for some leading companies," an investor said.
According to the Ministry of Education statistics, there are nearly 200 million students in China's K-12 age group in 2018. 22% of Chinese K-12 students will take part in online tutoring by the end of this year, up from 17% in 2019, Blue Lotus Research Group estimated.
Yuanfudao claimed it has 400 million users nationwide, while Zuoyebang said it has amassed 170 million monthly active users, about 50 million of whom use the service each day.
It is foreseeable that with the entry of top streaming platforms, including ByteDance, Kuaishou, and bilibili, the K-12 online education war will intensify. But what is unknown is how long the money-burning carnival will last. In the "capital winter" of 2019, VIPkid, a K-12 English tutoring app that was once highly sought after by investors, carried out large-scale layoffs involving 30% of its employees.
China has one of the world's largest education markets, with an estimated $300 billion in revenues. According to LEK consulting, of the 30 largest listed global education companies, 9 are now Chinese, compared to only 2 in 2013.