Ant Group, the fintech affiliate of Chinese e-commerce giant Alibaba, on Tuesday filed prospectus in both Shanghai and Hong Kong, in what may be the largest initial public offering since the coronavirus pandemic began, if not all time.
The Hangzhou-headquartered fintech company and a subsidiary of Alibaba said in the filing that the new shares it plans to sell would account for at least 10% of the company, indicating that it could raise more than 20 billion US dollars, with the potential of reaching $30 billion, topping the $29 billion raised last year by energy giant Saudi Aramco.
Ant plans a dual listing on the Hong Kong Stock Exchange and Shanghai's Science and Technology Innovation Board, also known as the STAR Market (上海科创板), which is a first in China. The decision to forfo a US listing followed a year-long geopolitical tension between the US and China, during which the US announced stringent crackdowns on Chinese technology companies, including threatening to ban TikTok and WeChat.
In the 12 months that ended in June, Ant Group handled 118 trillion yuan ($17 trillion) worth of transactions in mainland China, and international transactions totaling 622 billion yuan ($89.97 billion).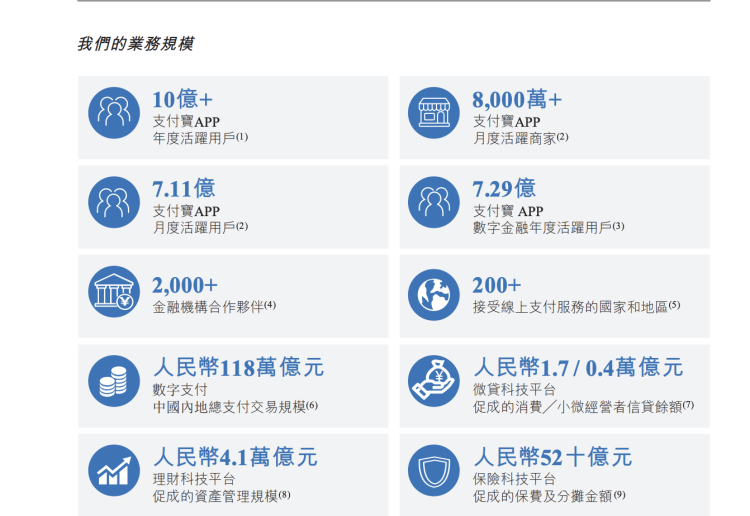 Prospectus shows Ant recorded $10.5 billion in revenue for the first half of 2020 alone, up 38% compared to last year, with a Non-IFRS operating margin of $4 billion, a stellar growth of 288%. Its revenue grew from $9.5 billion to $17.4 billion from 2017 to 2019, with a compound growth rate of 35.81%.
Ant operates Alipay, one of China's two dominant digital payment services. According to an iResearch report, Alipay held a leading 55.4% market share in digital payment in Q1 2020, while Tencent's WeChat Pay sitting at 38.8%.
Alipay, which offers a wide range of financial transactions, had 711 million monthly active end users as of June, and is serving more than 80 million merchant on its platform, from whom the company can charge commissions based on certain percentages of their transactions..
In the fillings, Ant Group revealed that it has partnerships with more than 2,000 financial institutions, jointly serving 729 million users and 20 million SMEs. Huabei, the credit payment services offered by Alipay, has served 500 million users in the past year.
While Alipay was the main contributor to Ant's massive scale, its credit system-based lending, wealth management, and insurance businesses for consumer and commercial customers, together known as the Digital Financial Technology Platform, is gaining a big momentum, taking up 56.2% of its entire revenue, overtaking Alipay.
For the first half of 2020, those businesses achieved $6.6 billion in revenue, nearly twice that of Alipay's.
Ant has raised more than $23 billion in private funding from both mainland China and US investors in the past. It lists Citigroup, JPMorgan, Morgan Stanley, and China International Capital as underwriters for its Hong Kong IPO, and CICC and China Securities for the STAR Market offering.
Prospectus shows that Hangzhou Junhan Equity Investment Partnership and Hangzhou Junao Equity Investment Partnership, the holding vehicles for Ant employees, jointly owns about 50.52% of Ant and are considered the largest shareholders when combined.
However, Jack Ma, Alibaba's now-retired founder, ex-CEO and ex-Chairman, still maintains control of Ant through Hangzhou Yunbo, his holding entity that serves as the executive partners of both Hangzhou Junhan and Hangzhou Junao. The prospectus mentioned that Ma's financial benefits stems from his 34% shares in Hangzhou Yunbo.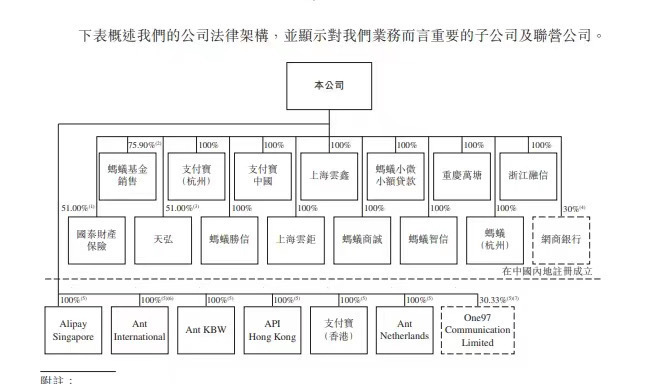 Despite Ant being the biggest fintech company in China, the company still faces significant domestic challenges. The most imminent ones among them actually didn't come from rival companies, but the Chinese government.
The People's Bank of China, the country's central bank, is planning a wider adoption of the Digital Yuan, formally known as the digital currency electronic system (DCEP), which could mount a challenge to Alibaba and Tencent's dominance in the digital payments sector.
China's top antitrust agency also requested an investigation into Alipay and WeChat Pay for using their dominance to suppress competition.
Ant said in the fillings that geopolitical tensions between the US and China could also negatively affect its business. "Besides, these policies and measures directed at China and Chinese companies could have the effect of discouraging US persons from working for Chinese companies, which could hinder our ability to hire or retain qualified personnel to work for our business," the company said.
The fintech giant wholly owns 6 subsidiaries outside mainland China, including Alipay Singapore, Ant International, Ant KBW, API Hong Kong, Alipay Hong Kong, and Ant Netherlands, and is also a major shareholder of Indian digital payment giant Paytm, through a 30.33% ownership of its parent company One97 Communications Limited. In addition to Paytm, Ant also has significant investments in numerous Indian startups including food delivery company Zomato and online grocery store BigBasket.
Due to the deterioration of India-China relations, the Indian government strictly restricted the entry of Chinese capital, casting a shadow over Ant's existing and future investment and market activities in the country.