Chinese tech firms, mainly popular video platforms, are taking immediate actions to crack down online eating shows after state media criticized mukbangers, or known in China as "big stomach kings", following a call by President Xi Jinping to stop food waste.
State broadcaster CCTV made several reports criticizing the binge-eating live streamers, who draw people's attentions by consuming large amount of food in shows.
One of CCTV News' Weibo posts condemns them for wasting food by eating on stream and throwing up off stream, citing a report from the Food and Agriculture Organization of the United Nations that 820 million people around the world are in severe hunger.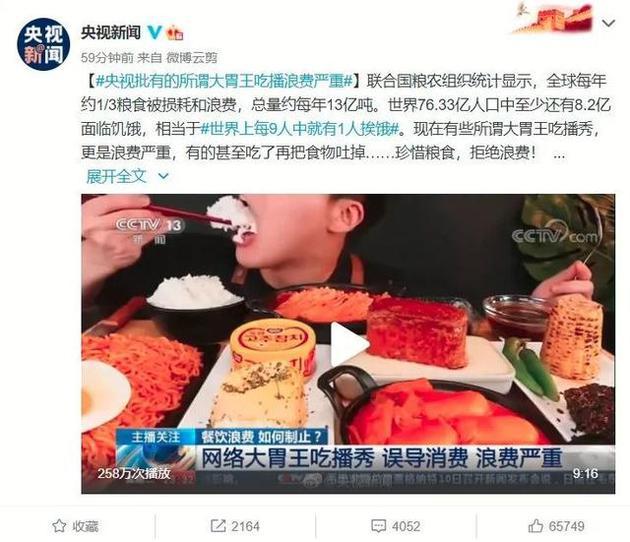 In response to the state media criticism, Chinese video platforms quickly reacted by removing videos. Searches for key words such as 吃播 (eating show)、大胃王 (big stomach king) return a notification that reads "Cherish food, refuse to waste, eat reasonably, live a healthy life."
Douyin, Kuaishou, two short video and live streaming platforms, as well as Weibo, which has a video service as well, said separately that they will penalize food-wasting behavior, and call on their users to treasure food resources.
Mukbang is a form of online eating show originated in South Korea and became popular Chinese short video and social media platforms in recent years, after apps like Douyin and Kuaishou lowered the entry barrier to people to live stream.
Hosts live stream themselves binge eating absurdly large quantities of, sometimes extremely non-conventional food like live animals, in order to attract eye balls and gain followers.
Popular mukbangers are able to attract millions of followers, allowing them to monetize their content easily through promotion deals with restaurants and food products, earning them hundreds of thousands, if not millions of RMB in a year.
Mukbang is generally considered an obscene form of entertainment, and most viewers are there for fun, including seeing the try-hards suffer. But for some, watching the shows also help them combat their own problems, like Bing-Eating disorders.
Some Weibo users commented that watching such shows help them with their diet. "they help me control my calories intake," wrote one comment.
Users are also beginning to wonder if the war against eating shows have gone too far. It seems like video platforms are taking down more videos than people thought they should have.
Users found out that even their favorite cooking tutorials and other foodie shows, most of the content of which shares a striking resemblance with the famous Salt Bae videos and don't necessarily count as wasting food, are being cancelled, too.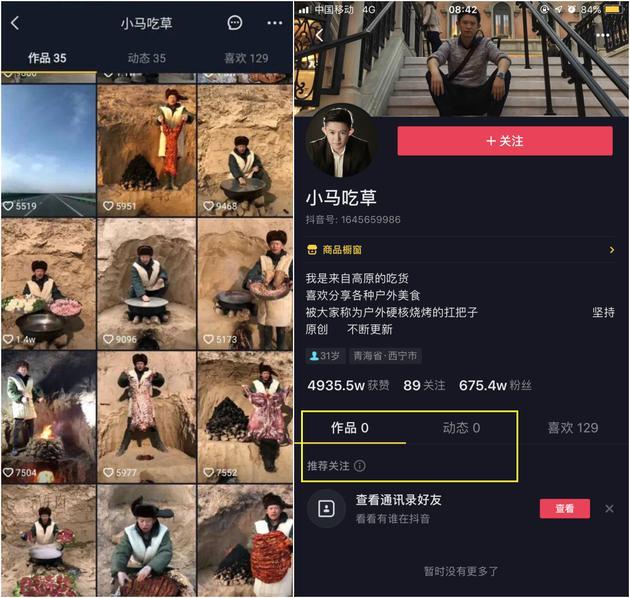 The swift crackdown on mukbangers came after President Xi's out-of-the-blue criticism on food waste, and directive to tackle the problem through legislative and regulatory measures on August 11.
Local governments and non-governmental organizations, such as restaurant associations, responded quickly by announcing new, albeit laughable initiatives to comply with the directive.
A restaurant association in Wuhan of Hubei Province announced "N-1" initiative, or restaurant goers should order one less dish than the number of people in their parties, followed by another association in Liaoning Province's "N-2".
The strict yet largely performative rules prompted netizens to joke that single people should not visit restaurants anymore, because all they'd be doing is sitting and watching others eat in Wuhan, or bringing their own dishes and give them to the restaurants in Liaoning Province.
Some restaurants even said that they will resell leftover food after high temperature sterilization, triggering internet backlash.
"How is this different from the use of gutter oil? Shouldn't this be penalized, too?" wrote a comment on Weibo.