Chinese electric vehicle startup Li Auto, also known as CHJ Automotive, just finished a $550 million financing round in late June, of which $500 million came from Meituan Dianping, the Chinese on-demand delivery giant. The round will drive up the valuation of the four-year-old startup founded by automotive entrepreneur Li Xiang to over $4 billion, dwarfing many of its money-craving peers.
Li Autol is also reportedly preparing a July or August IPO in the US, the second Chinese EV maker to achieve that, after Nio in 2018.
As one of China's strategic emerging industries, the NEV industry was given great importance by the central government. The past 6 years saw a wave of electric car-making startups sprouting into the spotlight riding the government's tax exemption and subsidy-based EV incentives policies. However, during that time the government had several times revamped its policies, making buying EVs significantly less cost-efficient than when the policies were first announced in 2014. Consequently, many startups, if not most of them, did not make it to the end.
The EV market in China is now dominated by a very limited number of companies, including startups like Nio, Xpeng, and Li Auto, and a few other brands launched by conventional carmakers. A screenshot tallying the many now-extinct Chinese EV brands — albeit not exactly accurately — went viral on social media, and gave people the clearest sense to date of how brutal the EV competition has been.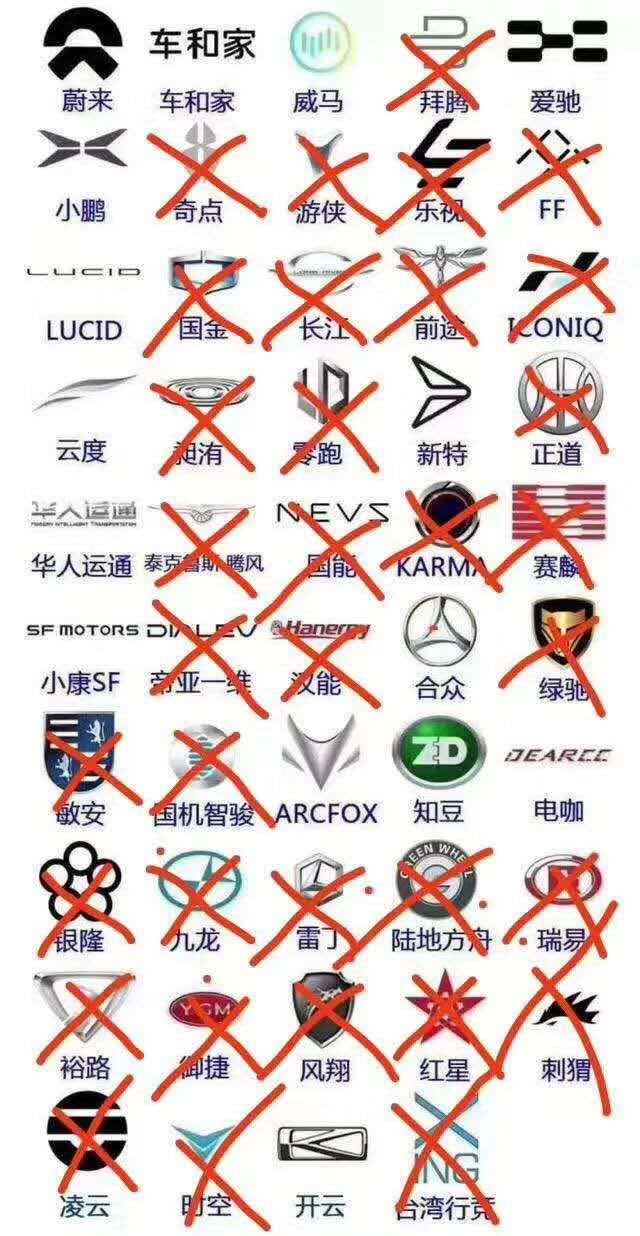 The COVID-19 pandemic notably accelerated the industry reshuffle of the once overcrowded and loss-making Chinese EV industry, given that China's auto market has continued the downward trend of the previous two years in 2020. Newcomers yet to reach mass production risk elimination since most investors are reluctant to pour more money into the bottomless pit of carmaking.
Last week, Byton Motors, a once-hyped Chinese EV startup with significant footprints in both China and the Silicon Valley, declared that it would halt operation for at least 6 months due to financial problems.
Prior to the announcement, the company had conducted massive layoffs and furloughed additional employees in its US headquarters in Santa Clara, California. It did not reach mass production with its 10 billion RMB factory in Nanjing, Jiangsu Province of China. Local media also reported that the factory has hundreds of millions of RMB in back payments to suppliers.
Chinese state-run broadcaster CCTV reported that among the nearly 50 EV startups in China that established around 2015, 40 are still operating but only 8 of them, including Nio, Li Auto and Xpeng, have sales on their books. All domestic companies are falling behind Tesla in EV sales, according to the China Passenger Cars Association, which recorded 7,666 vehicles sold by Li Auto, 9,235 by Nio, over 30,000 by Tesla from January to May 2020.
Moreover, affected by the pandemic, production cycles of Chinese EV have been extended, and the operating costs increased. Even for those who have already achieved large-scale production, the cash flow pressure is relatively high.
Nio went to the municipal government of Hefei in Anhui Province in February, and set up a new headquarters in the city in return for an investment of 10 billion RMB. Earlier this month, Tencent increased its equity in Nio to 15.1% with an additional $10 million investment, making it the second-largest shareholder after Nio founder Li Bin.
Both Xpeng and Li Auto said that they adopted strict cost control and other measures to manage their finance and maintain delivery, despite the unfavorable electric vehicle policies and the poor overall situation in the capital market.
Li Xiang, founder and CEO of Li Auto, refused to answer questions regarding its IPO plan, and instead said that his company does not need a large-scale capital injection to maintain operations, "Our company is extremely thrift, and startups should act like startups."
Despite seemingly in good shapes financially, the surviving Chinese EV companies are still plagued by each's problems.
In June 2019, due to a risk of overheating and spontaneous combustion in battery packs of the vehicles, Nio was asked by the Chinese State Administration for Market Regulation to recall 4,803 ES8 vehicles, accounting for a quarter of the vehicle's deliveries. Nio's vehicles were also previously infamous for sudden system upgrades which incapacitate them while owners were still driving on the road.
Li Auto also faces allegations of brake failure, broken axles and batteries catching fire, while Xpeng was previously accused by Apple and Tesla for stealing trade secrets after it recruited their ex-employees.
China expected new energy vehicle sales to reach a quarter of all car sales by 2025, according to the Ministry of Industry and Information Technology's draft proposal last year.