Update: This article has been updated to correct a previous claim that ByteDance reportedly poaching Necromancer Financial was the first of its kind in China. It was not. Back in 2017, ByteDance's Huoshan Video (later merged with Douyin) poached content creator MC Tianyou from rival app Kuaishou for a reported sum of 20 million RMB.
Bilibili, which counts Tencent, Alibaba and Sony among its investors, has lost one of its top content creators to ByteDance. People familiar with the matter said that Necromancer Financial (巫师财经), a leading video creator on the platform for financial-focused content, was poached by ByteDance's streaming website Xigua Video with an exclusivity deal of about 100 million RMB, or more than 14 million US dollars.
On the evening of June 14, NF posted a video statement that it's leaving Bilibili for good, no longer posting its videos to the platform. The creator said that being exclusively on the platform is no longer sustainable business-wise and that view counts of his recent videos have dropped significantly.
The creator added that while he originally planned on making videos without sponsorships and instead relying on patrons to make money, that income model is no longer a viable option so he's looking somewhere else.
NF was practically raised on Bilibili's platform from being a little-known creator to more than 3 million followers as of June 16, 2020. The creator makes easily understood videos that dissects trending topics from the financial perspective, and now boasts close to half a million followers already on Xigua Video. The move did not come without controversies, as both NF and Bilibili launched verbal attacks on each other, threatening legal actions for breaching contract.
The motive behind the move is considered by Chinese industry experts to be similar to that of Fortnite sensation Tyler "Ninja" Blevins jumping from Twitch to join Microsoft's Mixer for a deal worth up to $30 million, and Joe Rogan signing an $100 million exclusive deal with Spotify to host his podcast, The Joe Rogan Experience.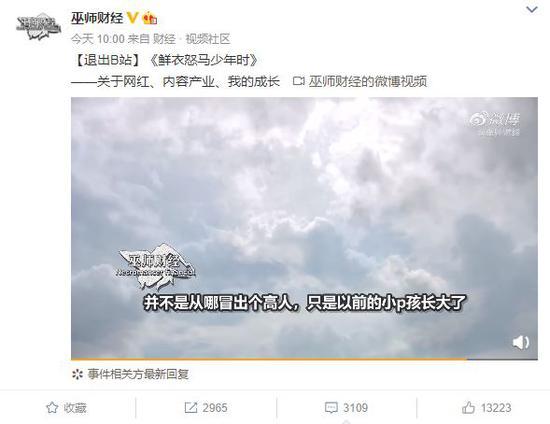 NF's reported jump from Bilibili to ByteDance is the latest of its kind from China's top-of-the-line content creators, marking the country's content industry's vibrance and capital-driven structural shifts reaching a new height.
The first of this kind of deal dates back to 2017, when Huoshan Video, also owned by ByteDance, poached MC Tianyou, singer, content creator and one of China's original online influencers, from rival app Kuaishou for a reported hefty sum of 20 million RMB. Huoshan Video was later merged into Douyin, TikTok's sister app in China.
Lesser known compared to other ByteDance flagship apps like Douyin/TikTok and news aggregator Toutiao, Xigua Video is ByteDance's version of a YouTube+Netflix hybrid which started out as an aggregator of news videos. Beginning 2019, the app modified its strategy to host content across the spectrum, with a focus on professionally generated content of higher quality, lining itself with rivals like Bilibili and Alibaba's Youku.
Bilibili's the monthly active users reached 172.4 million, in Q1 2020, an increase of 70%. While Xigua Video, with a broader user base, claimed that its MAUs were around 270 million.
The ByteDance-owned video website promises content creators increase their income by 10 to 20 times, with several add-on benefits, including using Douyin, to drive cross-platform user traffic to their video, according to those who recently switched to Xigua Video and talked to PingWest.
Previously in 2017, ByteDance tried to pay half a billion RMB in sign-on bonuses, to at least 5,000 top influencers on Quora-like Zhihu to join its own alternative Wukong Q&A. The substantial early subsidy allowed the platform to get the attention of content creators and users quickly. However as promotions subsided and cash support diminished, the number of its active users witnessed a cliff-like drop. Data from QuestMobile shows that from October 2017 to July 2018, Zhihu's monthly active users increased from 13.51 million to 34.76 million, while Wukong Q&A plummeted from 1.21 million to 679,000.
One key obstacle for Xigua Video to lure content creators is its user base. The company announced in 2019 that 58.4% of its users are located in third and lower-tier cities and rural areas, with the majority of them over 30 years old. Meanwhile, Bilibili's users are mostly Gen-Z in upper-tier cities. A beauty vlogger who wishes to remain anonymous told PingWest that she's a loyal supporter of Bilibili because "most of us are young people who share common interest and topics."
Bilibili faces its own growth problems, too. "If a company no longer grows, then it will die," Chen Rui, co-founder, CEO and Chairman of Bilibili, said in 2019. Ever since, the company has been actively trying to break out of the ACG (Anime, Comics, Games) niche and diversify its content scopes to include science, finance, culture, etc.