Although live streamed e-commerce has been all the buzz lately in China, garnering massive internet traffic, some platforms have been rethinking their strategy of heavy dependence on this lower end market after users develop fatigue watching internet streamed, minimally differentiated infomercials, and working up their content diversity.
Chinese short video and live streaming apps Douyin and Kuaishou have both launched projects to promote knowledge-based content creation.
Kelly Zhang, CEO of ByteDance China, the company behinds Douyin, announced back in August, 2019 to subsidize educational content creators during the company's first content creator conference.
In March this year, the company also collaborated with national level research institutes and media outlets, including the Chinese Academy of Science and China Science Daily in the launch of "Douzhi Project", signing on renowned scholars as advisors to guide the knowledge-based content creation on the platform. Jiang yi, Douyin head of operation, said at an event that the project's key is "making valuable knowledge more interesting, and funny clips more meaningful."
The company recently launched a series of science-focused live stream shows under the project, featuring wildlife experts, documentary producers and more experts. The Douzhi project has signed on more than 90,000 professional content creators who uploaded more than 25 million videos.
Kuaishou said that it is paying 6.66 billion RMB to subsidize educational accounts. Together with Zhihu, a Chinese equivalent of Quora, the short video app known for down-to-earth creative content launched "Kuaizhi Project", in which professors and lecturers across college and middle school levels were invited open Kuaishou accounts.
Popular streaming website Bilibili launched a slew of topics under its knowledge section of content, featuring more popular science, economics, financial content than before. Even Baidu tapped into its highly developed knowledge-based search and Q&A services and launched its live streaming platform with a focus on educational content.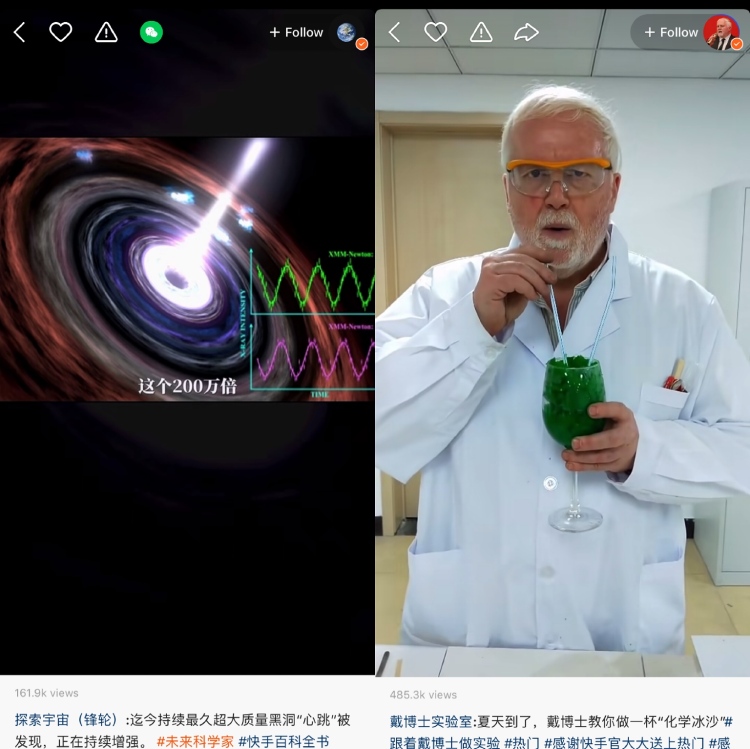 Knowledge-focused entrepreneurship had its moment in China in the past years, the most notable startups among which include Zaihang and Dedao, which sold tailored classes and packaged knowledge to paid users. However, MOOCs and other adult-facing online learning business models have yet fully taken off in the country.
With short video and live streaming businesses taking over the country by storm, experts and "knowledge entrepreneurs" took advantage of the trend and transformed into the role of content creators.
Cyberspace Administration of China, the country's top governmental internet watchdog, reposted a state media article back in March, 2019 cautioning the negative effects of live shows that is currently dominant on live streaming platforms, and added that the diversification of content, especially towards popularizing knowledge, provides higher social benefits.