Think you might one day be done with the health codes after the Covid-19 finally blows over in China? Well, think twice, because it appears that Hangzhou is planning on making it permanent, with a twist too.
In a meeting with Hangzhou local health officials and leaders of key hospitals on May 22, the city's Health Commissioner Sun Yongrong proposed a new system of health score, grading residents base on things they do, ranging from how many hours they sleep, to how many cigarettes they smoke a day.
Instead of health codes in three fixed colors indicating the person's risk of exposure to the Covid-19, this newly proposed system would feature a richer, gradient health code color combination, generated from a daily-updated health score.
The system, albeit nowhere near actual implementation, provides an Orwellian look into how the Hangzhou municipal government, and the Chinese government in general, attempt to mine more data points from individuals to learn more about its citizens.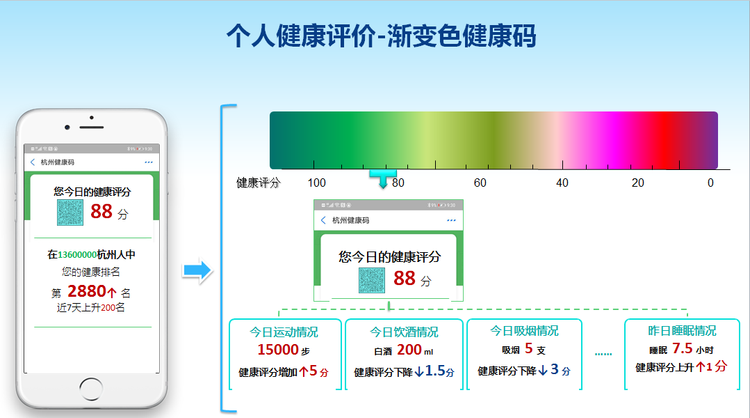 Screenshots of slides from the meeting demonstrate that in the proposed system, residents' workout, lifestyle and living status in general would affect their scores. Walking at least 15,000 steps a day would increase one's score by 5, while getting a good night sleep for at least 7.5 hours can result in an increase of 1.
Meanwhile, lifestyle choices that are considered bad for health but otherwise very common among certain age/gender groups in China, would decrease one's health score. Drinking 200 milliliters of Baijiu, Chinese people's favorite liquor, would cut down one's score by 1.5, while smoking 5 cigarettes a day causes a deduction of 3 points.
But that's not all of it. The system also appears to aggregate scores from employees working for the same company to compile a new score for the company, too. Local media also suggested that the same could be done for all the people in the same apartment complex, or a municipal district.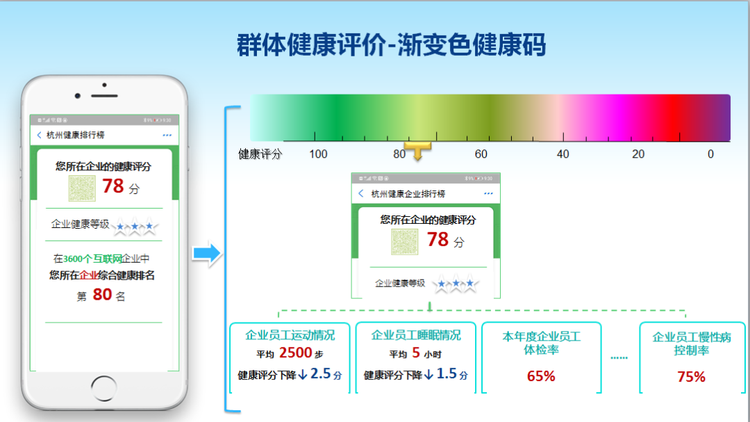 It is currently unknown how the city's Health Commission would go about acquiring all that information from individuals. Should it ever succeeds, it would have become the most blatant breaching of personal privacy by a government in China, where people typically trade privacy for benefits and efficiency.
Not to mention that it is also a step on people's choice of lifestyle, since many in the city who work for its vibrant internet industry often work overtime and workout less.
Another key point of people's concern lies in their projection of how the new system is actually be implemented, citing their bad memories with Xuexi Qiangguo, an app developed by the Communist Party of China.
Most party members in China, especially those working for government agencies and affiliated entities, were forced to use it daily, take courses and exams on it, and would face stigmatization if their score was lower than their peers'.
Referencing her experience with Xuexi Qiangguo, Ms. Zhang, a civil servant in Hangzhou told PingWest under condition to omit her given name, that she's worried about a similar situation with the proposed health score. Her husband works for a major technology company's Hangzhou office.
"What happens if he's too busy to workout and drags down our family's score? Will this hurt his, or maybe even my chance of promotion?" questioned Zhang.
Hangzhou is one of the first Chinese cities to begin using health codes to monitor residents' health conditions related to the Covid-19 pandemic and manage their access to public utilities such as office buildings, public transportations, etc.
The city had also began implementing a new system called the "Talent Code", essentially grading residents base on their job importance, education level, and overall contribution to the society.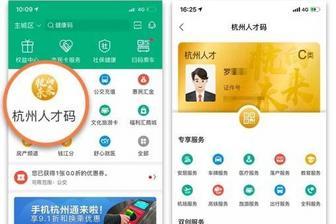 Talents with a better grade can instantly enjoy more favorable policies and expedited services from municipal government agencies, ranging from fast approval for various subsidies to paperless applications for social security, from free subway rides, to dedicated VIP lounges in airports and bullet trains stations.