Chinese live streaming apps are reportedly banning channels that feature foreigners on active streams, according to multiple users on the platforms.
AriaAndBrandon, a duo of beauty and lifestyle vloggers, posted on Weibo that one of their streams on live streaming and e-commerce app Xiaohongshu on May 4th was shut down due to the new rules. The couple, currently residing in Melbourne, Australia, features a Chinese female and an Australian male.
They reported that during one of their streams, a banner notice was shown on their end, claiming that their channel is showing content that violated platform policies. The notice went on to threaten them with a ban if they continue to feature foreign adults on stream.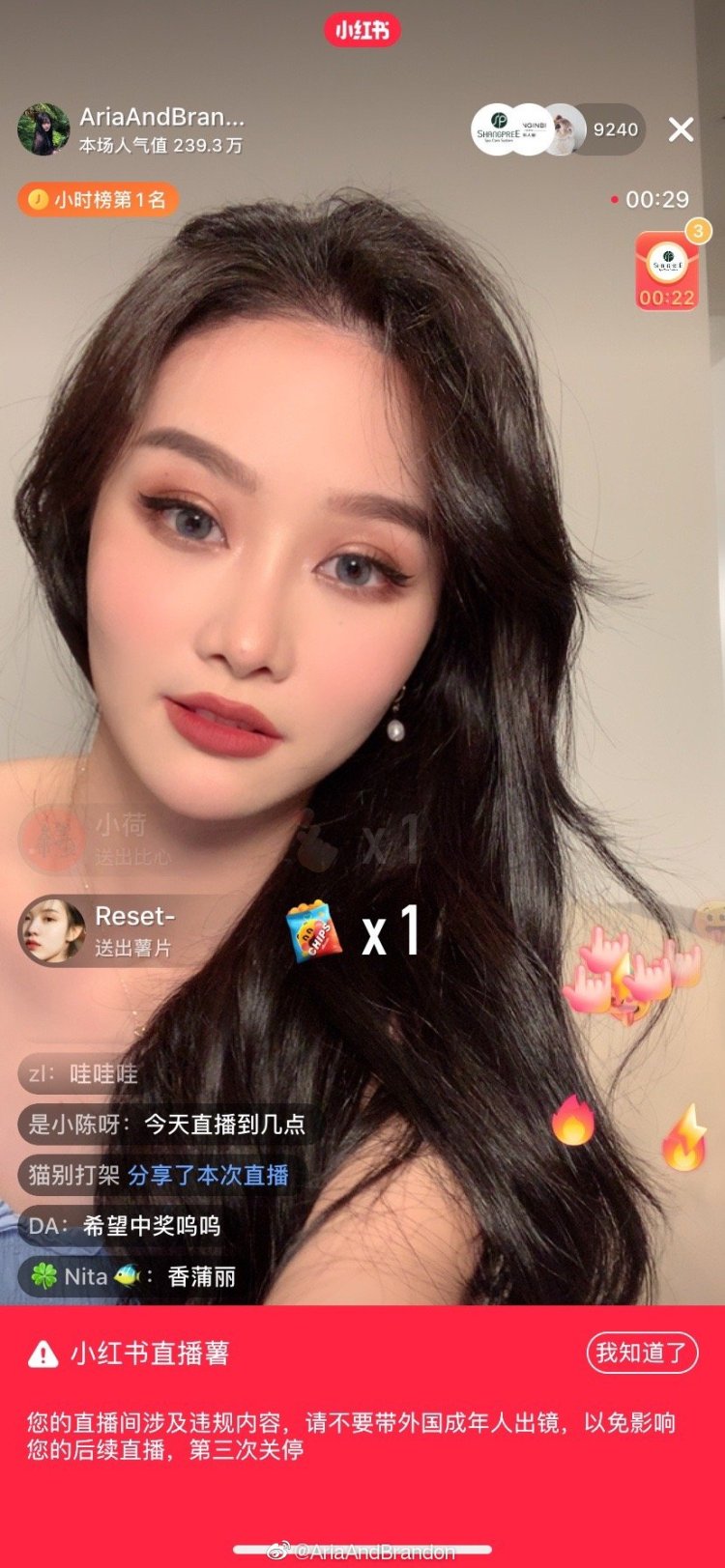 In another screenshot released by AriaAndBrandon, another vlogger, whose name was omitted, claimed that Douyin, the Chinese sister app of TikTok, also bans accounts that featured foreigners when active streams are found and reported.
Another user on Weibo also reported back in March that a foreign teacher working for an English teaching institution was shut down mid-stream on Douyin.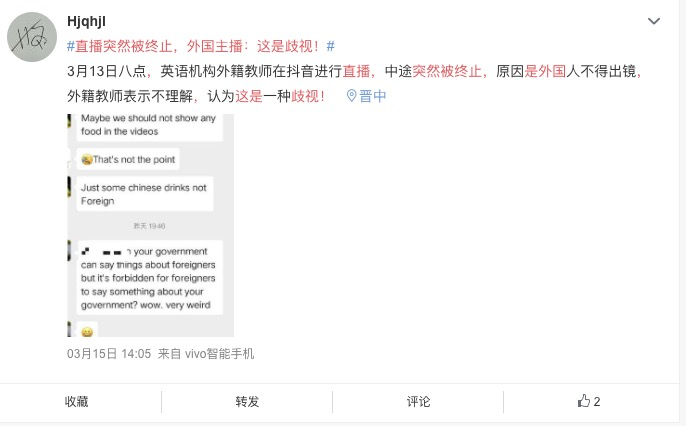 AriaAndBrandon's ban happened on May 4, China's Youth Day, a public holiday commemorating anti-imperialism protests during the May Fourth Movement in 1919.
China's official positions on foreign expatriates seem to be in constant fluctuation.
In February, China's Ministry of Justice released a draft regulation, preparing to instantly grant qualified foreigners permanent residence. The draft regulation caused massive backlash on Chinese social media, with netizens voicing their concerns that foreigners are going to take away their job and public welfare resources.
During the Covid-19 pandemic, racist propaganda material went viral on WeChat, Weibo and other Chinese social networks, depicting foreigners as garbage subject to classification.
China's Ministry of Culture issued a regulation back in 2017 asking foreigners to apply for permits before going live on platforms, or face being shut down. The enforcement situation of the rule has been largely unnoticeable until recently.
Xiaohongshu ruled that no foreign people will be allowed in front of a camera during live streams. It appears that this will not only apply to foreigners of non-Asian descent, but also East Asians who look like Chinese, such as Koreans and Japanese, according to users' social media posts discussing the matter.
However, it appears that Chinese streamers will not be punished for speaking foreign languages during their streams, according to AriaAndBrandon.
It is currently unclear if the ban is going to be temporary or long-lasting. Existing accounts featuring non-Chinese hosts are not showing signs of being affected, according to a simple search on numerous platforms by PingWest.
A Xiaohongshu representative did not immediately respond to PingWest's request for confirmation and comment. Douyin was not immediately reachable for comment. This article will be updated once more information is provided.
AriaAndBrandon did not reply to PingWest's messages, and deleted the Weibo post exposing the new rule.