Chinese online bookstore Dangdang reported that on the morning of Sunday April 26, Li Guoqing, its former CEO and a major shareholder, staged a coup by breaking into the company's Beijing office with six associates, robbing a total of 47 official chops from the parent company and multiple subsidiaries.
Police was called to the scene.
Among chops stolen were 11 official chops that represent the official entities, and 36 financial seals, often used in company accounting matters.
The company issued a statement to PingWest saying that all of the stolen chops will be become invalid effective immediately, and that the company would not recognize any deals that were signed with the stolen ones.
Anonymous tips posted on professional social network Maimai claims that CCTV footage showed Li storming into the company's office with four people following and using phones to record video. Kan Min, a VP at Dangdang, later confirmed in a conference call with reporters that a total of seven people trespassed into the office.
Li reportedly entered Dangdang's office at 9:34, then went straight to office belonging to the company's administrative teams and confiscated official chops. He reportedly then moved on to the accountants', taking away financial seals.
Yu Yu, Dangdang's president, CEO, who had also filed for divorce with Li, was not present at the office when the ex-CEO broke in.
Dangdang's employee reportedly locked all of the company's doors to prevent Li from escaping, and called the police. It is currently unclear whether or not Li had left the building as of Sunday afternoon.
NetEase Technology reported that Li briefly replied to its request for comment in the afternoon, saying that he was currently in the process of taking over the company, and was not taking interviews.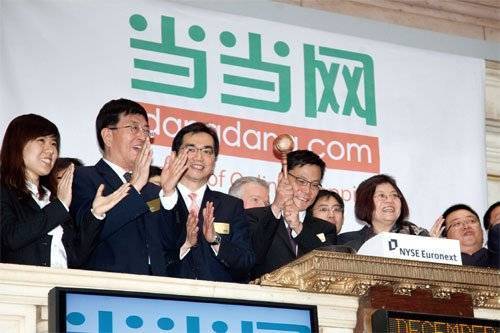 Li, a serial tech entrepreneur, co-founded Dangdang in 1999 with Yu, a former Wall Street banker. The company went on a fast track and went public on NYSE in 2010.
As the company's ex-CEO, Li focused more on Dangdang's internal operation, and was widely criticized in the largely patriachal Chinese tech scene as an incompetent CEO, while Yu, as co-president of the company, was in charge of nearly all major financing deals and strategic affairs, despite previously taking much time off to take care of their family.
The company's image took a hit in 2018 after Li's inappropriate comment on the alleged rape case of Richard Liu, founder and CEO of JD.com.
In 2019, Li broke the news that he was ousted from the company, and that Yu was taking control, in a heated interview during which he smashed his cup on camera.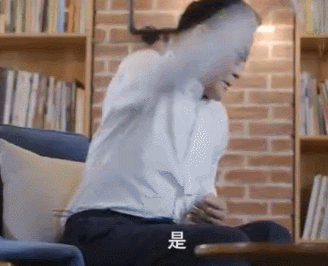 Yu filed for divorce in 2019, with both acknowledging that their relationship had fallen apart. Li argued in court to split the stakes in the company between Yu and him.
Among many of Yu's alleged wrongdoings mentioned in a statement Li posted after he broke into into Dangdang's office, he complained that Yu refused to hand over the reign, forced him out, and inappropriately fired hundreds of employees. Li claimed that he will bring justice to these employees and the company by allowing them to rejoin and receive a dividend.
Li also claimed that he called for a board meeting (editor: the company currently does not have a board structure), during which he was elected as chairman and general manager, giving him the right to confiscate official chops and regain control of the company.
Li Guoqing posted on his WeChat claiming that he legally confiscated the chops because he and Yu collectively owns over 91% of the company's shares, and that the ordeal was a "family matter".
Yu owns about 64.2% of Dangdang, according to corporate data reporting company Tianyancha.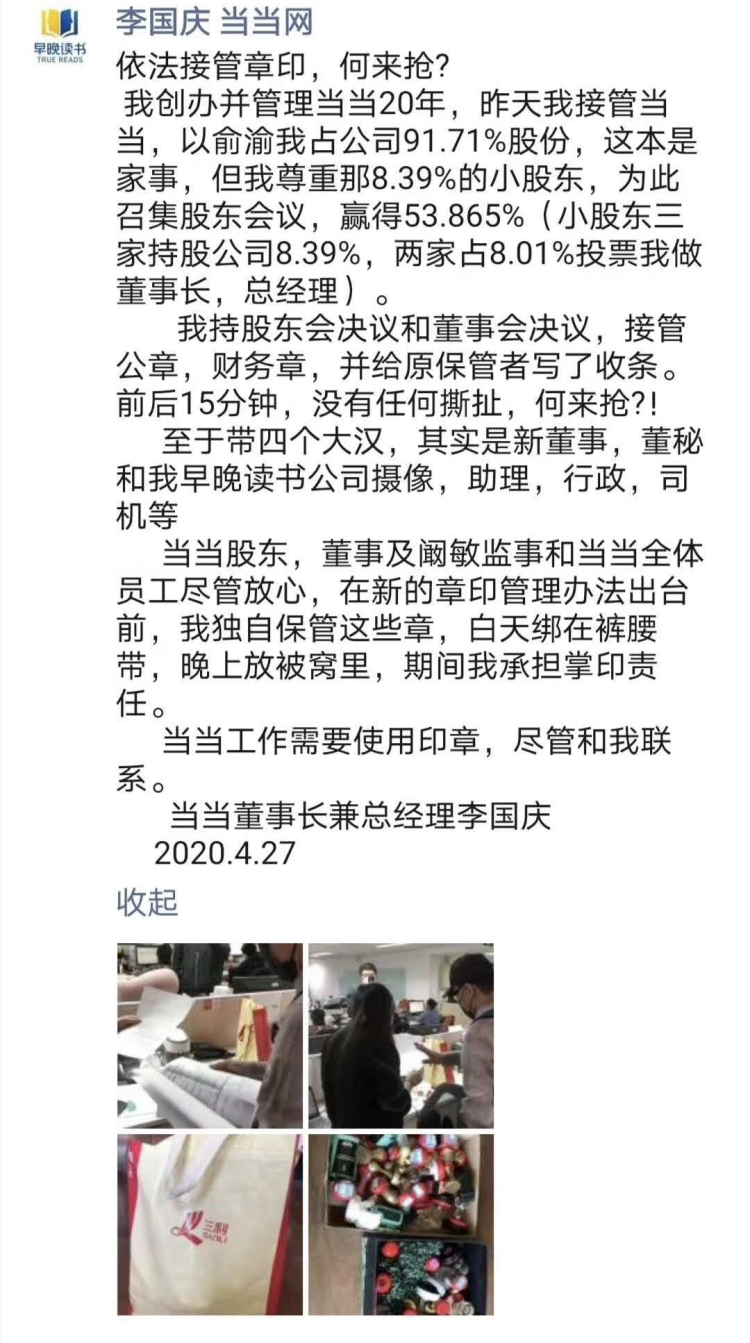 Update: This article was updated on April 27 with a posted statement from Li Guoqing . An earlier version of the article incorrectly stated that Li Guoqing owns more shares of Dangdang than Yu Yu.