Pinduduo has formed a new partnership with local appliances chain Gome with an investment of 200 million dollars on April 19.
The investment, in the form of convertible debt at 1.215 HKD per share, 66.4% to 68.75% higher than Gome's closing share price of 0.73 HKD on last Friday, would represent 5.62% of the appliances chain's market capital if fully vetted.
As the online discount retailer's competition with Alibaba and JD.com intensifies the strategic investment will help it complement its catalog by integrating Gome's entire product categories, customer service onto its platform. A first step of the partnership, two companies will present a trial program together by allowing Pinduoduo's roughly 600 million users to try out products from Gome before making purchases.
Stale electronics retailer like Gome and Suning have suffered from the rise of online-focused retailers like JD.com, struggling to attract customers to their brick-and-mortar stores across China. Think of Gome and JD.com as RadioShack and Best Buy, and you get the point.
Both Gome and Suning invested heavily in e-commerce but to little avail. Alibaba, China's top e-commerce conglomerate, invested $4.6 billion in Suning a few years ago. Suning has since removed its appliances retailer label and transformed into a general e-commerce website, with its business scopes expanded into online financing as well.
The deal allowed Alibaba's online customers to go into one of Suning's some 1,800 outlets across China to try out a product before purchasing it on Alibaba's e-commerce platform and have it delivered to their doorsteps. In return, Suning had reached broader customer base and greatly reduce its logistic costs by integrating with Alibaba's well-developed logistic system Cainiao.
Meanwhile, Gome was lagging behind.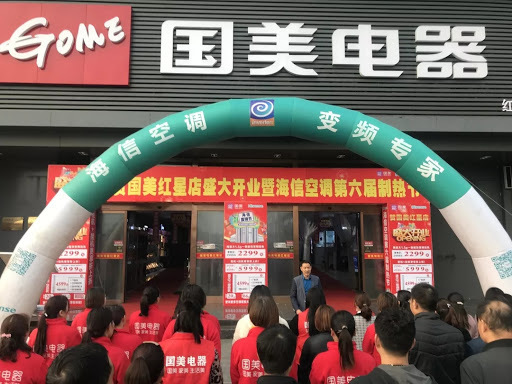 As Pinduoduo's unbelievable growth in less than 5 years gave it equal footing with Alibaba, its partnership with Gome is likely following Alibaba's footstep. However, for Pinduoduo, Gome may also prove to be more helpful, in onboarding world-leading appliances brands such as Siemens, Gree, Haier, and in strengthening the e-commerce upstart's shortcomings in logistics, delivery and customer service.
With this deal, the e-commerce upstart will be able to tap into Anxun Logistics's delivery network of over 6,000 offices, nearly 2 million square meters of warehouses, and 15,000 delivery vehicles. Gome strategically invested in Anxun back in 2019.
The partnership also accelerates Pinduoduo's direct consumer-to-manufacturer business model, which uses data to help factories save costs by reducing demand mismatch.
Pinduoduo said in its statement that the strategic partnership is a win-win for both.
Direct Consumer-to-Manufacturer, a business model exemplified by Pinduoduo, is also being adopted by Gome in as early as ten years ago. The appliances retailer spent more than 50 million RMB to push its dual-brand strategy, creating Gome-branded appliances to be sold by itself or its suppliers directly to consumers.
In the meantime, marriages between e-commerce companies and traditional retailers has been an emerging trend in China. In order to adapt to quickly changing business environments in China, e-commerce companies have embraced new retail strategy known as "Internet Plus" to combine online and offline shopping, so that it can encourage more technology-driven shopping experience.
After failing its own e-commerce venture, Gome entered into a strategic partnership with global e-commerce giant Amazon's Chinese operation, and Alibaba's Tmall in 2016, opening flagship online storefronts on both websites.
The past competition between Suning and Gome has now become a competition between the Alibaba-Suning and Pinduoduo-Gome alliances.
"From Pinduduo's point of view, investing in and having such as strategic with Gome will help them matching up with Alibaba and JD.com in China's appliance and electronics retails market. On the other hand, Pinduduo's strong reputation for catering to budget users match Gome's growth strategy of the active penetration into lower tier markets." Zhang Jing, an analyst at Suning Financial Institute told PingWest.
Pinduoduo had been planning to strengthen its offerings in electronics products for a while. Prior to the Gome investment, the two companies held a "Super Brands Day" promotional campaign to give awa 500 million RMB in the forms of discounts and subsidies on more than 6000 items.
The strategic partnership with Gome is the first of its kind by Pinduoduo since its founding in 2015. The Nasdaq-listed company recently raised $1.1 billion in a private share placement.