As the Covid-19 pandemic paralyzed the show business, artists are increasingly moving their concerts and shows online. While people sheltering in watched the One World: Together At Home, a not-for-profit concert presented by Global Citizen with the collaboration of top artists around the world, Chinese people, who weren't able to watch it live due to a broadcast ban, instead enjoyed classics from a very popular Taiwanese artist.
Singer and songwriter Rene Liu preformed her first online concert on April 17. Titled Being With You, Liu intended to encourage people and soothe their souls during hard times. The highly anticipated concert was live streamed on seven music streaming platforms, including popular short video app Kuaishou, social media giant Weibo, and a slew of music streaming apps from Tencent.
Aside from no in-person audience during the live recording, the concert, held in an old theater in Taiwan, was not much different than a regular one. Wu Tsing-fong, lead vocalist from famous Taiwanese band Sodagreen and a good friend of Liu, joined the live chat and joked that Liu would need to pay for the copyright for singing his band's song.
However, across the strait and over the internet, a total of 150 million people from around the world watched the 2.5-hour-long concert live. Relevant hashtags went trending on Weibo at the same time. Total views of hastag content reached 721 million within 12 hours after the concert. Short clips cut from the concert hit 110 million views.
Viewers were able to chat with each other and Liu and ask her questions during the stream. "Life is not going to be easy, but finding happiness and courage amid tough times is the reason I want to sing for you and myself," Liu posted on Weibo after her concert ended. Viewers commented that they cried watching Liu's performing.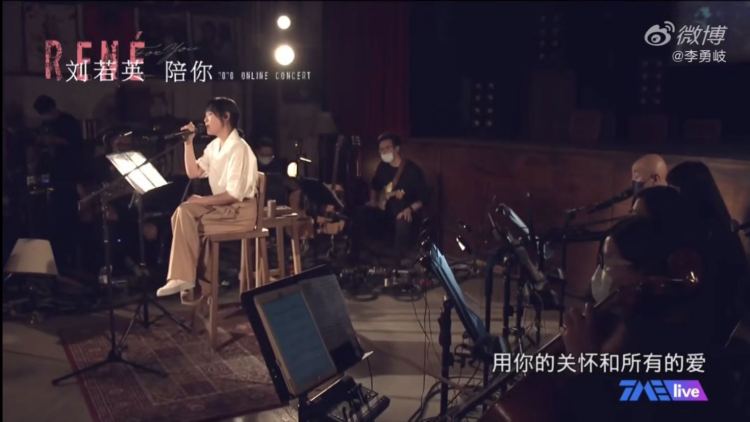 After the Covid-19 pandemic hit China in the past months, the playbook of China's show business completely changed. Social networks and internet companies in general gained more influence as the entertainment industry relied on them more than ever.
Internet companies's participation in concerts was previously largely limited to tickets selling and marketing. However, as they become the platform for the shows, they are able to analyze viewership data and gain more insight, which could lead to new services provided to both viewers and artists.
After seeing the success of the One World: Together At home concert on April 19, which raised $130 million to fight the global pandemic, four Chinese internet companies, Weibo, Netease Music, Xiami Music, and Damai, a ticketing website, are set to launch its own version of a multi-artist live charity performance.
The four companies plan to invite over 100 artists to perform at the concert, all commercial elements of which, such as copyright, sponsorships, advertisements, will be waived.