Coronavirus outbreak has boosted demand for remote office apps such as Bytedance's Lark, Alibaba's DingTalk and Tencent's WeChat work as as the millions of Chine office workers are confined to their rooms and told to not go to office to prevent the spread of the novel coronavirus. Data compiled by App Annie shows that both Lark and DingTalk saw 300%+ increase in downloads compared to a month ago.
These remote work apps provide platforms for companies to strengthen internal communication, manage tasks, organize client meetings and group discussions.
In a live-streaming course on Douyin, also owned by ByteDance, Xie Xin, Vice President of ByteDance and Head of Feishu (the Chinese name for Lark) said more than 50,000 colleagues of his have been working remotely through the app that he's in charge of.
A surge in the usage of the video conferencing feature caused temporary disruptions on enterprise collaboration platforms, including his. Xie said that the Feishu team has been working hard to update the software consistently and expanding server capacity. "Feishu is engineered for high stability and performance, even when you have thousands of people connecting from different devices. We have been testing Feishu internally at Bytedance, it can help us to achieve 50,000 people working remotely worldwide." Xie Xin said.
Chen Ju, director of SaaS operation at ByteDance, explained how ByteDance uses its own software to eliminate the need for separate workplace collaboration tools in a live-streaming course co-hosted by PingWest.
"One of the biggest challenges for working from home is that a colleague can find it difficult to perform some of his/her work concurrently with other colleagues. With Feishu's digital calendar, team leaders are able to set specific goals and targets, and outline how staff will work together and communication with corporate clients during this extreme period.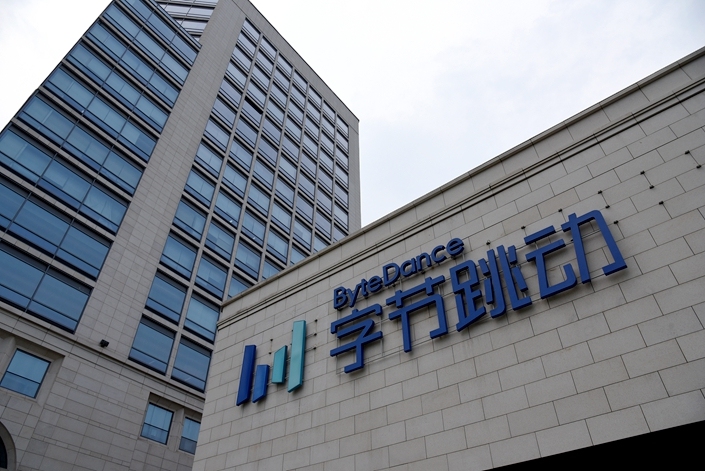 As an office suite, Feishu consist of team messaging, file sharing and other common office services such as calendar, remote conferencing, and document editing. Much like work collaboration softwares including Slack, Microsoft Office and the Google Suite, Feishu is able to largely substitute physical working space so team members can resume their work without showing up in office.
Feishu Document allow colleagues to collaborate on a virtual dashboard to add, edit ideas or concept of any given projects. Video conferencing feature allow teams to avoid physical meeting and communicate in real-time in either one-on-one or in group discussions." Chen Ju said.
Chinese authorities have already extended the Lunar New Year holidays, in some provinces and cities for up to a month, in efforts to prevent the deadly novel coronavirus which officially killed 1368 nationwide as of February 13 morning, from continued spreading.
Some users who have spent up to a month confined in their homes have joked on social media that they've never seen colleagues in their pajamas and, with bed heads and no makeup, going into video conferences. Xie says a face filter feature, which is present in rival app DingTalk, is coming soon to Feishu.
Due to coronavirus outbreak, China is implementing the world's largest work-from-home experiment which will drive the consumer-focused tech companies like ByteDance to speed up efforts to serve corporate clients to meet growing demand for enterprise software. According to internet data provider iResearch, the value of China's enterprise software industry is expected to hit CNY65.4 billion by 2021.