The 2nd China International Import Expo (CIIE) just wrapped up in Shanghai last week, where global trade organizations, government authorities, importers, exporters and companies in general from more than 150 countries and regions participated in three-day conference.
Proposed by China's President Xi Jinping, CIIE is the first national-level expo that advocate for reduced trade tensions in hope for a "New Era, Shared Future".
With more than 500,000 people attending, this year's CIIE is larger in scale in comparison to last year's. Organizer claimed that representatives from 250 of world's top companies participated in the expo through attending and setting up exhibition.
The expo was divided into different exhibition halls. The Business Exhibition boasts over 80 of Furtune Global 500 companies and other industry leading companies, including Qualcomm, Samsung, Johnson & Johnson and L'Oreal, while the Country Exhibition included more 64 countries spanning Europe, South America, Africa and island countries on the Pacific Ocean. The World Trade Organization was a participating organization of the expo.
High technology, products representing and enhancing intangible culture heritage and high quality agricultural products were among the most popular exhibitions on CIIE. For example, Latin American guest countries showcased avocado and quinoa, both popular products among China's middle class.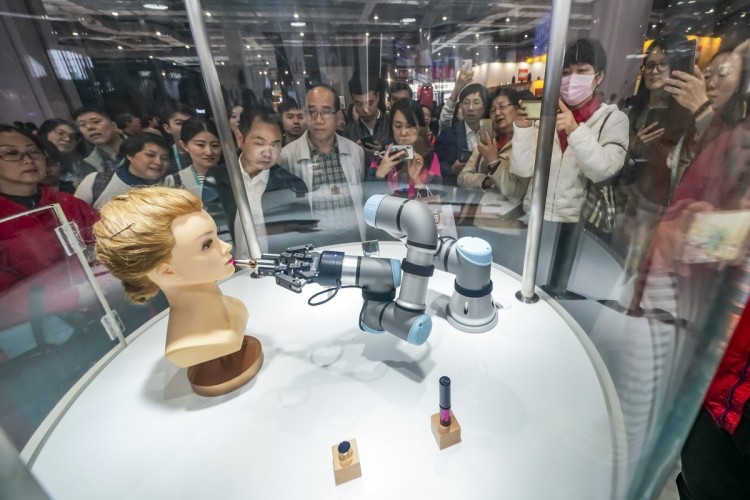 Qualcomm exhibited its achievements in 5G and artificial intelligence with the help of its important Chinese partners. Visitors were able to test out 5G-capable smartphones from Chinese vendors such as Vivo, OPPO, OnePlus, Leno provided by Qualcomm to experience 5G gaming and 4K video streaming. Qualcomm later claimed that over 70,000 people visited its booth during the expo.
The expo was also the first of its kind to have hosted an autonomous driving experience, demonstrating cutting-edge technologies such as automated parking and vehicle-to-everything (V2X) communications. World leading carmakers such as Tesla, General Motors, Volkswagen, Daimler, BMW and Toyota also debuted their latest models and technologies at the expo. For example.
Organizers claimed that they recorded a total of 71.13 billion U.S. dollars worth of tentative deals among parties were reached during the expo.
In his keynote speech during the expo's opening ceremony on November 5, 2019, President Xi urged that participating countries and business communities to work together to build an open world economy through cooperation, something that China has been experiencing less and less with its key trading partners around the world this year, due to the continuously fluctuating trade tensions with mainly the United States. Customs data indicates that the U.S' export to China fell to $59 billion in the first six months of 2019, down almost 30% compared to the same period last year.
President Xi said that as countries are much more inter-connected with each other these days, "we need to facilitate integration of science and technology with economic growth, and increase the sharing of innovation results," adding that barriers that hamper the flow of knowledge, technology and talents should be removed, and that technical exchanges between businesses around the world should be unhindered and supported.