Beijing (PingWest)- Are you in China, used to the cashless lifestyle, and looking to become a homeowner?
If you are, then there's good news for you: now you can buy yourself a home online.
With this year's Single's Day (Nov. 11) coming up in less than a week, leading e-commerce platforms are lining up merchants for for the upcoming shopping festival.
And they are planning to go big or go home this year. Companies including Alibaba, JD.com and Suning will sell authentic residential properties during the shopping festival--at discounted price--in attempts to increase sales revenue and bring vitality to the country's real estate sector.
JD.com says it is teaming up with more than 200 developers in 70 cities across the country to offer homes, albeit in limited amount, at half their market value as part of its Singles' Day promotional campaign. Suning.com, an appliance chain-turned-e-commerce platform, said it has inked an agreement with top developer Evergrande Group to offer discounted properties on its website as well.
Alibaba will sell over 10,000 discounted properties on its platform. According to insider rumors, Alibaba's offerings would comprise of popular listings that are inside good school districts, metro stations and scenic parks, which are sought after on China's property market. The company already has an auctioning platform, separated from its Taobao and Tmall, that has been hosting auctions of real estate properties for a few years. It is estimated that 30 million visitors used the site to browse, and a small percentage of them, to actually buy houses and apartments.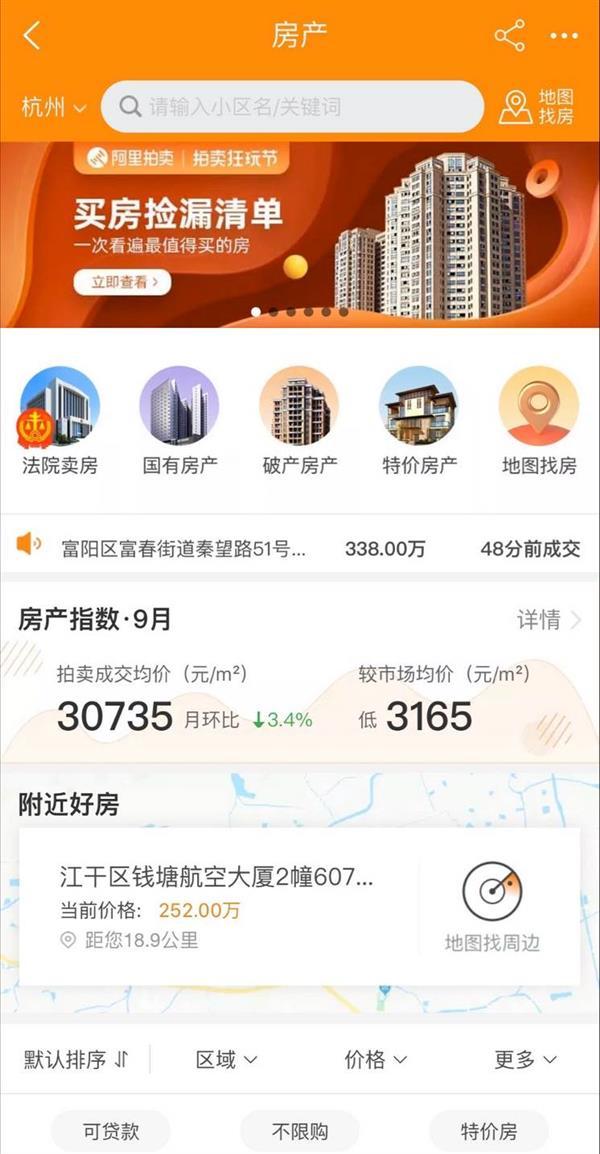 In fact, the rumors have gotten so viral, that some third-party home agents, many having no affiliation with Alibaba nor its Singles' Day plans, are beginning to sketch up fake "Alibaba listings" and post them online to draw attention and boost their own performance.
Local brokerages have been putting their listings online for many years in China, but e-commerce titans like JD.com and Alibaba only begun their foray into the real estate market 2 years ago.
Alipay, the mobile finance aggregator developed by Alibaba-owned Ant Financial, had launched an in-app home rental service in October 2017. It utilizes the social credit system the company had developed to offer slight discounts and less up-front payments to users with higher credit score. A year later, 5i5j, one of China's largest online and brick-and-mortar housing broker, had reached a partnership agreement with JD.com to put its property listings online.
According to industry insiders, the cooperation between e-commerce platform and Chinese real estate developers may prove to be a win-win. "In order to curb real estate speculation, the government has issued tight regulation on the domestic property market and urged developer to cut inventory," said Cao Lei, Director of 100ec.cn, a Chinese research firm specialized in e-commerce, "the platforms could be an important channel for developers to increase sales and cut inventory."
Cao also added that expensive and eye-catching items, like real estate listings, might be a good start for e-commerce platform to diversify their portfolio.
While selling homes directly to online shoppers is unlikely to contribute to significant revenue gain, the move may also attract more attention for real estate developers, who have been having a few less-than-ideal years.
By leveraging technologies and huge customer base, e-commerce platforms can not only change the way homes are sold and rent out, but also how they are designed and managed.
JD.com said it can provide big data-backed solutions and management software to property developers and managers. "Based on our big data analysis of users, we can better understand what type of properties buyers like and then offer customized product and service to them. Our solution will allow property developers to improve their sales efficiency and lower marketing cost," said Zhou Jiong, Senior Director of Internet of Things (IoT) solution at JD.com.