Rising public awareness about the hazards of smoking, coupled with the growing regulation to ban smoking in public places, is opening up an opportunity for Chinese electronic cigarette makers in the world's biggest tobacco market.
Invented by a Beijing pharmacist Han Li in 2003, e-cigs are battery-powered devices designed to simulate traditional cigarettes, though it does not contain tobacco nor work in a combustive way, but rather uses electricity to heat an atomizer to vaporize liquid that contains flavor and nicotine, which is inhaled by the user. The process of consuming that liquid is also called vaping, due to the vapor factor.
E-cig is a relatively new industry and is not yet very popular in China, but the market potential is huge. According to data compiled by China's State Tobacco Monopoly Administration (also corporatized as China Tobacco), China has 315 million smokers as of December 31, 2018, who consume approximately 45 percent of the world's regular cigarettes. If 1% of China's smoking population turned to e-cigs, it would mean a market of 3.5 million users.
Currently speaking, e-cigs only represent an even tinier proportion of the tobacco business in China, but it offers an entry for investors and makers to enter into the tobacco market in China where tobacco sales are totally governed by a state monopoly.
However, the golden age of Chinese e-cig startups may soon be coming to an end. Just like many heavily-funded tech trends before it, including group buying, rideshare and bike sharing, enormous amount of money has been poured into China's e-cigs scene. And now with two dozen consumer e-cig brands having raised billions of dollars in funds, many are expecting to face significant competition and risk not being able to survive long enough before turning a meaningful profit.
Meanwhile, on the manufacturing side, factory level e-cig makers seem to be enjoying a boost in business these days. Already known as the manufacturing center of the world, China now makes nearly all of the e-cig devices sold worldwide.
The upstream market of the e-cig industry chain in China mainly involves batteries, chips, atomizers and accessories such as metal coils and cotton or polymer fiber-based wicking material. Most of these Chinese e-cig makers adopt the business model of an OEM and ODM (original design manufacturer).
For Consumer E-cig Startups, The Winter Is Coming
Huge growth potential, large market scale and rigid consumer demand are the basic criteria when investors judge whether an industry has investment value, China's e-cig market absolutely meets all three of them. Now, the emerging sector has drawn a huge amount of venture capital.
Some of the consumer e-cig startups were able to raise 10 million dollars or more in their pre-A or even seed rounds, which is unusual for the Chinese venture capital scene considering it has just got back from a "capital winter". According to the public data compiled by iResearch, a total of 26 e-cig startups have raised nearly 1 billion RMB from a number of top local venture capital firms such as IDG Capital, Sequoia Capital, Zhen Fund and Source Code Capital, during the first half of 2019.
In May 2018, Shenzhen IJOY Technology Co.Ltd raised 300 million RMB in Series A round from undisclosed investors. In June, RELX raised 38 million RMB in a Pre-A round led by Source Code Capital with the participation of IDG Capital. In November, Shenzhen based Zhisheng Energize closed a 30 million RMB Pre-A round of funding and MOTI Magic Flute Electronic Cigarette raised US$10 million in Pre-A round from Zhen Fund.
Most recently, VVILD, an e-cig startup led by Luo Yonghao, a flamboyant ex-phone maker and the founder and CEO of Smartisan, raised 30 million RMB in Pre-A round. Chinese media Bluehole speculated that the round was led by one of Hongta Tobacco's subsidiaries, a famous state-owned tobacco corporation in China.
Even Xing Chenyue, the leader scientist behind North America's favorite vaping device, Juul, is launching her own e-cig brand in China.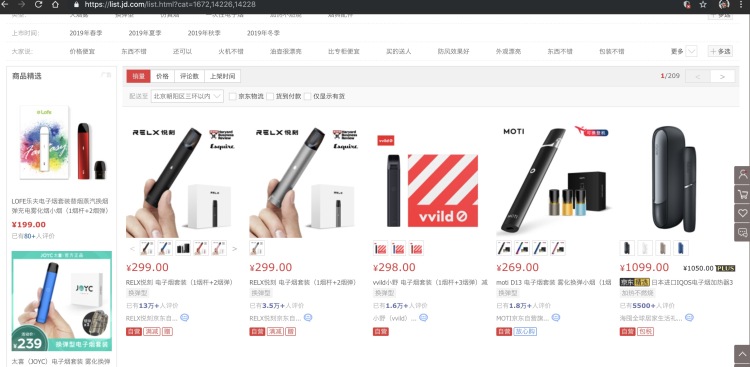 "In China's e-cigarettes market, you don't need a large sum of capital to participate, that's why there are now so many manufacturers here, many e-cig startups were founded and run by young entrepreneurs." Sun Yan Biao, an analyst at iResearch said.
Competition is heating up, as more than 460 e-cig brands exists in China, according to a 2018 industry report released by Qianzhan Research Institute.
"Despite the industry in China grew rapidly, brand recognition by consumers is still very low. Because most e-cigs are sold online in China, the price of the products are varied, consumers tend to buy cheap, low quality products. They think most of the products are legitimate and the quality of product must be guaranteed," Sun said, "But the truth is that some brands are made by small workshop with 20 people, they have no quality control or safety certification for the material they use."
E-cigs have been largely considered as a healthier alternative to traditional tobacco products, which relied on combustion, a process that not only releases nicotine, but also introduces numerous types of chemicals harmful to human body, such as hydrogen cyanide, lead and carbon monoxide. However, vaping product's ability to help traditional smokers quit is yet to be researched and proven in China. Meanwhile, another major debate over e-cigs is the growing use of it among teenagers, which has led to U.S. cities including San Francisco banning the sales of e-cig product altogether.
On July 26, 2019, the World Health Organization concluded that there is no scientific evidence that e-cigs could help smokers quit their habit and it could be a gateway to tobacco addiction for young people.
"Although the specific level of risk associated with electronic nicotine delivery systems (ENDS) has not yet been conclusively estimated, ENDS are undoubtedly harmful and should therefore be subject to regulation," the WHO said in a new report on the e-cigarette.
On the national level, the golden age for small e-cig startups may will soon end as Chinese policy makers called for regulation.
China's National Health Commission is mulling to regulate e-cigarette industry through legislation in an effort to address health concerns over the product's harmful effects.
"We should pay high attention to the hazards of e-cigarettes, which could lead to tobacco addiction for young people. E-cig could be an ineffective alternative for traditional cigarette because it contains nicotine and it is hard for the user to break the addiction to nicotine," said Mao Qunan, head of the planning department of NHC at a press conference held on July 23.
The NHC statement did not address the opinion held by many people that e-cig is an alternative to combustion tobacco products not for the nicotine, but because the electrical atomizing process introduces far less harmful chemicals that were known to cause cancer.
This is really a chaotic industry," says Jackie Zhuang, deputy general manager of Huabao International, a Chinese tobacco flavoring company in Shanghai and an expert on China's e-cigarette market. "I hope it will soon be well regulated."
Manufacturers: Enjoying the Day While it Lasts
Chinese e-cig industry's booming is undoubtedly resulted from the country's easy access to manufacturing.
It's calculated that while North American and European countries consume the most e-cig products, over 85 percent of them were produced by firms located in China's Pearl River Delta region, mostly in the industrial Bao'an District, a five-square mile area in the Northwestern part of Shenzhen and only two hours away from downtown.
Notable Chinese e-cig manufacturers including Shenzhen's FirstUnion Group, Innokin, Seego and Smoore Technology have made huge fortune from the rapid growth of e-cig industry. Listed companies such as Intretech Inc saw substantial growth in their operation revenue from the vaping business. Companies such as Xiamen Intretech Inc and Evebattery are among the major component suppliers dealing bulk orders of integrated circuit boards and lithium ion batteries, both essential components of e-cig products.
According to the data compiled by China's Bloomberg-like financial data provider Wind Information, there are seven e-cig-related companies listed in stock exchanges in Shanghai or Shenzhen, these companies have generated a combined 21.8 billion RMB in operating revenue last year.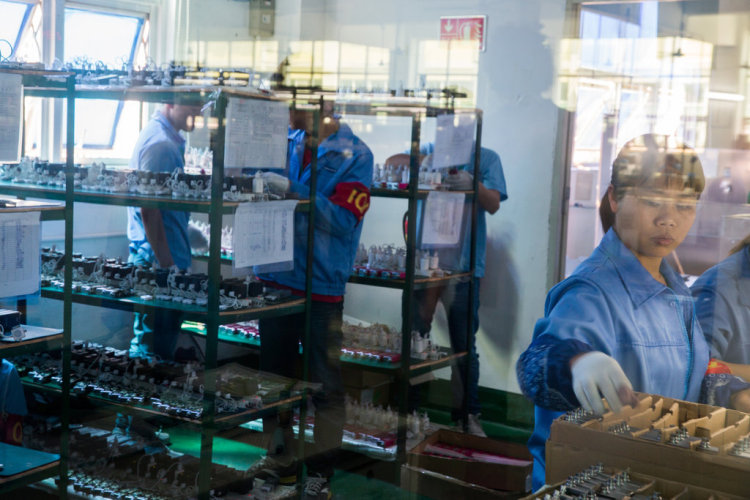 Much like their consumer-facing counterparts, Chinese e-cig manufacturers are also free of regulatory pressure these days. Since products are mostly sold online, and the market size is relatively immaterial, regulation around the product is still lax.
However, that does not guarantee success, either. The lack of regulation directly resulted in low entry barrier, which in return resulted in fierce competition and shrinking profit margins for these manufacturers. Though solid data is yet to be calculated, it is estimated that China's e-cig industry looks like an inverted pyramid, where sales channels such as e-commerce websites took away much of the profit, leaving less for the brands, and minimum for the manufacturers.
The manufacturing world is also showing signs of fiercer competition. Many e-cig products of low quality exist on the market and some are visually similar to that of other brands, for that the makers of those products either had no manufacturing license or specialized in copying established brands.
In all, the e-cig business in China may soon be at its turning point, after which less-funded startups might have to deal with the inability to turn profit and potential shutdown, and manufacturers' own losses due to the industry's chain reaction.