On June 20th, Slack, the world's best known team collaboration software, went public through direct listing, rather than an IPO, on the New York Stock Exchange (NYSE: WORK), which has raised massive attention from the market. Slack's share price has since soared more than 50%, valuing the company more than $20 billion.
Meanwhile, Zoom, another tech firm that went public earlier this year and provides enterprise video conferencing solutions, is also performing well on the stock market.
With the public listing of Zoom and Slack, the enterprise application market in the US seemed mature enough, while providing software services to businesses is still a blue ocean market in China. However, local tech giants like Alibaba, Tencent and ByteDance are already catching up to the wave their U.S. counterparts created. Massive development and marketing resources were poured into the team collaboration software field by these behemoths to bet on the growing trend of enterprise software market.
Developed by the e-commerce giant Alibaba in late 2014, DingTalk (钉钉) is now the most critically acclaimed enterprise communication and collaboration platform in China, with over 7 million organizational customers. DingTalk had roughly 100 million registered individual users, which grew astonishingly 400% in just six months, according to public information released by Alibaba last year.
In a recent corporate restructuring, DingTalk's strategic importance was raised significantly. Once a relatively independent business unit within Alibaba, DingTalk's founder Chen Hang now directly reports to Zhang Jianfeng, Alibaba's CTO and president of Alibaba Cloud, the most important business group in the tech giant.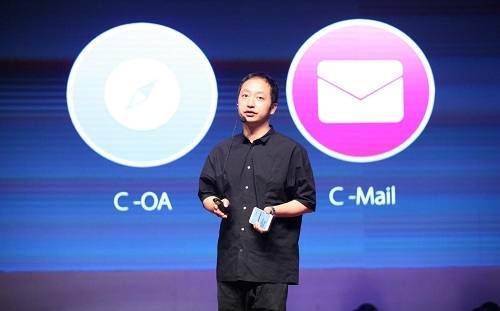 Two years after DingTalk was launched, Alibaba's archrival Tencent, the owner of China's most popular instant messaging app WeChat, launched WeChat Work as a standalone platform to businesses.
It allows companies to bundle work-related operations such as internal emails and office automation systems such as leave and expense reimbursement, instant communication, and more.
One of the main purposes of WeChat Work is to reduce the complexity users experience when using WeChat, China's one-app-for-all instant messaging/social network/local services hybrid, letting them have a walled-off space for work communications instead of professional and personal all mixed in one app.
However, that is harder to achieve than expected due to people's heavy and habitual dependence on WeChat for everything.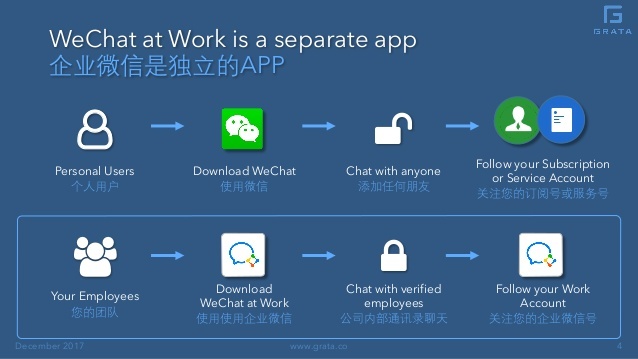 Currently, 17,000 third-party developers offer various services through WeChat Work platform, according to Huang Tieming, vice president of Tencent's WeChat Business Group. However, Tencent didn't unveil how many corporate clients are using WeChat Work, instead said that the number increased by 100% in 2018, according to a report by iResearch.
Unlike DingTalk and WeChat Work, which focused on the domestic market, ByteDance, the parent company of TikTok, presents a higher ambition. It not only launched its team collaboration app called Feishu (飞书) in China, but also rolled out a similar software named Lark specifically for overseas, much like what the company did to its Chinese-originated short video app Douyin with the global version TikTok.
In order to blur out Lark's Chinese corporate background, Bytedance launched the app through its Singapore-headquartered subsidiary, Lark Technologies.
The core of Lark is its slack-like focused chat feature, while the app's document and calendar features closely resembles Google's Docs and Calendar, according to a screenshot shared on Twitter by analyst Matthew Brennan.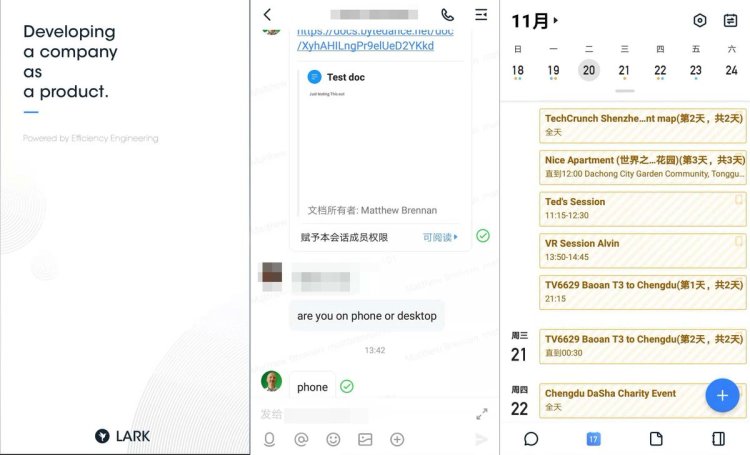 Many team collaboration software, made by much smaller and less influential startups, existed long before the internet giants' entrance to the market.
Teambition is a web-based project management tool that has spaces with vertical rows of boards, representing stages of projects, which resembles NYC-based company Trello's product. Worktile, made by another Chinese company, is just like Teambition, but with added Slack features such as instant messaging. For reference, Lark is largely a copy of Worktile.
Looking back at the history of prosperity of China's Internet industry in the past 20 years, a conspicuous feature is that consumer-oriented services are more easily to scale nationally, sometimes even globally, while the growth of business-oriented services tend to lag behind.
Given China's massive demographic dividend background, labor force is generally cheap. One side effect of this situation is that the demand for businesses to adopt technology to improve productivity is not high. Taking this into consideration, as well as the fact that the consumer market is easily more profitable, it's not surprising to find that the enterprise software market is advancing tardily.
Lately, with the rapid development of China's economy, labor costs are accelerating significantly. From 2005 to 2015, labor costs have increased five-fold in China, according to Deloitte 2016 Global Manufacturing Competitiveness Index.
A momentum of running out of cheap user acquisition methods can be observed in the Business-to-Consumer (B2C) market; consequently, internet companies targeting consumer business enter the enterprise software market, also known as Business-to-Business (B2B) field to seek new growth opportunities.
Wang Xing, founder and CEO of the Meituan Dianping, one of China's internet giants in localized services such as food delivery and ridesharing, made an internal speech in 2018 describing the change in China's internet landscape. "When faced with the dilemma of slowing profit growth, companies have to figure out new measures to improve efficiency, innovate services, and reduce costs," said Wang.
Earlier than Wang's speech, Lei Jun, founder and CEO of the leading smartphone manufacturer Xiaomi, said in an interview with Caixin in 2015 that as China's labor costs increase, the acceptance of information technology will move into a new era.
"In the next decade, the spring of Chinese enterprise application market has just kicked off. I am extremely optimistic about the future of management applications for small and medium-sized enterprises, as well as Software-as-a-Service and cloud services," said the well-known Chinese entrepreneur and investor.
CBNData also predicted in 2017 that the market value of mobile-capable workplace software market in China will reach $1.12 billion in 2020.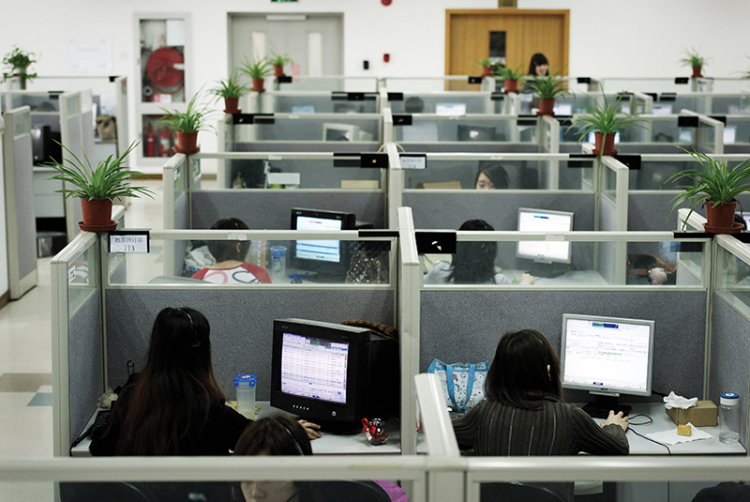 However, it cannot be neglected that more barriers exist in the Chinese market compared with the US.
The acceptance of workplace applications by domestic companies is still relatively weak; quite a few companies don't have an awareness of paying money for productivity tools. Once platforms like DingTalk start charging, those firms may stop utilizing the app.
At present, DingTalk and WeChat Work provide free services for SMEs; and the former has burned more than CNY10 billion (USD1.45 billion) without any signs of turning losses into profits.
ByteDance's Lark has made its exposure in overseas markets recently, yet its sister app Feishu has maintained largely a low-profile. But sources in Bytedance recently told PingWest that the company is planning a more serious effort to push Feishu into business clients, with a large focus on small and medium-sized ones.
Traditionally, bigger clients with more purchasing power are the real source of profit for enterprises services. But grabbing these clients is not easy, so service providers have to treat smaller clients as an essential part of their businesses.
But another challenge presented itself: companies of a certain size prefer to create a set of office automation tools by themselves, rather than purchasing outside services for cost reasons. No matter how unsophisticated and hard to use these tools are, companies still hold on to them.
Government agencies and state-owned enterprises clients also account for an indispensable part of the enterprise software market.
For example, Qihoo 360, China's most famous internet security company, is already in contract with the state-owned telecommunication giant China Unicom to set up a joint venture named Lanxin, providing communication and collaboration services to Xinhua News Agency and other government subsidiaries.
Competition in the Chinese enterprise software industry is becoming increasingly fierce. DingTalk, WeChat Work, Feishu and other solutions, are all aiming to become the Slack of China.
But there is still a long way to go, and internet giants are long ready. Li Jianwei, a partner at Zhencheng Capital said that B2B will not be like B2C which is able to achieve profitability quickly, it must be a protracted battle—that is exactly in line with what the giants are doing now.