Chinese tech companies have emerged as the leader in sports-sponsorship, they choose to partner with major sports league as an effective way to build global brand awareness and strengthen their domestic market share.
Fans and television viewers should not be surprised to see advertising boards with large-sized Chinese characters of company logos such as Alipay surrounding football field.
"What makes professional sports sponsorship powerful is that it gives businesses a unique connection with millions of engaged people around the world at an emotional level. This connection allows companies the opportunity to drive sales and increase brand awareness through an active engagement involving traditional routes and the ever-growing social media platforms," an analyst with Seeking alpha said.
According to the report, sponsor partnerships attribute many potential benefits including increased sales, higher brand awareness, help companies to reach a wider audience base.
Alipay, the Chinese mobile payments giant controlled by Alibaba Group Holding, is making its presence felt in sports.
Alipay has signed eight year partnership with The Union of European Football Associations (UEFA) in November last year, which made Alipay to become UEFA's sponsor from 2018 to 2026
Under the agreement, Alipay will be the official digital payment provider for Uefa's national team competitions, including the Euro 2020 and 2024 tournaments which are considered among the world's most prestigious football competition.
"Sports are a natural fit for the image of Alipay, as founder Jack Ma believes strongly in his double H strategy- health and happiness. We hope to share the happiness of football with fans across the world and bring them a unique digital experience through partnership with UEFA," Rita Liu, director of spots marketing, global branding and marketing at Alipay told PingWest.
According to Liu, the partnership acts as an active conduit between business and fans, "The partnership aimed at offering better on-site experience to Chinese football fans travelling to Europe and other places in the world , providing a seamless connection to fans who will be able to use their digital wallet and Alipay app to pay for goods and services at Uefa men's national team event."
"Alipay will also help local merchants such as restaurant, hotels and service provider to reach wider and potential Chinese customers base. The idea behind this is to use Alipay to provide tourists from China with payment and lifestyle experience and make them feel at home." Rita Liu said.
As a part of the Alipay's EUR200 million partnership with UEFA, UEFA on Wednesday (June 12) has launched the UEFA EURO 2020 ticketing mini-program on Alipay, allowing Chinese football fans to access content about football in Europe and apply for tickets to the upcoming European Championship 2020.
"There is a real appetite amongst Chinese football fans for UEFA's national team competitions, where they have the chance to see some of the best players on the planet in action," said UEFA's director of marketing Guy-Laurent Epstein. "We want to be in a position to give our fans premium content in their own language and our new partnership with Alipay allow us to do exactly this."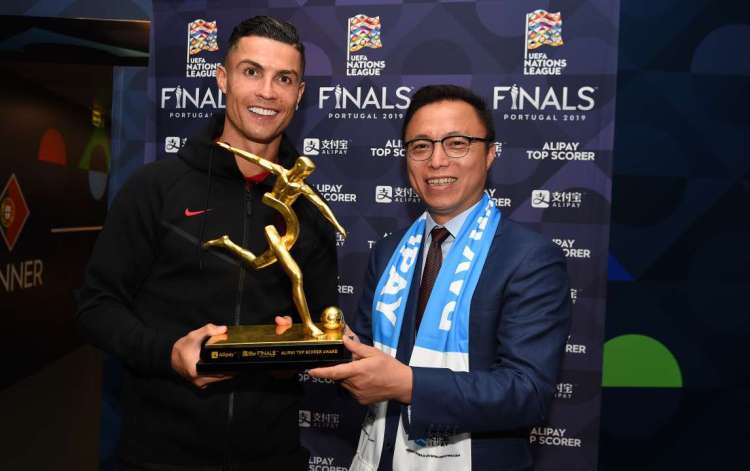 In an effort to increase brand awareness and assist UEFA to grow China fun base, Alipay on May 30 also launched the trophy awarded to the tourney's top scorer. Portuguese soccer legend Christian Ronaldo won the gold trophy at UEFA Nations League Finals.
Other major Chinese technology companies actively involved in sponsoring major sporting events includes Vivo and Oppo, two leading Chinese smartphone brands manufactured and owned by BBK Electronic, and electronic maker Hisense.
In 2016, Vivo began sponsoring sporting events through partnership with NBA China. Under the agreement, Vivo became the exclusive smartphone sponsor of NBA, with NBA superstar Stephen Curry from Golden State Warriors becoming the product ambassador.
That's big chance for Vivo to increase brand awareness and drive sales growth, given how popular the NBA is. The deal gave Vivo opportunities to introduce its brand to millions of new potential customers around the world through TV advertisements, billboards and social media platforms.
In 2017, BBK's two smartphone brands, Vivo and Oppo, together paid USD550 million to sponsor India's cricket team for a five-year period starting in April 2017.
According to Quartz India, cited a report released by ESP Properties, reported that the contract signed by Vivo and Oppo alone helped India's sports-sponsorship market grow by 14 percent over the previous year.
"These sponsorships are likely to help shrug off increasing competition and also help increase Vivo and Oppo's brand awareness." Tarun Pathak, senior analyst at consultancy firm Counterpoint Research told Quartz India.
After gaining market share in the Chinese market and Indian markets , Vivo partnered with FIFA to become a major sponsor as it seeks to gain even more attentions on the international stage.
Sponsorship helps technology companies capture more eyeballs and increase awareness. Another great example of this is Chinse electronic maker Hisense, whose logo was probably unknown until its sponsorship of the one of the world largest sporting event FIFA world cup
"It is more than a sponsorship. We had reached a wider audience base and had achieved substantial awareness of our brand among football fans through sponsor partnership with FIFA and UEFA ," said Huang Xiaojian, vice president of Hisense International Co., Ltd.
According to Huang, sponsorship of major sports events has already contributed to Hisense's growth in China and facilitated its oversea expansion. Hisense's overseas sales soared on the back of 2018-World Cup sponsorships.
Lured by the potential benefit of associating their brands with major sports leagues, other Chinese technology companies like Tencent, PPTV, Sina have ctively involved in the acquisition of global sports properties and rights.
"Sponsoring sporting events is a effective way to increase brand awareness for Chinese companies, but there are also a number risks to take into consideration such as legal dispute and return on investment when weighting the payback versus investment," an analyst at Synergy Sports Technology warned.