Northeast Beijing, China, countless of high-tech companies are gathered here, including Alibaba Beijing Center, Microsoft, Meituan Dianping and so on—this is Wangjing, a place where rural politicians get ready to meet the emperor in ancient China, and now an emerging tech-driven commercial district in Beijing, competing with a lot of other cities and places to be the silicon valley of China.
Life for employees of those companies isn't just 996. They actually spend plenty of time at the gym. More than 280 gyms are located in this area, according to the data of Meituan-Dianping, China's equivalent of Yelp. Interestingly, in the corner of Wangjing Soho, the most representative buildings in this district, restaurants kept going bankrupt due to the high rents. However, a gym replaced them and has been operating ever since—it is only a slight change in daily life; yet, the awareness about physical fitness exercise is gradually awakening in China.
Keep, the top ranking Chinese fitness app with an ambition to expand to more than just an app in China. Even Apple's CEO Tim Cook is looking forward to its international version.
The number of people who regularly exercise has reached 43.27 million in China, although the penetration rate of its fitness population is much lower than that of the United States. China's fitness market is close to $22.28 billion ( 150 billion RMB) in 2017, compared with Japan and Korea, there is still considerable potential for increasing.
A variety of workout and fitness products exist in China, and their popularity is second only to social networks and instant messaging applications among fitness fans. Keep is the most popular fitness App. Launched in Feb. 2015, Keep offers a variety of training programs for different groups of people to work out anytime, anywhere.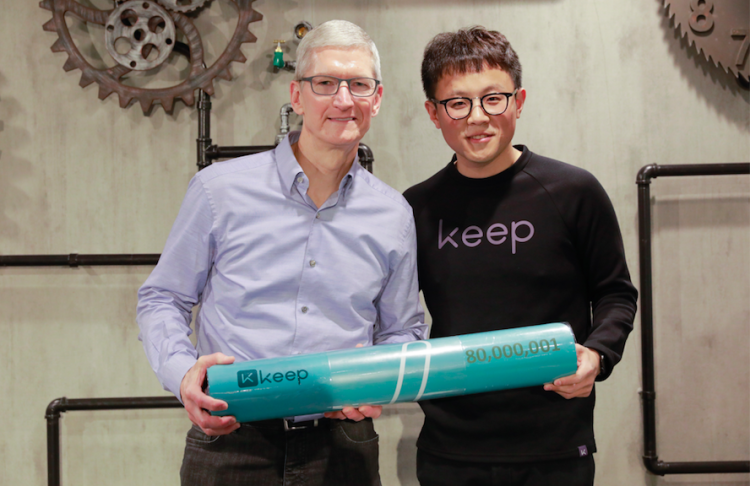 Two years ago, Tim Cook came to China on a company trip and Keep was one of his stops. He even said that he is willing to be the first user of Keep International version.
One of the features that drew Tim Cook's attention may have been that the app offers social networking features; users can follow each other and share their workout progress on the platform. Seemingly, Chinese developers like to add social features to their Apps, since chatting with others on Alipay or even a weather forecast app is available.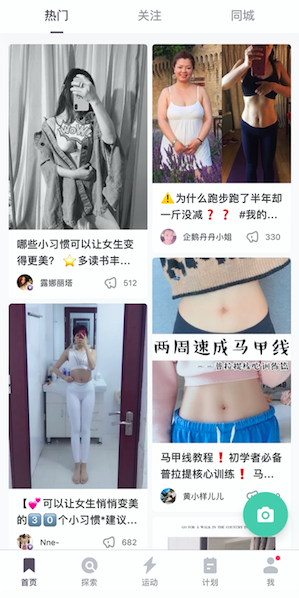 Social networking feature benefits the app a lot, and it boosts user stickiness. Pictures of users getting sweaty after an exercise, proudly showing off their body curve, etc. were commonly seen on Keep, attracting new users who would love to see the same on themselves. The app also adopts the Pinterest-like layout. Meanwhile, workout buffs love to share their fitness tips, encourage each other, and make friends on this platform. Keep claims that it has accumulated 185 million users till now, which means one of eight people in China is a "Keeper."
Keep completed the $127 million Series D round of funding, led by Goldman Sachs and other shareholders. Previously, it also received the Series C+ round of funding led by Tencent, the developer of Arena of Valor. Keep has become the largest and most valued company in the Internet fitness sector.
With more than 100 million users, the ability to monetize has now been brought up within the company. Currently, the revenue of Keep mainly comes from selling merch, in-app advertising for other related goods or services, and paid content; meanwhile, smart fitness equipment is also an indispensable business unit. Moreover, KeepLite has lately been launched to provide customers with healthy food such as salads and etc. The company has experienced a lot trying to monetize in the past few years, but the profits are not quite satisfying.
The emergence of Keepland, Keep's offline gyms, may bring new profitability to the company.

Keepland is expected to become 7-11 in the gym field
Although fitness-related app products come thick and fast, successful commercialization case is still rare. Therefore, several insiders of the industry believe that it's a pretty good option for the online workout platform to build spaces in the real world since fitness activities do need to be carried out in a brick-and-mortar scenario.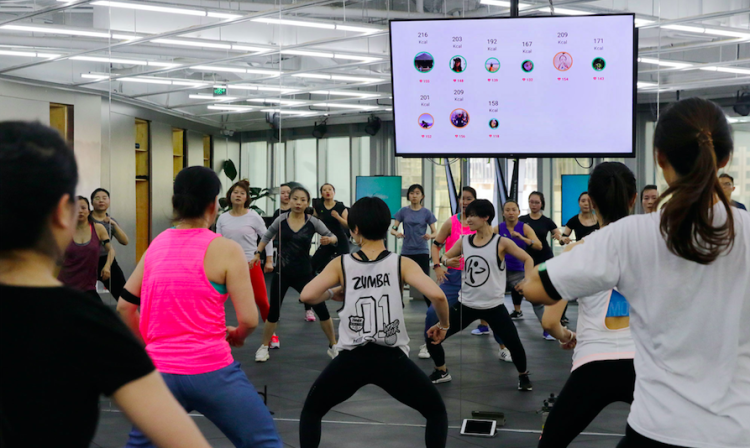 Talking about the establishment of Keepland, Wang Ning, the 29-year-old founder of Keep claimed in an interview that 80% of the early Keepers are noobs. As time goes by, users are getting more trained and knowledgeable about fitness. Part of them are no longer satisfied with working out at home; thus, demands for Keep gyms have come out.
Besides, increasing costs and falling conversion rates of online traffic cause anxiety to internet firms, naturally, offline traffic is re-emphasized by the merchants. Therefore, it is essential to develop in the offline business sector.
Not only did Keep realize that, but Xiaomi, the leading smartphone manufacturer with "Internet Genes" in China, also started its storefronts nationwide when it faced online sales bottlenecks. Coincidentally, JD.com, one of Amazon's e-commerce rivals in China, has deployed its stores since 2016. On the other side of the Pacific Ocean, Whole Foods Market Inc., a supermarket chain with 500 stores in North America and the UK, was merged by Amazon. Speaking of Amazon Books and AmazonGo, they are the e-commerce giant's offline attempts too.
Based on data obtained from online, better quality and more precise services can be provided to users—that's what Keep is doing. With billions of Keepers' data, it is adequate to provide a tailored fitness guide to each user. Also, any Keeper who works out in Keepland, his/her data will be recorded, and a visualized summary of the exercise data can be found in the app. Wang Ning mentioned his ultimate goal in a previous interview with Qdaily, expecting that Keepland can be spotted almost everywhere, like Seven-Eleven, providing services to customers in the neighborhood.
Fang Jiaxin, a 25-year-old college student in Beijing, told PingWest that she is definitely a loyal user of Keep because this App has been on her phone for four years." Their software holds a good reputation, so I think Keepland can't be bad. Based on trust, I came here instead of going to other gyms." She said.
"It's really professional, or at least it seems like. My fitness data on Keep can be shared with Keepland, so the workout is more targeted," the 25-year-old fitness fan said.
You need to be a Keep user, choose a course on the app and pay for it, then go to Keepland to work out. Currently, it arranges 8 to 12 lessons per day, with a single price of $11.7 or $14.7 (79 or 99 RMB), but once you become a Keep Prime, the discount of $2.97 (20 RMB) twice per month in Keepland can be enjoyed by yourself. Similar to Amazon Prime paying less than ordinary book-shoppers in Amazon Books.
According to Meituan-Dianping's research, commonly, people who have fitness needs are relatively young and highly educated with high-income, and the features are more evident on those who usually go to fitness centers. People under the age of 40 accounts for 70% of gym-goers.
No doubt, the traditional gym also firmly occupies this market; however, what is criticized by fitness fans is that the gyms are usually overcharged. Moreover, the annual fee is required by the overbearing gymnasium—not a few of them went bankrupt in a year or two without refund.
"It's glad to see a pay-per-time gym like Keepland," a Keeper told PingWest, "Since I don't have ample time to go to the gym frequently, it's not cost-effective for me pay for an annual fee."
The monthly average income of gym-goers is concentrated at $742~$1188 (5000~7999 RMB), and the average monthly income is $1161 (7,820 RMB), which is higher than the average level of the overall fitness population. Generally, they prefer small-scale group classes with around ten people, because it's more relaxed and pleasant, Meituan-Dianping's research said.
In order to attract these more capable fitness enthusiasts, small-scale group class becomes a trend, and Keepland is keeping up with it. Unlike the traditional gym calling for at least 1,000 square meters space, Keepland requires about 300 square meters room, and it means the swimming pool, ball sports field and large fitness apparatus are not available here.
At present, there are already 11 Keepland in China, including nine in Beijing and two in Shanghai. The company said it doesn't want to expand blindly, each newly opened Keepland is under comprehensive market research.

It's not easy to shake the status of traditional gyms, and the competitors are accumulating
Keepland gyms in Beijing and Shanghai have been sought after by local customers. The daily courses are fully booked, making a reservation online in advance is recommended. It has brought some impact to the traditional gym, but it is too early to say that the conventional gym has been ultimately defeated.
"Keepland offers a limited number of options. I like swimming, and some apparatus is not available here, so I still need to go to other gyms," said Wang Liheng, a 32-year-old salesman.
Keep's founder said, Keepland hopes to exist like a convenience store, so for the fitness fans, the traditional gym is like a supermarket—although not quite accessible, the commodities there are extremely comprehensive, so it's still attractive.
Currently, one Keepland arranges 8 to 12 lessons per day and around 20 people per lesson, with a price of $11.7 or $14.7 (79 RMB or 99 RMB) per person. Even in the ideal circumstances, one-day revenue of a Keepland is around $3527 (23,760 RMB), which would be used to cover rent, water and electricity bills, personnel expenses... All of them are settled in the well-known business districts of Beijing, where the rent is pricey.
From this perspective, it seems that Keepland is unprofitable now, or it makes a few profits. It's much better than selling salad, at least many users are optimistic about Keepland. Moreover, the market needs such an influential competitor to compete with traditional gyms, making the fitness industry more regulated and healthy.
Of course, there are also many other brands like Keepland that are expanding rapidly. Leke, a brand similarly focused on the small-scale group class, has operated approximately 400 gyms in China. The other fierce rival, Super Monkey, (known as Chaojixingxing in Chinese) targets to open 100 stores in 9 cities.
They are ambitious and not timid in front of Keepland, even though they don't have as numerous online users as Keep.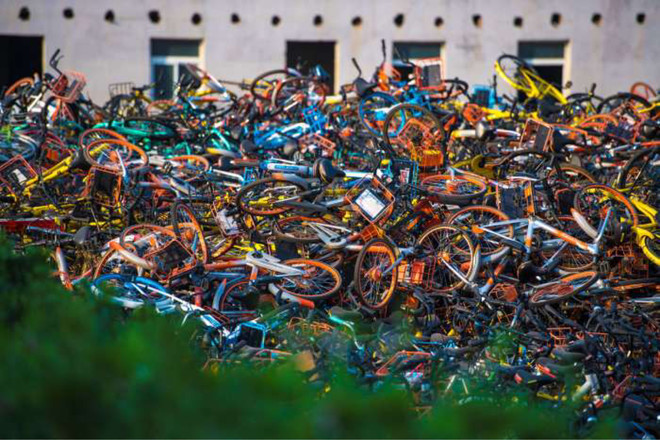 Price war is a standard method used by Chinese Internet companies. Due to the deficiencies in the product loyalty of internet users, as well as the sensitiveness to price, the trick of lowering the cost to attract more users is effective every time. The battles in the bike-sharing industry, and food delivery platforms, all point to the fact that users are more inclined to use relatively inexpensive services.
Therefore, as more competitors enter the industry, they may fall into the chaos of price wars and are more likely to cause problems due to blind expansion.
Whether the ordinary fitness gyms can hold the market position or Keepland and its rivals will rewrite the industry, is yet to be verified. It is worth mentioning that the total turnover of the TOP10 gyms in China is about $1.63 billion (11 billion RMB), in 2018. Considering the fitness population penetration rate is around 3%, and the vast population base, it symbolizes a considerable capital growth in the future.