Xreal has been quickly rolling out new products in an effort to stay ahead of its increasingly formidable competitors. Most AR glasses available rely heavily on DisplayPort (DP) via a USB-C connector to transmit video signals, and an increasing number of smartphones now support these features. And Apple's joining the party with the new iPhone 15 series could greatly enhance the popularity and feasibility of compact headsets like these.
Enter the next generation of Xreal Air glasses, which boast notable improvements that elevate the user's entertainment experience. After spending two weeks with the device, I found myself captivated by its features, spending more time engaged with it than I'd initially anticipated.
Despite this, it's important to note there are some minor hiccups, particularly with the Beam's compatibility and connectivity. However, these slight issues don't overshadow the overall brilliance of the Air 2. Here are my major take on this headset:
TL; DR
Fors:
Light and compact body
Better shade hood
Brighter 500-nit display
Comfortable nose pads
Premium-look protection case
Less notable heating
Greatly improved HDR
Againsts:
Sound leak is still an issue for public usage
Creaking sound when shaking heads or suddenly moving
Improved stylish design
The first generation of Xreal has been an essential part of my daily life. The vendor continues to roll out software improvements for both Beam and Air 1, addressing significant bugs and enhancing functionality. Of particular note were fixes to connectivity issues with the iPad.
The follow-up installment, Xreal Air 2, has considerably amped up my experience with this type of device. It upholds its trendy, chic aesthetics from its predecessor but offers noticeably improved image and sound quality. Furthermore, it amps up comfort with a new nose pad design.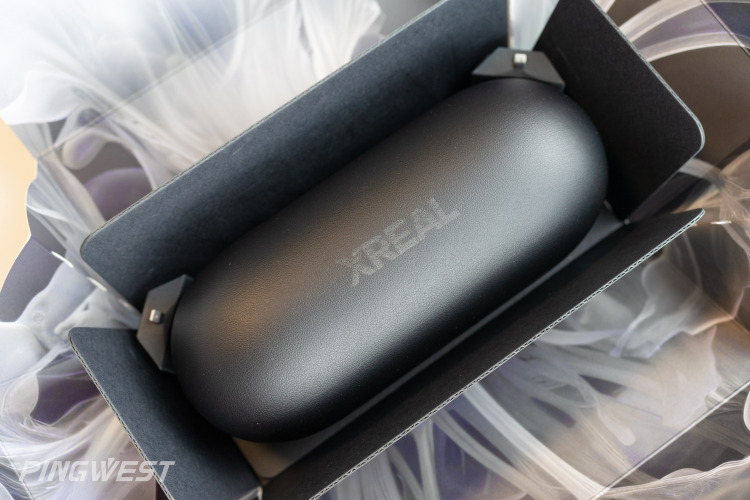 Opening the box is a compelling experience equivalent to witnessing a flower in bloom. Immediately upon opening, you're presented with a new, leather-like glasses case.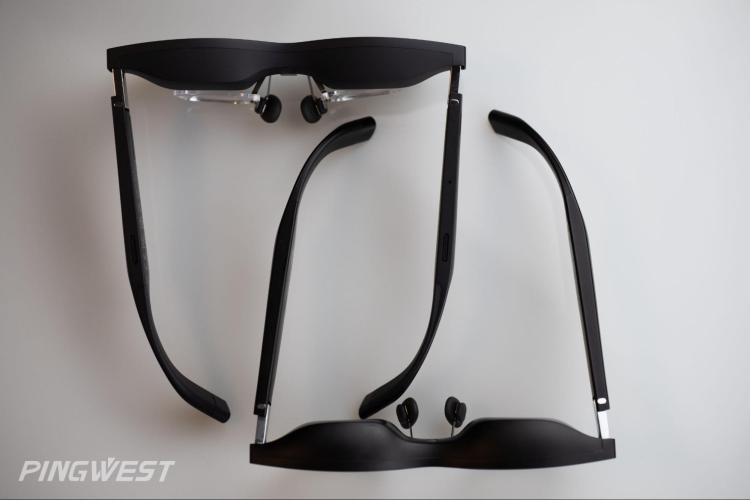 The first noticeable change with the Air 2 is the aesthetic overhaul. While it retains a similar design to its predecessor, the stark black tone has been replaced with a softer grey. Furthermore, it's lighter and slimmer than the Air 1, weighing in at 72 g as opposed to 79 g and measuring at a thickness of 19 mm versus 21 mm.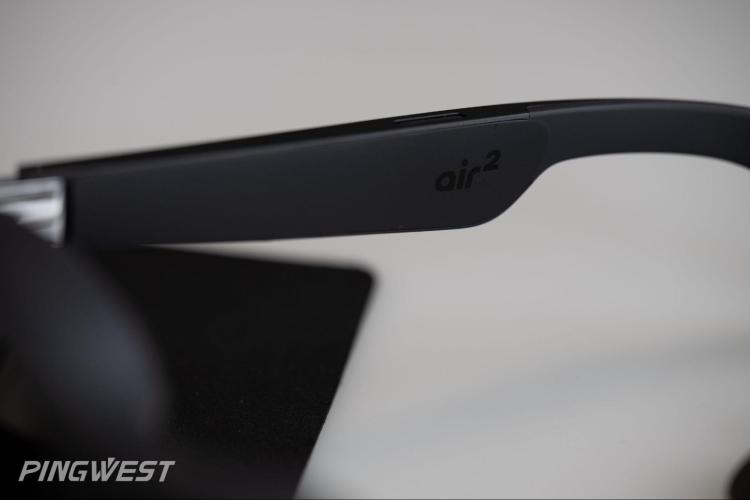 The cable, encased with a soft fibre material, retains the same design as before, which prevents tangling.
The temple sections yield more flexibility than the previous model. There's also a two-step hinge design in the joint area. This new feature allows the wearer to adjust the vertical angles for a more custom fit.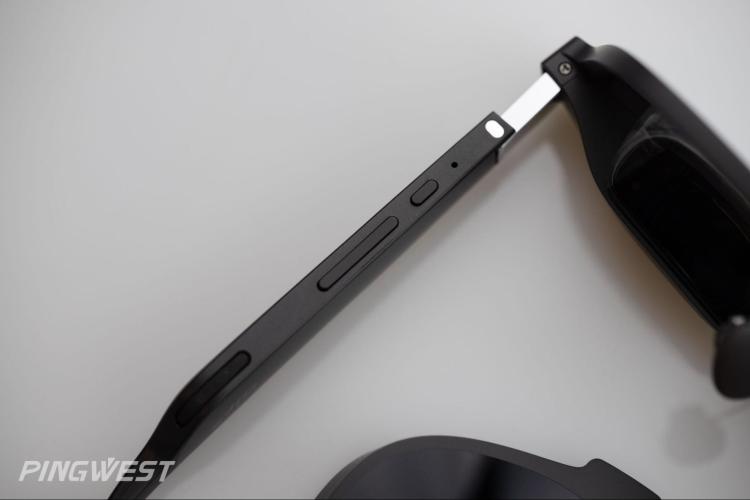 If you're someone who struggles with refractive eye issues, you'll find improvements with the new glasses kit as well. For users of the Air 1 model, you'll be pleased to know that your old kit will work interchangeably with the new-generation model.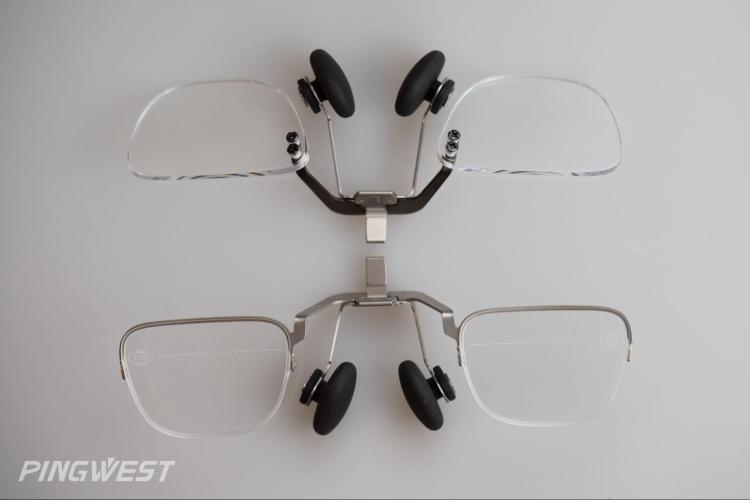 In terms of design, Air 2 has notably shifted gears, offering a more robust frame that replaces the old screw-fixed design, which was more on the fragile side, as per my optometrist's advice. This frame change presents a significant upgrade, adding an element of durability and resilience to the gadget.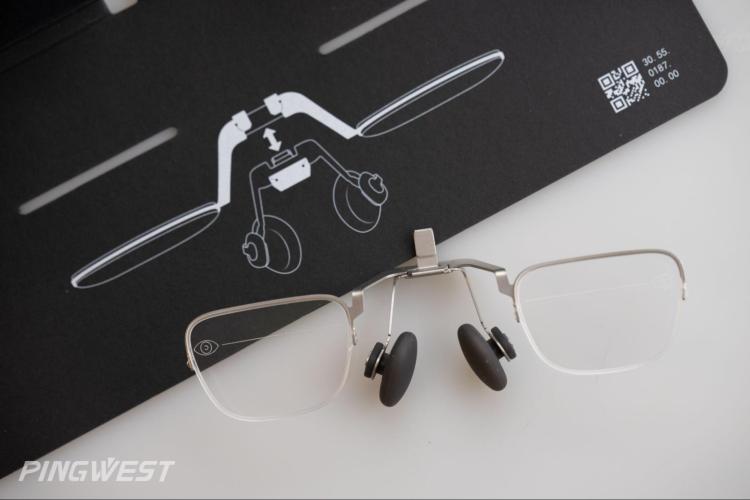 The optimized distance of the lens kit and nose stand is a noteworthy feature. This update has contributed to significant improvements in my wearing experience, as I seldom encounter situations when my eyelids inadvertently touch the lens.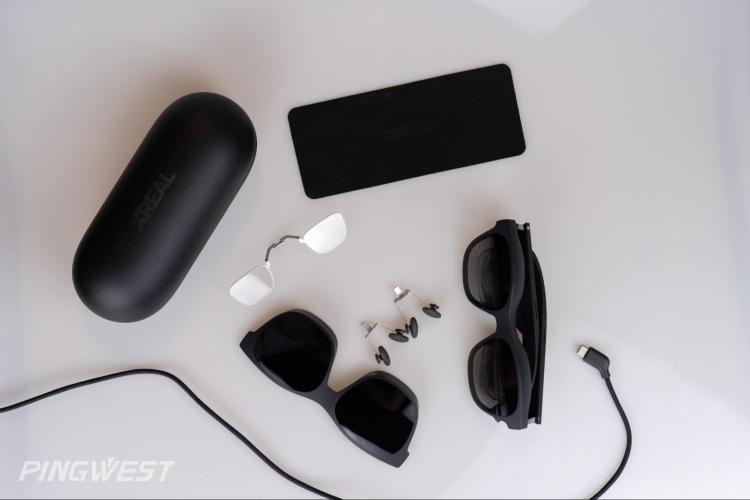 Another high point is the fresh, novel noise pad. Designed with a hollow feel, the pad offers an extraordinary level of comfort. The actual wearing experience feels less restrictive, making it viable for extensive use, even while reclining in bed.
Better core experience
The image quality received notable upgrades, too. The major enhancements include the ability to discern finer details in darker regions, exponentially heightening the user experience, particularly during cinematic scenes and gaming. This aspect contributes significantly to the device's improved High-Dynamic Range (HDR) performance, in tandem with a boost in brightness.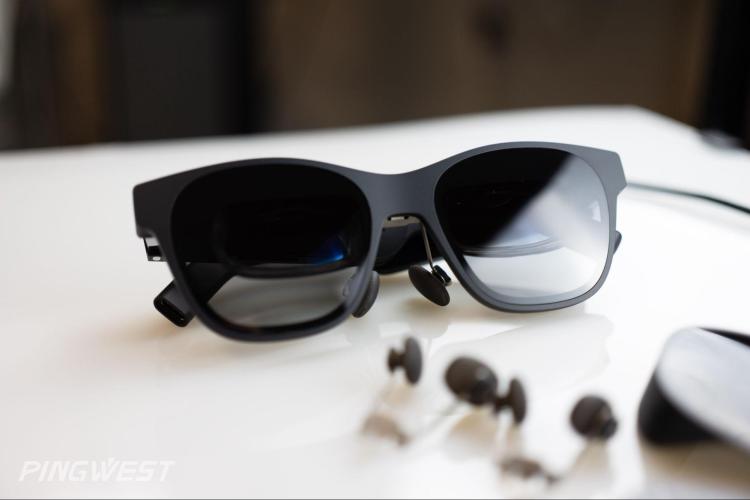 The enhanced brightness offers considerable advantages, especially during daytime use. However, one minor drawback persists: the device still lacks step-less dimming support. Moreover, the minimum brightness remains too intense for usage in low-light conditions, necessitating the use of ambient lighting to reduce eye strain.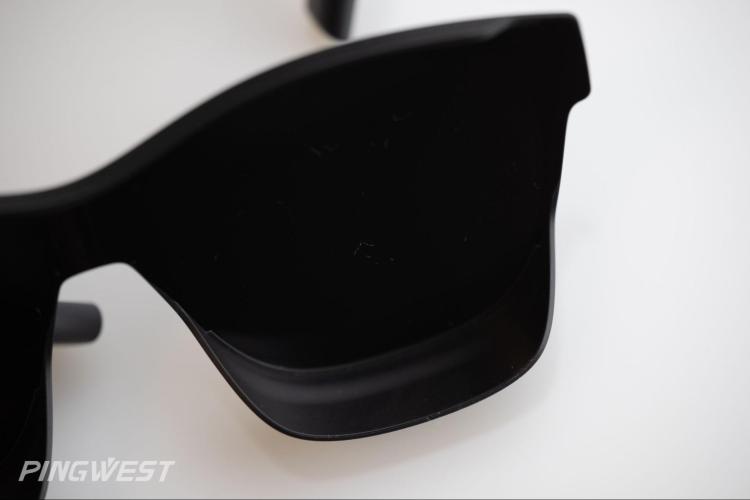 The Air 2 front hood has a new look reminiscent of a pair of sunglasses. Its predecessor was equipped with a plastic hook that blinded users. However, the Air 2, akin to a pair of dark sunglasses, allows users to see through it. Additionally, its expanded size offers a more immersive experience.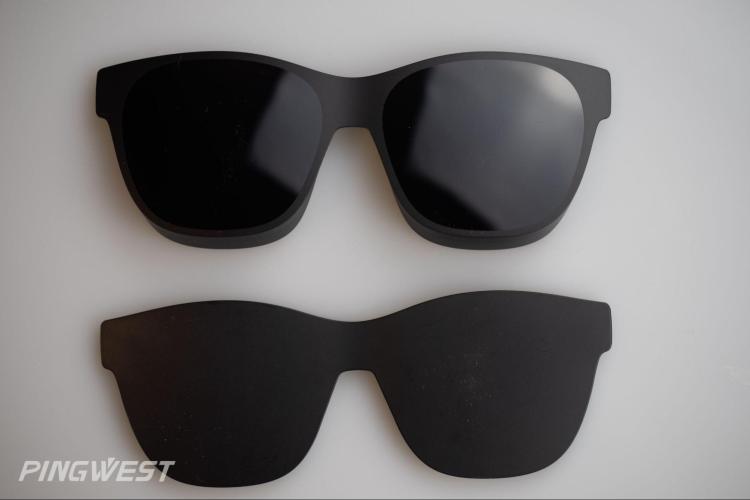 Upon examination, I discovered a notable rearrangement in the allocation of the Xreal Air 2's components insides. This change results in a more even distribution of temperature across the device. Though some heat dissipates from the temple area, the design leaves enough space for users' skins, rendering the warmth less discernible.
The Xreal Air also illustrates deliberate efforts to improve the audio quality. It has speakers that are louder, striking a balance to minimize sound leakage – an issue that still bothers me. The maximum volume is more than satisfactory for indoor use or in serene environments.
In a work setting such as an office, alternative audio output devices are recommended. These devices provide an option for those wishing not to disturb others. Additionally, in scenarios where some degree of privacy is required, having an alternative can be advantageous despite slightly compromising on convenience.
During a test that involved watching a television series at around 70% volume level, the sound was noticeable to a colleague, especially sharp noises like a baby crying. However, the details in vocal sounds were less clear to someone sitting nearby.
It's interesting to note that in louder environments, the ambient noise can help to mask the sound leakage. This could be particularly beneficial during a flight or similar situations.
Boosted by more supportive devices
In terms of connectivity, the AR glasses performed well across a variety of devices. The experience was especially seamless for those who facilitated DP via USB-C. This was evident when using devices that are compatible with iOS 17 and iPadOS 17 with USB-C connectors, which made for an impressive entertainment spectacle with the AR glasses.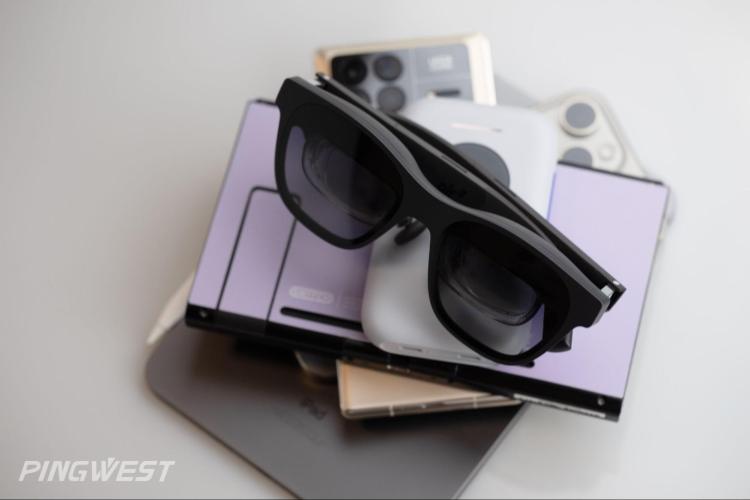 In particular, the new iPhone 15 series does not require an adapter to mirror content to these headsets. Its new operating system features additional enhancements. Specifically, it enables direct full-screen video mirroring to your glasses, while the rest of the user interface is relegated to your smartphone. By employing this mode, users are able to lock their phones, conserving battery life while continuing to enjoy their video content.
As for gaming, I experimented with a few titles, including the new mobile version of Resident Evil: Village. The large screen certainly enhanced the overall experience. It is responsive and smooth. However, for games that require extensive button interaction, a Bluetooth controller is absolutely necessary. This is because tapping at the correct place on the screen without looking directly at the phone can prove challenging.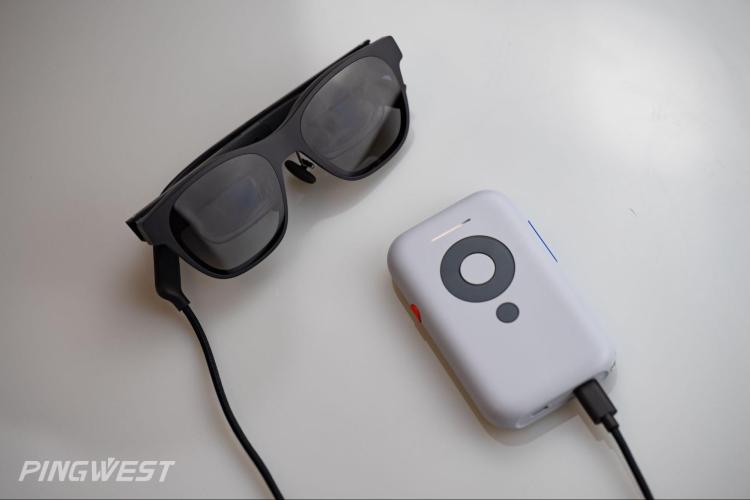 However, I noticed there would be audio shuttering when connecting the Air 2 and iPhone 15 Pro Max with the Beam wirely. This issue is currently being addressed by the Xreal team, according to a post on their official Reddit panel.
My preference has always been to connect devices using wires, as it provides a more stable and reliable connection. This is primarily due to the challenges often faced when using Airplay. The protocol can be very picky about network conditions, and at times, it just doesn't operate as expected. Moreover, splitting audio to other devices while using the glasses can pose a significant challenge. This, combined with its lack of stability, creates a lacklustrer user experience. In comparison, Miracast and Chromecast offer a more reliable alternative for wireless compatibility with the Xreal Beam.
More on Beam, the headset has more features, including two apps, Bilibili and iQiyi, major video platforms in the Chinese market. It also adds support for Alibaba's cloud driver, enabling you to play videos saved on your private space.
The app control would require holding the Beam as a spatial cursor, which is intuitive. The feature passes by the resolution limit of screencasting with a base subscription plan, as they look like a simplified version of Android ones.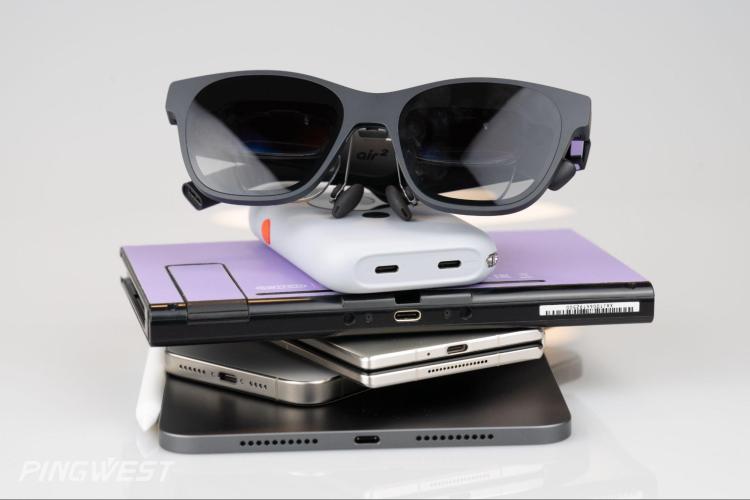 Another reason to consider Beam as a pair is that Air 2 doesn't have 6 degrees of freedom (6 DoF) capability. This limitation can lead to discomfort during turbulence in a taxi or flight due to screen shaking, similar to the problems faced with the Air 1. This alone could drive tech users to consider the Beam as a potential option for their virtual glasses needs.
Wrapping up
the Xreal Air 2 has arrived in perfect timing with great enhancements. This device is especially recommendable for iPhone 15 users, offering added optimization courtesy of Apple and the new iOS.
For those using Android, the Nebula app provides an extra layer of enjoyment, although it remains unavailable on the Apple App Store. If you haven't yet had the chance to experience AR glasses, then the Xreal Air 2 is one of the best options currently available. It significantly enhances the wearing experience than the last generation with new displays from Sony.
For those still using the first-generation model, you may find the standard version of the Air 2 less appealing. It's worth noting that both models share key specifications, including the Field of View (FOV), Pixel Density Display (PDD), and refresh rate.
If, during your experience with the Air 1, you've been saddened by sniff noise pad discomfort or have encountered the issue of your eyelid touching the lenses, the Air 2 is set to address these.
Lastly, if you're the kind of person who appreciates a vibrant colour, the red version of the Xreal Air 2 is sure to win your heart. It's a bold new colour for this generation and definitely a standout among the crowd.
For those eager to experience the latest technology in this field, the pro version could be a more enticing option. It boasts three electrochromic dimming levels for the front glasses - a standout feature that sets it apart.