Wednesday, Apple unveiled the highly anticipated iPhone 15 series, marking a significant departure from their long-standing tradition of Lightning connectors by now incorporating USB-C connectors. For over a decade, Lightning connectors have been a hallmark of Apple devices. This game-changing move suggests that Apple is making strides toward embracing a universally accepted and robust connection standard – aligning with the recently enacted regulation by the EU.
But what catalyzed this shift, and what benefits do USB-C connectors bring to users? Here's a closer look at these topics:
Charge
The Universal Serial Bus Type-C (USB-C) connector enables a rapid charging speed of up to 240 W. Coupled with its protocol, this USB connector has established a universal charging standard known as Power Delivery (PD). The most recent iteration, PD 3.1, released in 2021, allows for high-speed charging of compatible devices, a feature unique to the USB-C connector.
Still, Apple indicates a similar charging speed for the iPhone 15 series compared to its previous generation. Sources familiar with the matter, as reported by 9to5Mac, suggest that certain iPhone 15 models will support a 35 W charging speed. To put this in perspective, the iPhone 14 Pro's peak charging wattage is 27 W, while the standard models offer 20 W. In contrast, the recently reviewed Android phone, the Realme GT 5, supports an impressive 240 W fast charging.
Additionally, the iPhone 15 series is set to introduce the capability of reverse charging for accessories like AirPods through a USB-C cable, as highlighted in Apple's release keynote.
Data transfer
The antiquated Lightning connector is limited to a transfer speed equal to USB 2.0, which is 480 MB/s (60 MB/s). In stark contrast, a USB-C connector can accommodate a plethora of standards, including USB 3.x, USB 4, and Thunderbolt 4. Currently, the bandwidth of a USB-C connector, via mainstream standards, can achieve a bandwidth of up to 40 Gbps (5 GB/s), and upcoming USB and Thunderbolt standards are poised to double this speed to 80 Gbps.
Looking ahead, the forthcoming iPhone 15 and 15 Plus will persist in supporting USB 2, maintaining a transfer speed equivalent to the iPhone 14 series with Lightning connectors. However, the iPhone 15 Pro and Pro Max will embrace USB 10 Gbps (formerly known as USB 3.2 or USB 3.1 Gen 2).

A notable enhancement is the capacity to transmit video signals via USB. With a USB-C connector, video signal transmission becomes feasible, supporting both DisplayPort (DP) and HDMI through the use of a suitable adapter.
A higher bandwidth of 10 Gbps allows 4K 60 Hz signals to be cast to external monitors, including XR devices.
This capability is primarily enabled by DP, an integral part of the USB specifications. In its updated 2022 version, DP 2.1 further extends possibilities by facilitating 8K 120 Hz video transmission in select formats, empowered by an 80 Gbps bandwidth available via USB 4 Version 2 or Thunderbolt 5.
Broad range of supported accessories
The new USB-C connector facilitates effortless accessory connections. Furthermore, USB-C accessories far outnumber their Lightning counterparts. There are multiple beneficial categories, such as USB docks and hubs, catering to heavy workflows. Smaller adapters, including ones for HDMI, VGA, and 3.5 mm audio jacks, are easily accessible at a low cost from Chinese vendors like UGreen and Pisen.
Frankly speaking, USB 10 Gbps hubs offer a better cost-performance ratio than the pricier $200 Thunderbolt alternatives, unless high-quality video output is an absolute necessity. Thunderbolt 3, for instance, only provides 24 Gbps for data transfer through an SSD enclosure, as the remaining bandwidth is reserved for video streams. Consequently, the disparity isn't as significant as the specifications might imply.
Additionally, high-speed external SSD drives are more dependable when used, eliminating unnecessary power consumption often associated with Lighting to USB-C adapters.
While it remains uncertain whether Apple will implement encryption for data transfer via USB connectors in their new iPhone models, this could potentially restrict or disable the use of unverified accessories. However, the current status of USB-C adoption on the iPad and Mac mitigates these concerns.
Be aware: some USB specs are optional
The high compatibility and wide range of standards within USB technologies can indeed lead to confusion because of the diverse specs available on the market. Virtually all USB features are optional or degradable. For instance, the USB-C to C cable included with an older Mac might only support power transfer. Similarly, cables from certain manufacturers may only support data and power transfer but not video signals.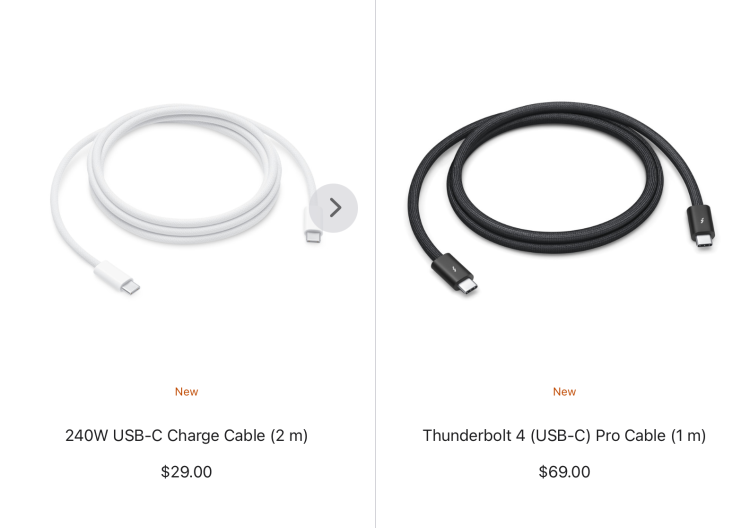 In terms of power supply, it's crucial to note that different cables can handle varying wattage standards. Some, such as Apple's recently released cable, are capable of handling up to 240 watts. However, some poorly constructed cables may only support a power supply as low as 20 watts. The same principles also apply to the data transfer rates of USB-C cables.
Interestingly, a USB-C cable with 10 Gbps and all available features might not necessarily be more affordable than a Thunderbolt cable. Therefore, if you have specific tech requirements, it's advisable to seek guidance from consumer support or refer to reviews. It's essential to keep in mind that USB-C-equipped devices subscribe to the "bucket theory"; to fully optimize device performance, you'll need to ensure that the cables and accessories you select meet the necessary standards.
Looking ahead
Apple users have grown accustomed to Lightning connectors since the release of the iPhone 5 in 2012. While Lightning connectors were initially considered pioneering, they were eventually outpaced by more advanced USB technologies.
Regarding future connectivity, Apple has two feasible options to consider: Thunderbolt and wireless technology.
The company has consistently positioned its Pro series as a high-productivity tool for creators. The exceptional video recording capabilities of the iPhone Pro and Pro Max exemplify this commitment. However, recording raw videos places hefty storage demands on the system, and sluggish USB transfer speeds can impede an efficient workflow. To address this challenge, Apple recommends creators utilize external storage and save files to these external devices in the current generation.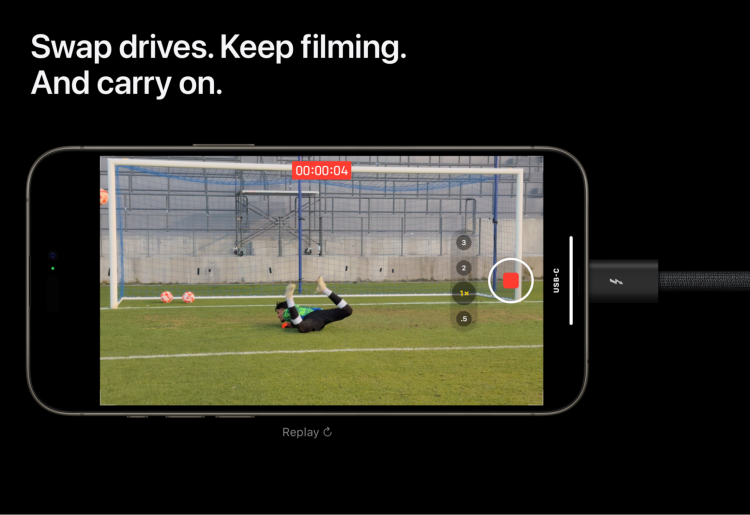 Intel, the leading authority behind Thunderbolt, has made Thunderbolt 3 royalty-free for manufacturers. This action prompted the advent of USB 4, which builds upon Thunderbolt 3 with some upgrades. Consequently, Apple might consider adopting Thunderbolt 3/USB 4 and incorporating USB-C into iPhones, similar to their approach with Macs and iPads, which could offer a cost-friendly solution.
During a recent episode of The Verge podcast, one guest expressed indifference towards the adoption of USB-C connectors, citing their reliance on wireless technology for several years. For most scenarios that might necessitate a cable, Apple's AirDrop and MagSafe accessories should suffice. Given Apple's progressive approach to design, which included early adoption of integrated designs that omit 3.5mm headphone jacks and SIM card slots, it wouldn't be surprising if they phased out the last remaining port on iPhones.
Whether Apple opts for equipping devices with Thunderbolt to cater to the demands of high-end creators or leans more towards wireless tech to meet the everyday needs of consumers, their next move will undoubtedly shape the future of mobile connectivity. And for sure, compliance with mandatory regulations will play a significant role in this decision process.