Realme, a sister brand of Oppo, recently debuted its mid-range GT 5 phone in China, capturing attention with its striking design and impressive core performance.
In China, mid-range phones, typically starting at $450, are increasingly delivering greater value within a constrained price point. The year 2023 has witnessed this trend, with brands like Redmi, OnePlus, and Realme reshaping industry standards through top-tier memory capacity and flagship processors.
The Realme GT 5, boasting an ultra-fast 240 W charging speed and an exquisite body design, offers surprising quality for its price range. I've spent two weeks using it as my primary phone, and here are my thoughts on this device:
TL;DR
Fors
Comfortable grip for a smooth user experience
Attractive selection of shades and colors
Ultra-fast charging speed
Stunning customizable LED indicators
Configurable with up to 24GB of memory and 1 TB of storage.
Againsts
Plastic frame
Compromised camera performance
Aggressive background app management
Lack of wireless charging functionality
Smooth and elegant look
With a smooth and elegant aesthetic, the phone boasts a design that defies its modest price range. The flat display, unlike some competitors, is securely framed without any necessary layers of plastic in between. This choice not only preserves display quality but also notably enhances the overall design.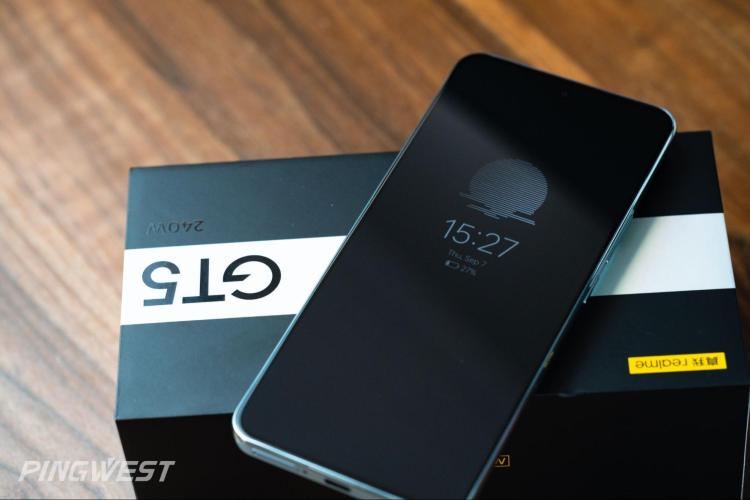 The phone boasts a lightweight design, weighing in at 206.5 g. It measures a slender 9.1 mm at its thinnest point, with the camera component approximately 10.3 mm thick.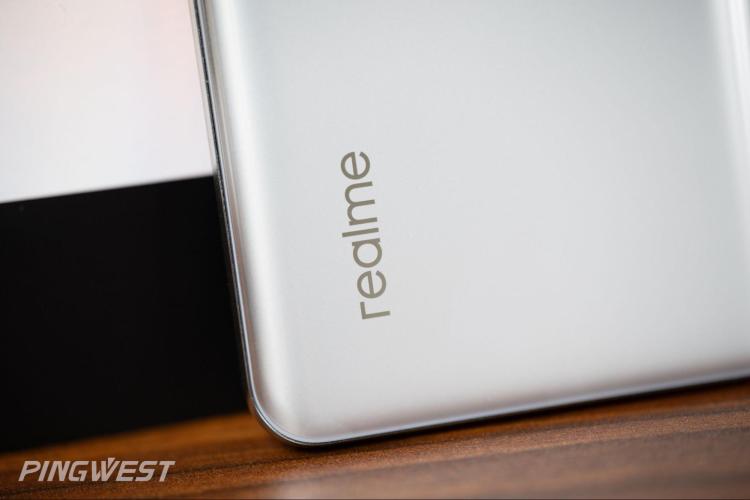 Both the back case and the frame feature a mirror-like surface with rounded edges. The predominant color is gray, tinged with a hint of cyan that subtly fluctuates in different light, offering an ever-changing panorama of gradients and shades. Paired with this, the sand-blasted texture of the baseplate enhances the phone's aesthetic allure even further.
Holding it feels akin to grasping a sleek gray crystal, though this also lends to the sensation that it might easily slip from your hands. The phone can be somewhat slippery, especially on slightly inclined surfaces. Personally, I find the finish delightful, but if it's not to your taste, the included protective case offers a solution. However, it's worth noting that the case does obscure the enthralling design of the back case.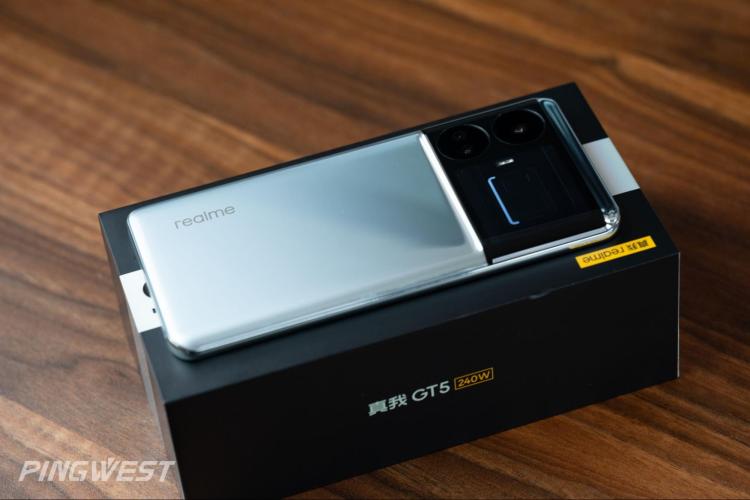 The mirror-like back of the phone might naturally attract fingerprints, but its considerate arrangement and refined texture help mitigate this concern.
The camera module, slimmer compared to those on competing models, seamlessly blends into the back case. The module's dark theme contrasts nicely with the phone's overall design. Within the module, two prominent circles house three cameras, with additional space for a decorative element and square-shaped LED indicators.
Nevertheless, the plastic body frame is somewhat of a letdown, creating a palpable contrast against the sleekness of the back case.
Fully Customizable Pulse Light
One major highlight of the Realme GT 5 is its fully customizable Pulse Light embedded within the back case. While reminiscent of what Nothing offers but on a smaller scale, it still manages to impress with its luminosity.
The light array activates during specific moments, such as phone calls and notifications, and can also sync with music rhythms. Furthermore, each trigger can be modified in both color and rhythm. An array of preset ring and notification sounds are available to select from with corresponding light and haptic effects, enhancing the overall user experience significantly.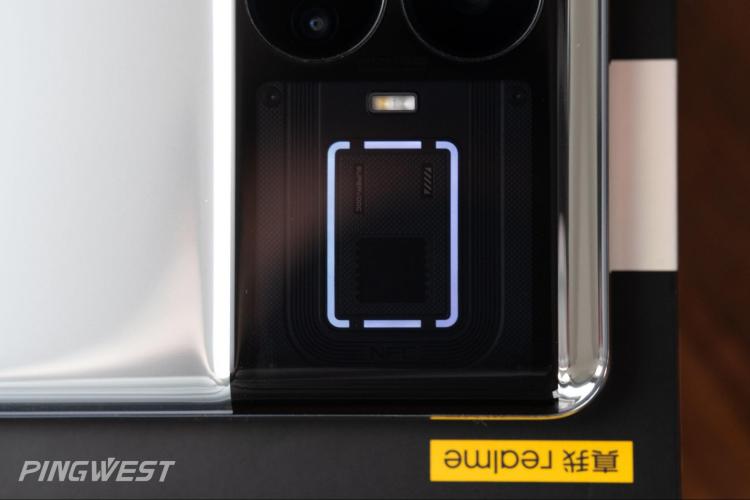 Regarding color settings, there's a range of hues to select for each light trigger. Most options are dynamic and vibrant. Personally, I prefer the classic white light but occasionally switch to colored ones for a change of pace.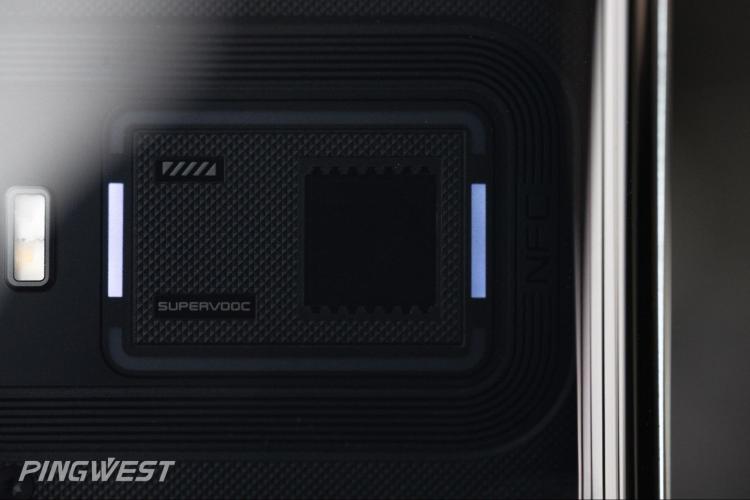 For incoming calls, individual contacts can be earmarked with unique effects.
To downplay potentially overwhelming light effects, the device incorporates a "breath mode" that creates a gentler rhythm. For the music trigger, breath effects are applied using gradient colors instead of solid ones.
There's also an "always-on" option for a stylish look throughout the day; however, this would result in shorter battery life. You can also choose when the light is active, which is useful for minimizing distractions during downtime.
After a week of use, I found the device's color display to be impressive, with its brightness proving more than sufficient, even in outdoor settings.
Top-tier core specs
Despite being equipped with the high-end Qualcomm Snapdragon Gen 2, this phone offers top tier specs rarely seen in its price range, such as 1 TB of storage, an option for 24 GB of memory, and a blazing-fast 240 W charging capability.
Firstly, it's truly remarkable how the 24 GB of memory can accommodate a multitude of apps - well over 35, to be exact. I continuously opened various apps, frequently switching back to the initial one to check if it would resume instantly. However, it's regrettable that the phone tends to aggressively manage background apps, often shutting certain ones down. While this strategy may be aimed at conserving battery life, it seems somewhat excessive given the ample memory capacity.
The gaming experience is nothing short of exceptional. Testing was conducted with Genshin Impact, a familiar reference in my articles because of its high performance demands. Operating smoothly at the highest presets and a 60 Hz frame rate, the game plays incredibly smooth at 144 Hz, thanks to the frame booster feature provided by Realme. The touch gestures also proved highly responsive, further enhancing the gaming experience.
Notably, the phone's heat management is commendable. The display generates more heat than the back cover. After running the gaming title for over 30 minutes, the hottest spot reached around 43 °C, while the back case didn't exceed 36 °C.
For avid gamers, the phone's generous 1 TB storage option is a real boon, especially as demanding game titles continue to grow in size.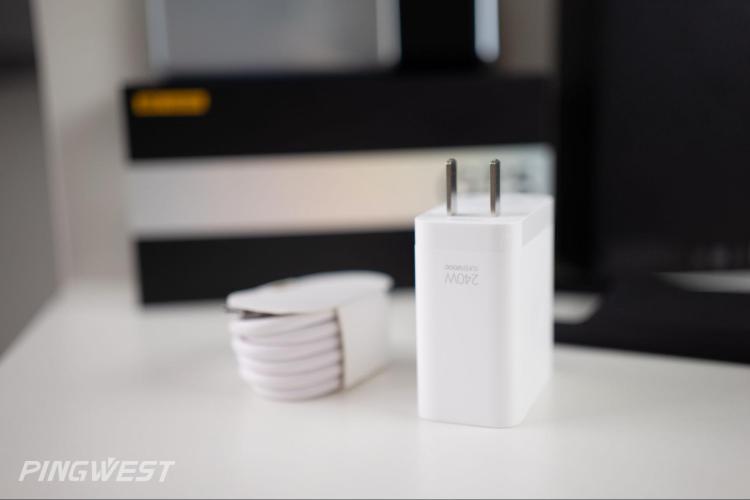 The charging speed is incredibly fast. Starting at 20%, the device reaches a full charge in approximately 14 minutes, making it one of the fastest charging times among smartphones. Notably, there were no overheating issues detected with the phone itself during charging, although it's worth mentioning that the charging brick may warm up slightly during use.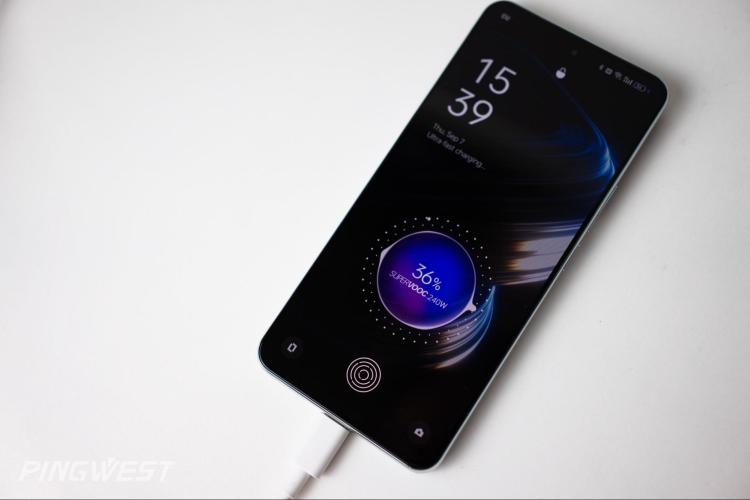 One drawback is that the 240W version comes with a slightly smaller 4,600 mAh (typical capacity) battery, which almost lasts for a moderate day of use. However, considering its remarkable charging speed, the trade-off from the 150 W model is quite manageable.
Compromised camera performance
The Realme GT 5 is equipped with a triple-camera combo, ranging from 16mm to 24mm. The primary camera boasts a 50 MP resolution with an F 1.88 aperture, which enables it to capture vibrant colors and quick shots throughout the day.
However, the camera's performance starts to wane in low-light conditions, resulting in glare and a reduction in image quality.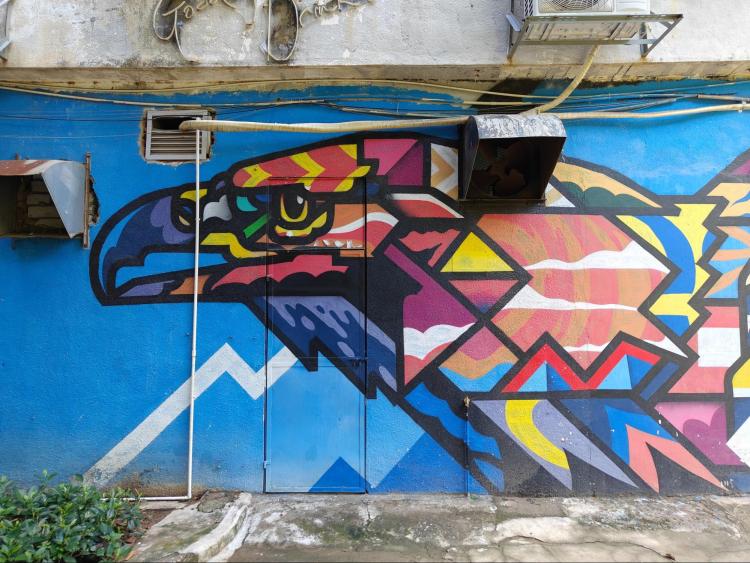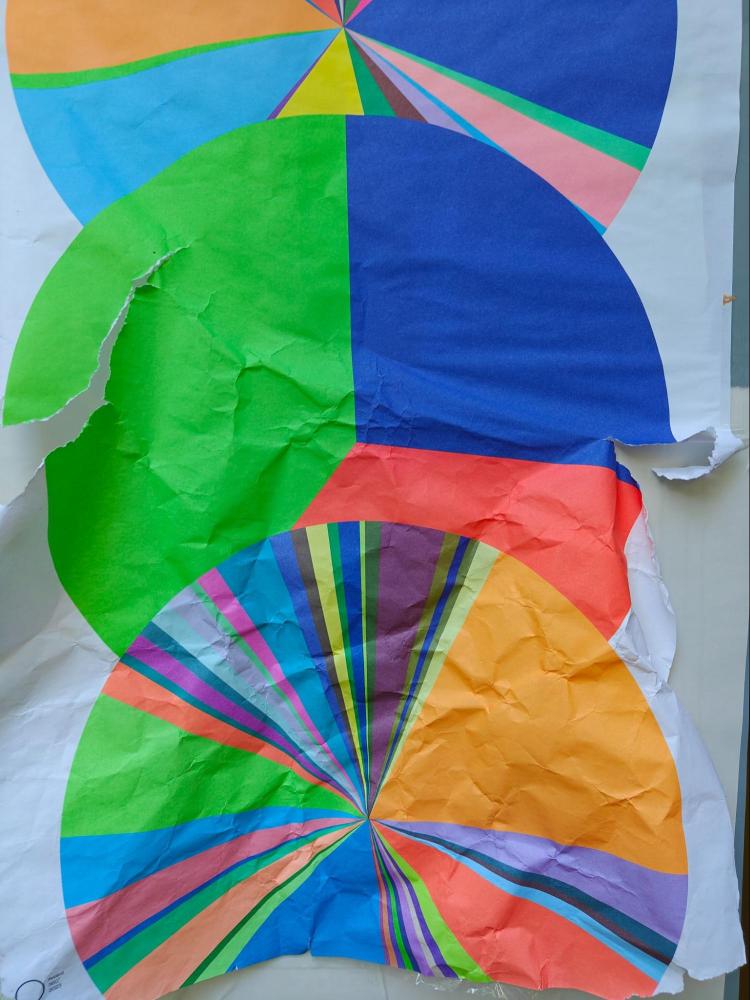 Let's delve into color tone. The Realme GT 5, much like its rivals, effortlessly captures vibrant and vivid colors in daylight conditions. It adeptly manages various color ranges within a scene without any trouble and reproduces satisfactory detail in shadowy areas.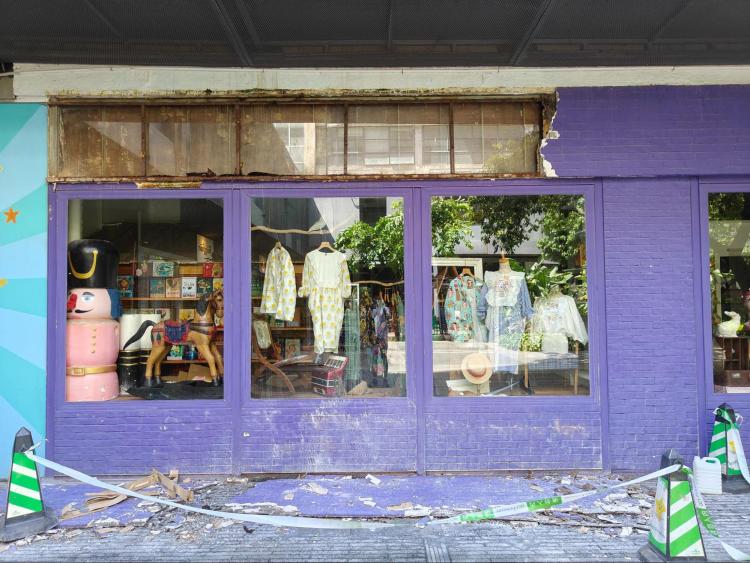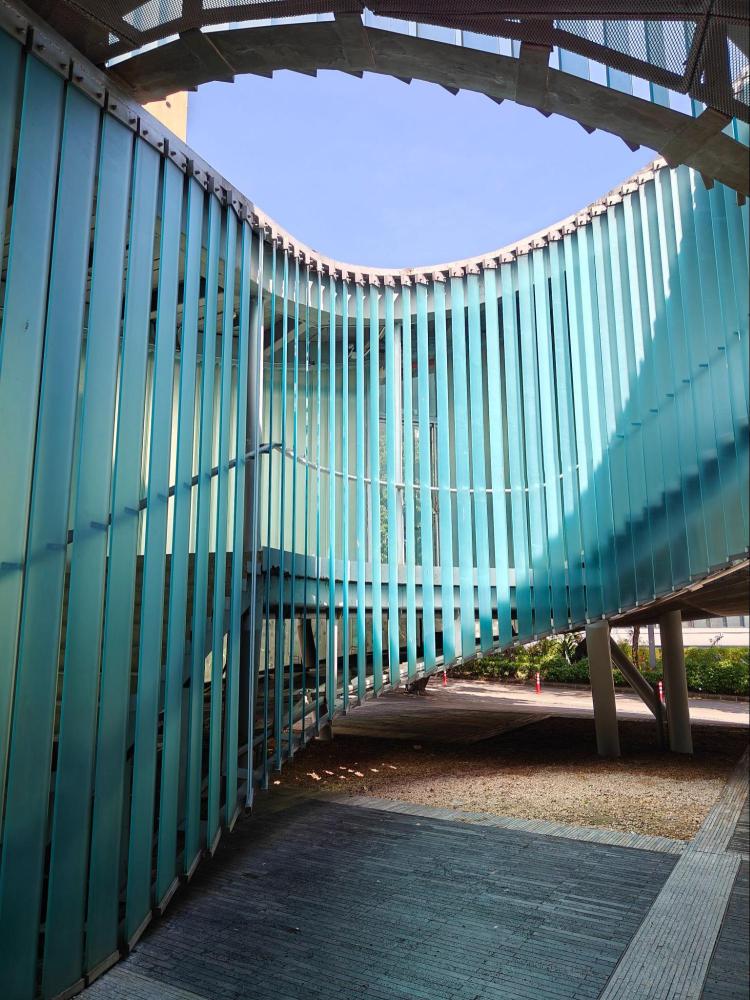 Even in high-contrast scenes, the primary camera holds its own. It balances highlights and shadows aptly, providing decent detail. The images might appear plain on occasion, but overall, the color tone is impressive.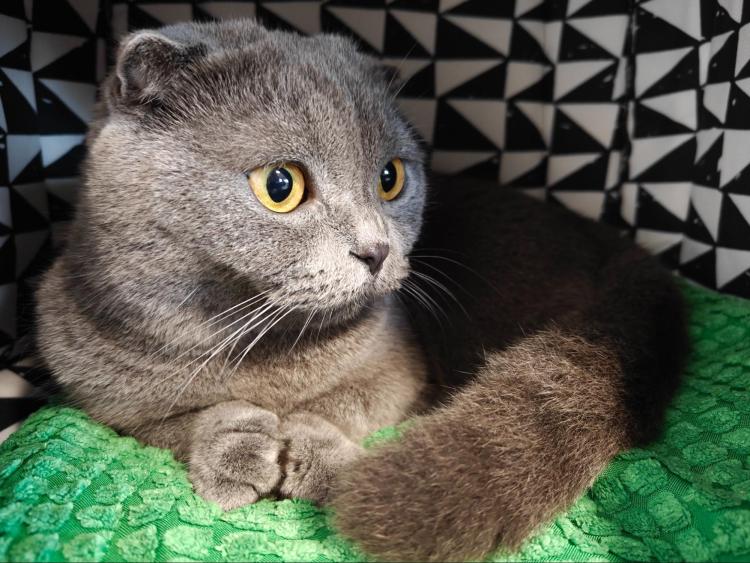 Additionally, there's a street mode that offers classic focus lengths of 16mm, 24mm, and 48mm. It also provides some attractive cinematic-style profiles.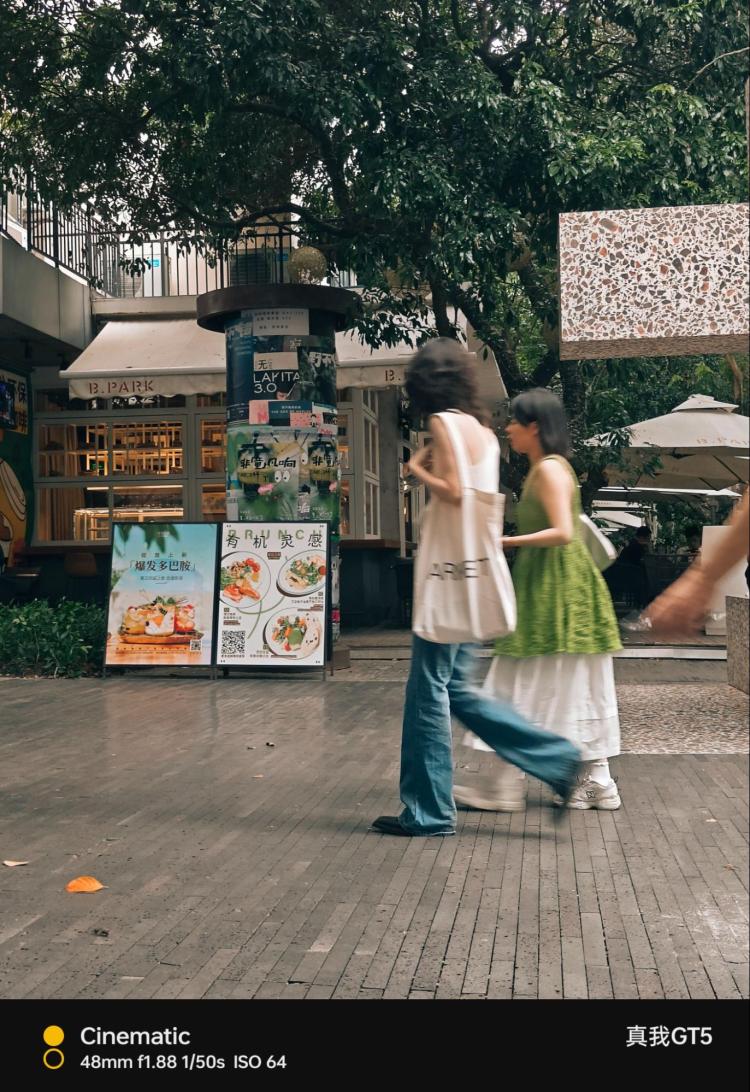 However, despite these strengths, the camera's performance in low-light scenarios leaves much to be desired. Image quality noticeably deteriorates, especially when capturing motion. Additionally, glares from light sources, such as night lamps, become prominent across a wide area.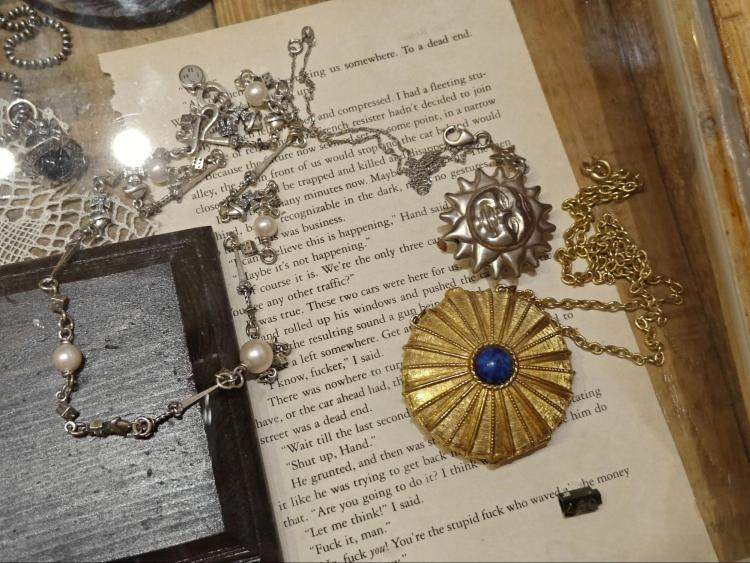 In terms of close-up shots, the quality is decent. See the sample image above - the camera effectively captures intricate details, including the text on the book and the texture of the ornament. The white balance is accurate, and mirror reflections are well-controlled.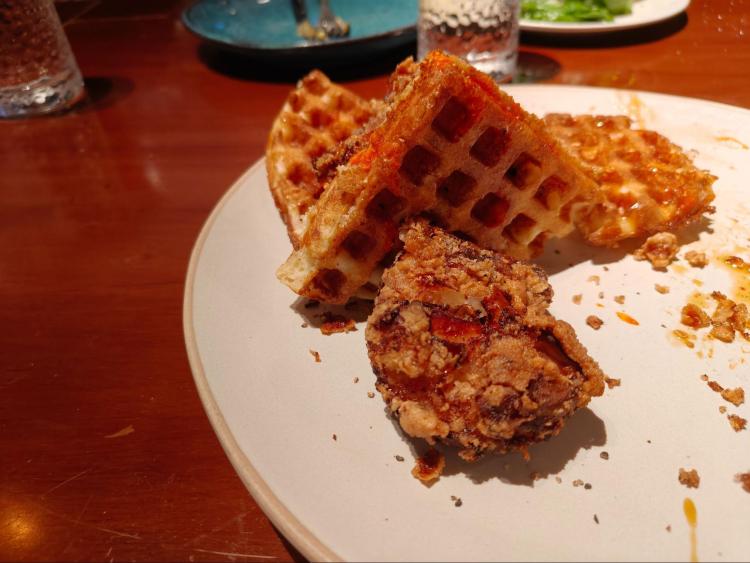 Here's another close-up shot, this time featuring food, which highlights the camera's color accuracy and image quality when capturing stationary objects in low-light conditions.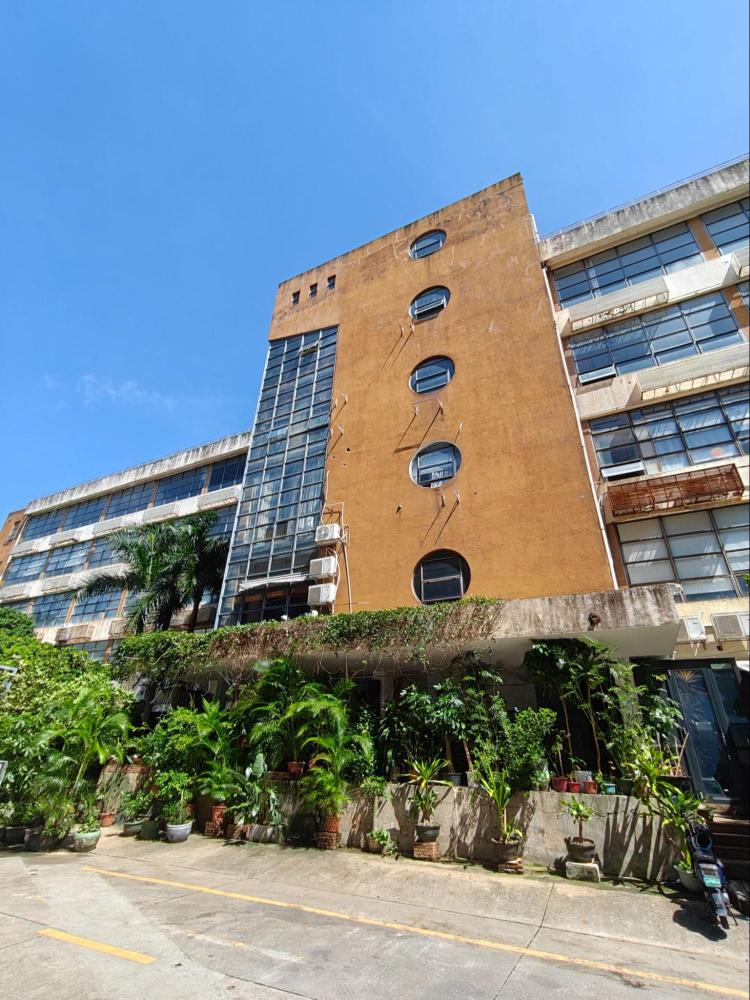 While the ultra-wide camera may not quite match the main camera's performance, it still snaps some decent shots suitable for social media sharing.
However, unlike its pricier counterparts, which prioritize camera technology, the Realme GT 5 does not feature a telephoto lens. Instead, the two-times zoom option is achieved by cropping from the primary camera, a result proven during testing by physically blocking the camera.
Some highlights in Realme UI
Since this model is exclusively available in the Chinese market, I will share details of some basic features of the system and software.
Realme UI 4.0, built on Android 13, defines the phone's interface. High on my appreciation list is the efficient background app view, which neatly organizes app icons in a compact layout, ensuring seamless app transitions. However, the too-large "Close All" button is positioned awkwardly, making it prone to accidental taps. Future versions would do well to address this issue, given its infrequent use doesn't warrant such prominence.
The system's transitions and animations are silky-smooth, providing a unique user experience, possibly owing to the slower pace of each animation. But don't fret if you need more speed; a quick settings adjustment gives you a zippier option. Coupled with a 144 Hz refresh rate display, this creates an immensely satisfying user experience.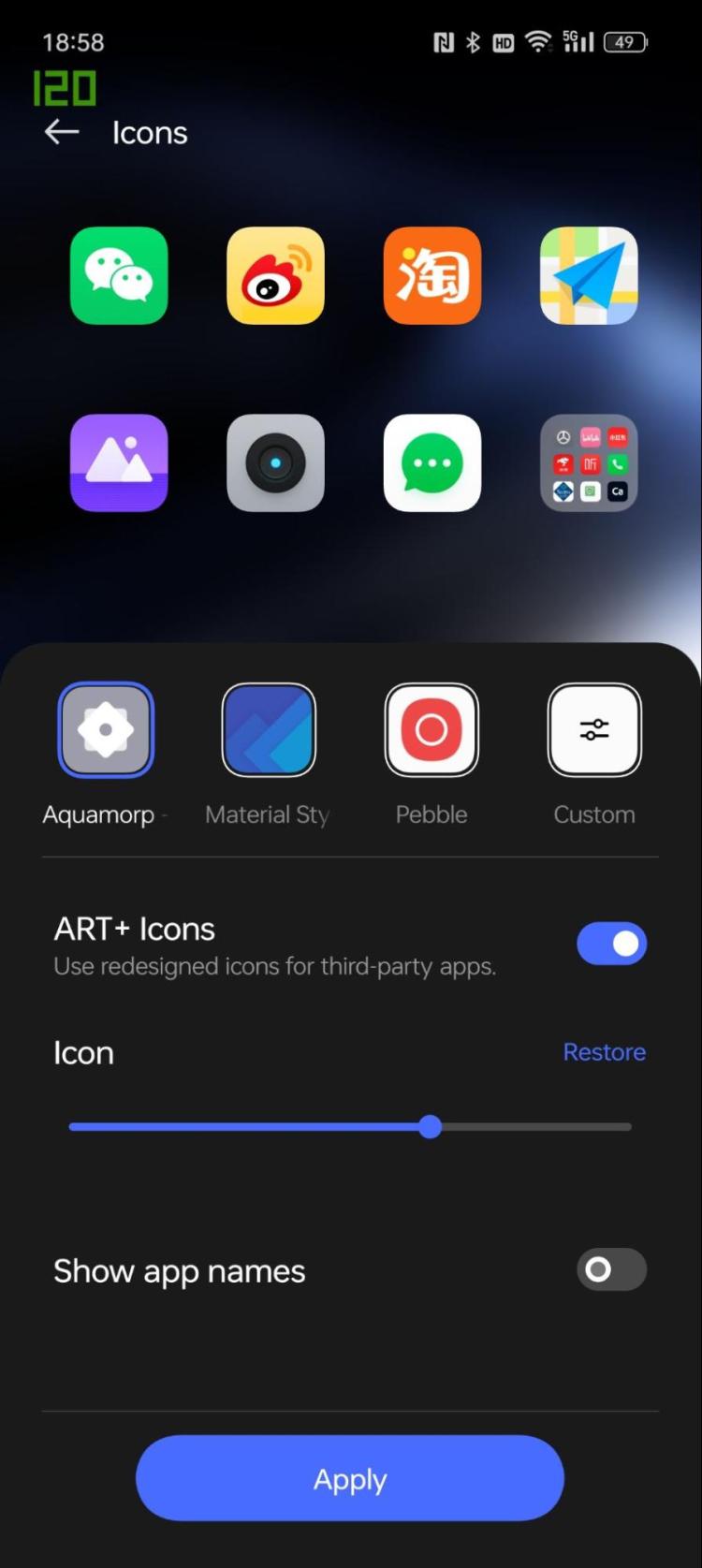 The icon redesign is another feature that piques interest. It extends even to third-party apps, allowing for a uniform look on your homescreen.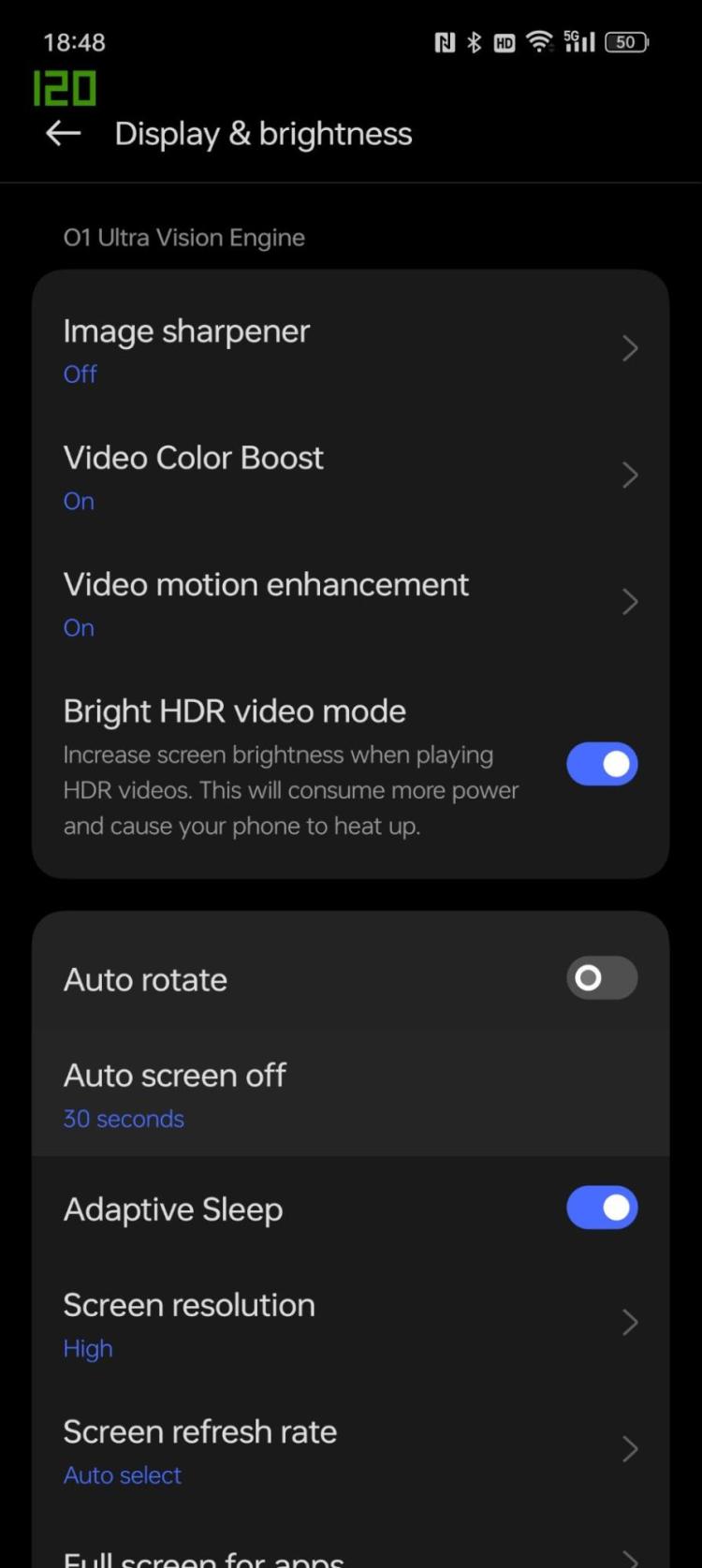 The phone's AI engine and chip offer various image enhancement features, including video sharpening and smoothing. These enhancements also optimize video content for improved HDR playback, albeit at the expense of reduced battery life.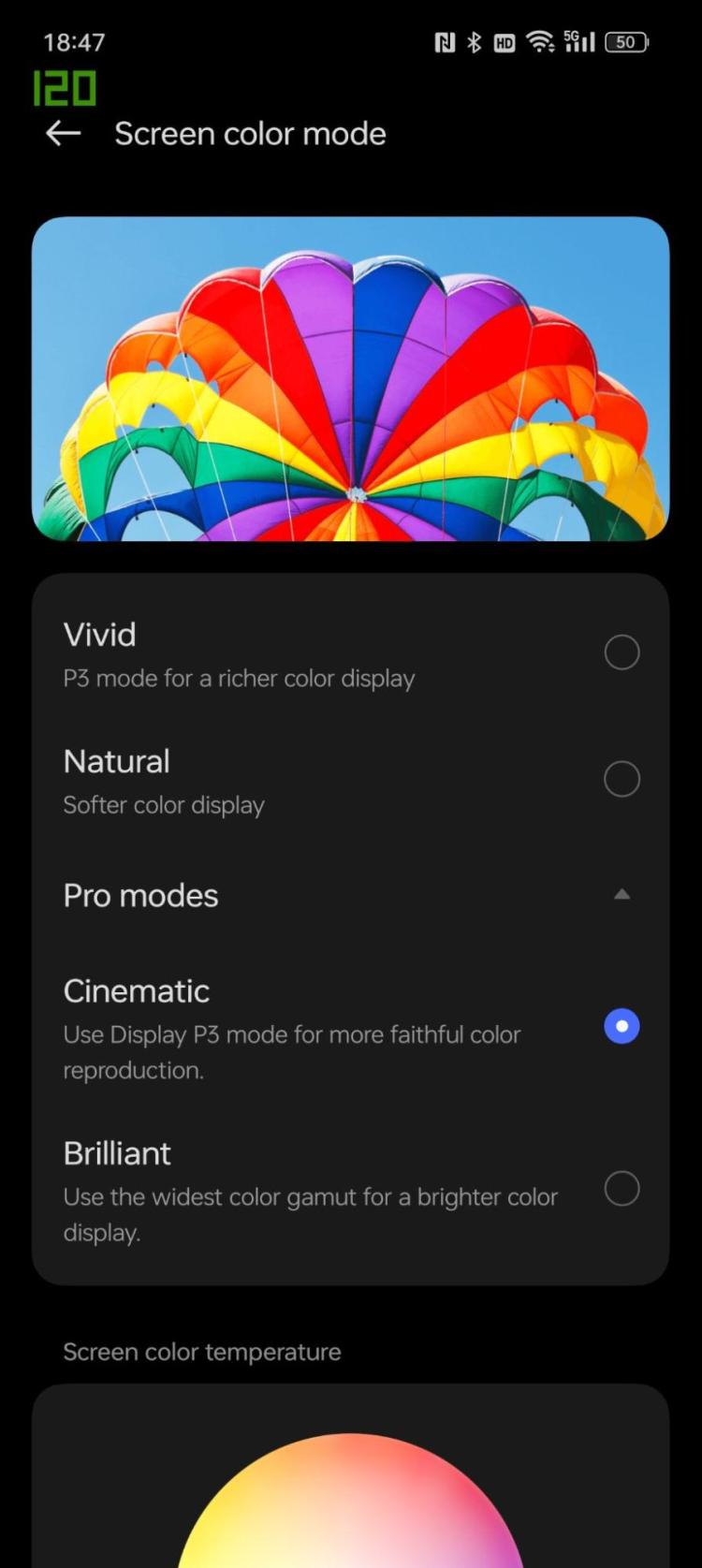 Color management is another feature that stands out. Users have the flexibility to fine-tune warmth and color profiles, and there's also a range of professional presets to choose from, including the Display P3 profile, famously utilized by Apple in their products.
Haptic feedback isn't without its pros and cons. On the positive side, it offers engaging tactile feedback—such as the sensation of turning a mechanical gear when switching between apps. However, there is room for improvement in the intensity of these effects, which currently leaves something to be desired.
Wrap-up
Without question, the Realme GT 5 emerges as a top-contender for budget-conscious gamers. Its high-end processor and ample memory options ensure a top-tier gaming experience. Alongside these features, a frame booster further elevates gameplay, and effective heat control manages extended gaming sessions.
Aesthetically, beyond its impressive tech specs, it boasts a finely crafted, elegant design that enhances its overall appeal, particularly the polished rear case.
The smartphone's ultra-fast charging capability is a clear standout feature, ensuring uninterrupted gameplay.
However, it's not without its drawbacks - the camera quality, reduced battery capacity in the 240W version, and frame construction leave room for improvement. Nonetheless, given its price range, these issues may not be significant concerns if core performance is your primary consideration.
Realme GT 5 is currently available in China. The 150 W version with 12 GB of memory and 256 GB of storage is priced at RMB 2,999 ($411.52), while the version with 16 GB of memory and 512 GB of storage is available for RMB 3,299. The 240 W version, equipped with 24 GB of memory and 1 TB of storage, is introduced to the market at a price of RMB 3,799.