The leading Chinese major AR headset vendor, Rokid, has recently revealed its cutting-edge Rokid AR Studio in the extended reality (XR) domain, signaling a significant stride in their pursuit of industry dominance. This lineup includes Rokid Max Pro glasses and the Rokid Station Pro, all introduced in China.
Earlier this year, the Hangzhou-based firm introduced its AR package, comprising the Rokid Station and Rokid Max glasses, primarily designed for entertainment purposes, to the international market. The Station features a portable Android TV experience with entry-level performance and a somewhat limited ecosystem. My initial assessment described this package as an ambitious endeavor. The recent launch of the Rokid AR Studio underscores Rokid's escalating ambitions, with specifications that rival those of high-end devices marked with augmented interactivity features.
We received an invitation to the product release event for an initial look at the Rokid AR Studio pack during its development phase. Here are the insights drawn from our one-hour hands-on experience with the devices.
The overall design continues to mirror the previous generation's style, combining a deep blue color scheme with metallic textures - characterized by the product's notably curved lines.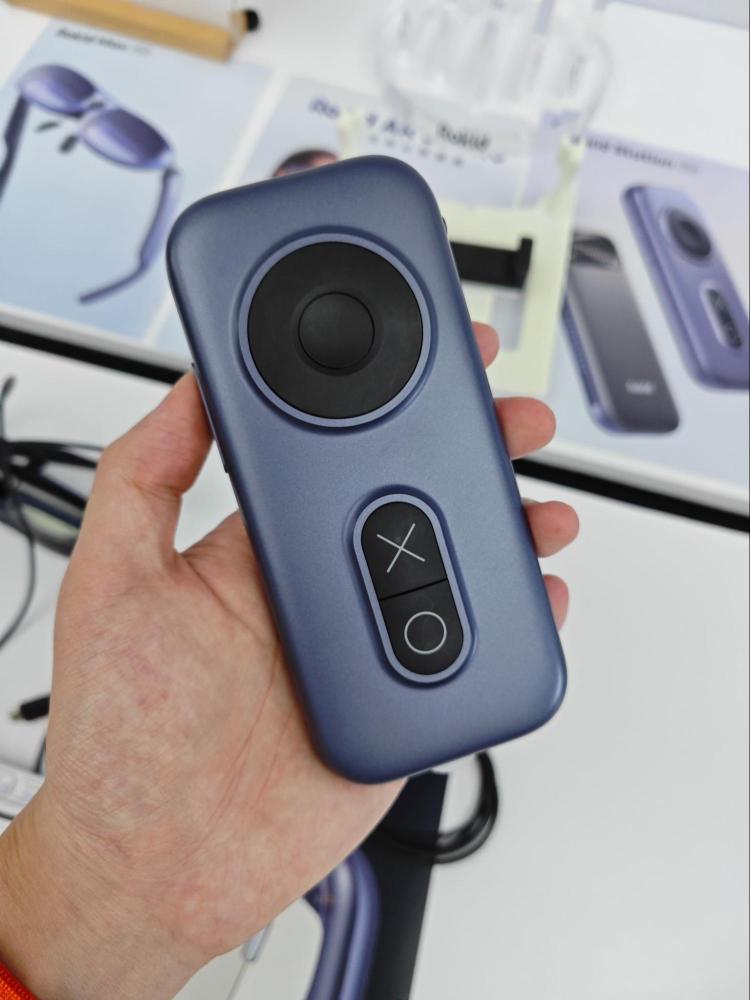 The new Station Pro, weighing in at a hefty 260 grams, is on par with a foldable phone. It appears more akin to a gaming phone, sans display, in terms of its specs. The device is kitted out with a Qualcomm Snapdragon XR2 Plus Gen 1 processor, 12 GB of LPDDR5 memory, and 128 GB of storage. This represents a significant advancement from its previous generation. Further, it incorporates an active cooling system to maximize performance.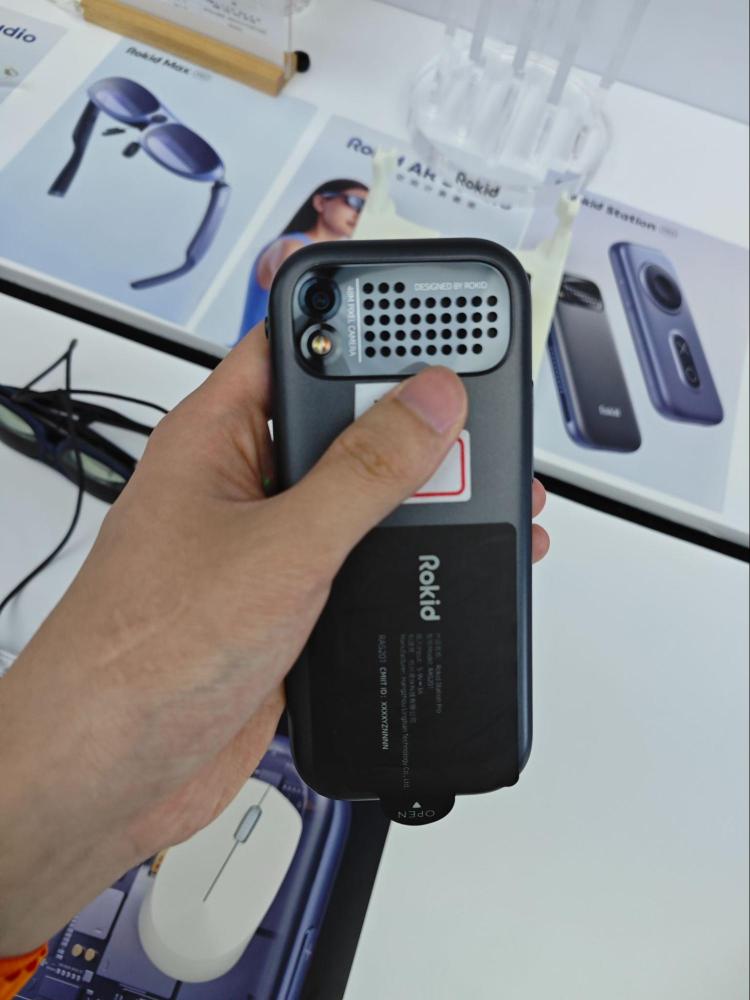 The device supports Bluetooth 5.1 for connectivity, and Rokid is currently testing the potential for Wi-Fi 6E compatibility. The large battery capacity stands at 7,620 mAh, supporting a cable charging speed of 27 watts. Rokid Station Pro also features a 48-megapixel ultra-wide rear camera.
Additional features include two USB-C ports, one specifically designated for the glasses and the other for charging or connecting other USB accessories. The device is outfitted with an X-axis linear motor and an enhanced 9-axis Inertial Measurement Unit (IMU), which encompasses a gyroscope for measuring orientation and angular velocity, an accelerometer for capturing real-world acceleration data, and a magnetometer for detecting magnetic field fluctuations.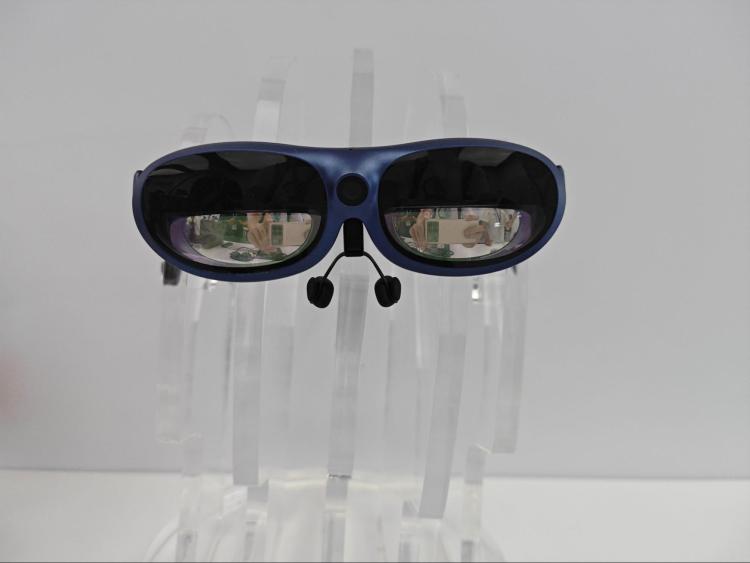 The Rokid Max Pro features a 4.6 million pixel OLED display with a refresh rate of 90 Hz and weighs 76 grams, almost the same as its predecessor's 75 grams. The latest headset boasts six DoF (degrees of freedom) and incorporates hand gesture recognition.
The new model surpasses the Rokid Max with 600 nits more brightness and a higher resolution of 3840 x 1200. It also adds an extra camera to enhance its interactive features.
It offers a user experience that seamlessly blends entertainment and productivity. Tailored for AR, the system boasts spatial interfaces reminiscent of an enhanced version of iPadOS. The dock houses app shortcuts and navigation functions that respond to head movements.
Further, users can keep up to five apps open simultaneously in the foreground that stay positioned around them for easy access.
While the visuals remain clear when moving the head, you may notice occasional shutters and tearing. The text rendering could use improvement. Nevertheless, the overall image quality outperforms that of the previous generation, even though the device is still in development.
Another noteworthy change in the Max Pro is that users with ametropia will need an additional lens kit. However, unlike some competitors, this kit won't uncomfortably come into contact with your eyelids.
The Pro package now also accepts hand gestures as an input method for controlling and navigating within the system. The provided demos and games, including a basketball game, make for an amusing experience, though there are areas needing improvement. The device lacks the precision and low latency necessary to fully replace a mouse or controller.
Speaking of input, the experience is akin to a virtual computer with multiple large displays when connected to a Bluetooth keyboard and mouse. Users also have the option to magnify one application to "full-screen mode" for heightened focus. A detraction, however, is the current inability to modify the distance between these displays, a feature that would enable a sensation similar to adjusting the display size on Xreal Beam.
Indeed, similar to the Rokid Max, the Rokid Max Pro offers limited features when used in conjunction with Xreal Beam. If your primary concern is a device for wireless casting or using it with the Nintendo Switch, it is a viable option for both Rokid Max and Max Pro.
Overheating issues have been significantly reduced in the new glasses model. Demonstrative devices that ran for an extended period still retained mild temperature levels, likely around 40 °C or less.
Rokid has also introduced an intriguing feature: an AR version of Google Search. When users enter desired keywords, a plethora of results populate their view, highlighted by eye direction or cursor movement.
There are control buttons placed on the Station Pro, emulating a mouse and generating a cursor circle within the user's line of sight. This setup may counteract personal instincts; for input mechanisms like these, one anticipates navigation through levels and tabs with additional triggers. This is precisely what Rokid has implemented in the global version of the Rokid Station.
The device also provides an interesting feature: it can detect wrist movements and display a 3D digital watch when the wrist is raised. Rokid has committed to adding more features and functionalities to the watch in the near future, such as a to-do list.
The overall user experience with the Rokid AR Studio and YodaOS-Master systems accounts for a riveting journey. It provides a glimpse into Rokid's grand vision — a sturdy ecosystem powered by Android, a meticulously optimized user interface (UI) and user experience (UX) design customized for AR headsets, all secured by high-end hardware specs. While some details require refinement before its retail release, I eagerly anticipate reviewing the polished final product.
The Rokid Max Pro and Station Pro are currently available for pre-order in China, priced at RMB 4,999 ($684.40) and RMB 3,999 ($547.49), respectively.