Poco, a subsidiary of Xiaomi, has recently launched its F5 series worldwide. This phone features a high-end processor and a superb display. The F5 Pro, available in black and white color options, will be available for purchase through official e-commerce channels at a competitive price range of $449 to $549.
The Poco F5 Pro appears to be a variant of the Redmi K60 Pro, a highly popular smartphone in the Chinese market. The two models share striking similarities in terms of design and specifications.
PingWest has recently received a review unit of the Poco F5 Pro. The unit provided was the white version with an impressive 12 GB of memory. Over the past weeks as the reviewer, I've had the opportunity to extensively test and utilize the phone as my primary mobile device.
The phone's exceptional performance, particularly its robust core capabilities that enhance gaming experiences, left a lasting impression. Additionally, the F5 Pro boasts a long-lasting battery, a captivating display, and stereo sound, delivering an immersive entertainment experience.
While there are certain compromises to consider, the overall value offered by the Poco F5 Pro will make it a compelling choice for budget-conscious consumers seeking high-performance capabilities.
Now, let's delve into my review of the Poco F5 Pro, exploring its features, performance, and overall user experience.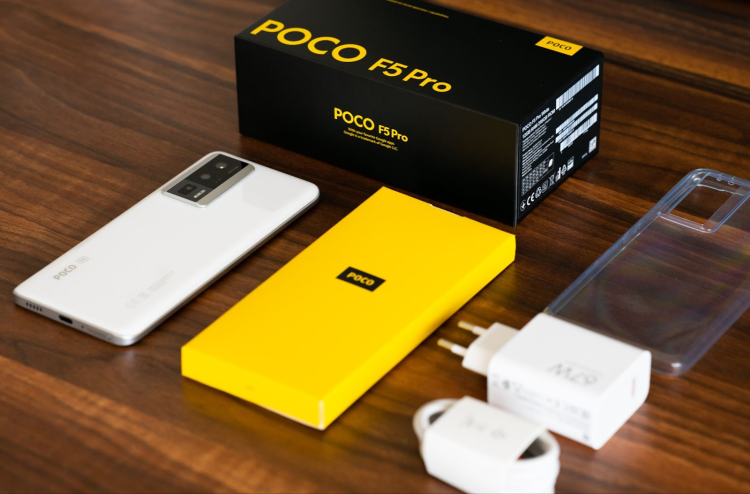 Poco F5 Pro and accessories. Image credit: PingWest.
TL; DR
Pros
Elegant back case
Swift and responsive OS
Quick Charging Ability
Well-managed heat control
Promising gaming experience
Attractive pricing
Cons
Underperformance of camera in low light conditions
Sluggish speed during installation of large apps
Blended but elegant look
The phone showcases a unique blend of design elements, resulting in a harmoniously consistent aesthetic. The white version boasts a lightweight and sophisticated appearance. The flat display seamlessly integrates with a plastic layer and a sleek silver frame.
This additional layer is uncommon in high-end phones, but Poco F5 Pro has carefully executed the details, making the junction point less conspicuous. The screen bezel seamlessly blends with a dark black hue.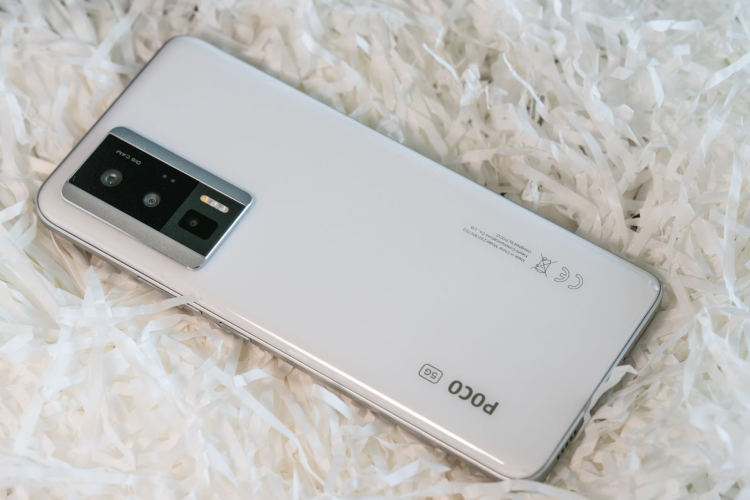 Poco F5 Pro back case. Image credit: PingWest.
Upon closer examination, the Poco F5 Pro reveals distinctive elements in its design. The frame and rear camera module showcase chamfered edges, complementing the smooth, dual-curved back case.
While these details may not conform to a consistency — flat and curved, rounded and chamfered, glass and plastic — they promote visual coherence and contribute to a satisfying tactile experience.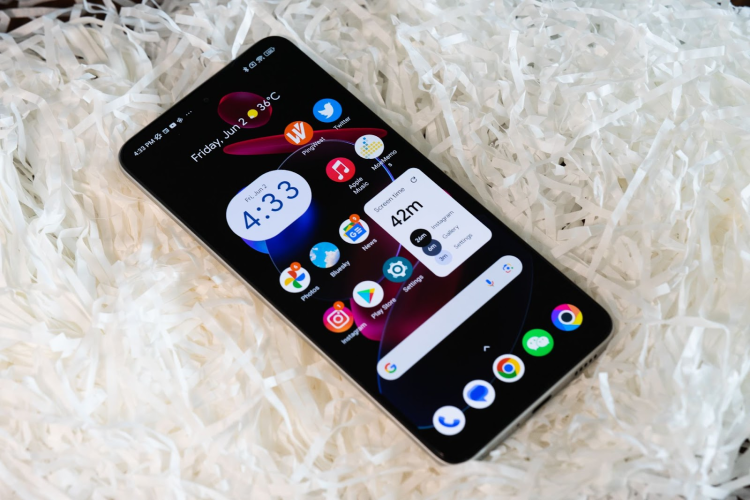 Poco F5 Pro front look. Image credit: PingWest.
I particularly appreciated the texture of the back case, which resembled a polished jade slice. The stunning appearance is accentuated under varying lighting conditions and effortlessly complements a range of clothing styles.
Unlike many glass-backed phones, the Poco F5 Pro is stain-resistant to unsightly fingerprints, ensuring a clean and pristine look.
Enhanced using experience with MIUI 14
Unlike its Chinese counterpart, the global version of Poco adopts MIUI, a user-friendly interface that is devoid of intrusive promotional pop-ups and notifications. The Poco F5 Pro runs smoothly and responsively on MIUI 14, offering a seamless user experience.
The launcher interface mirrors the simplicity of vanilla Android while incorporating additional features like an app vault and app categorization. Users can easily navigate through their apps using the alphabet-based search function, which highlights selected apps for improved readability. Additionally, a color filter option facilitates quick and convenient app searches.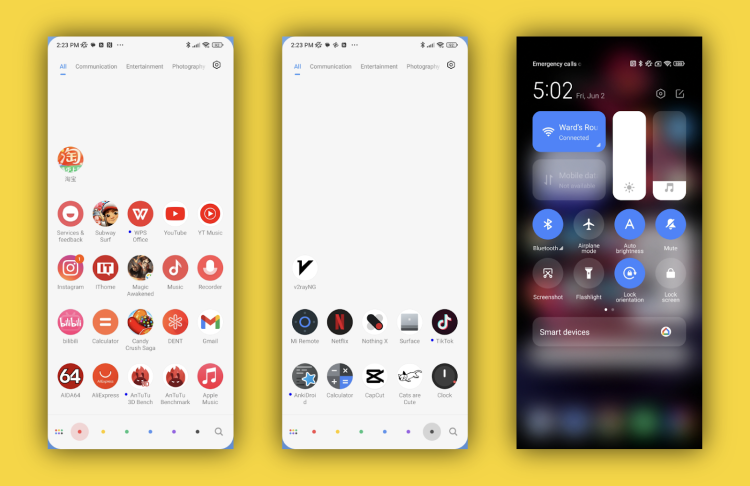 MIUI 14 screenshots. Image credit: PingWest.
Although the device does come with some pre-installed apps and games, the convenience is not lost as they can be easily uninstalled in batches. Surprisingly, some of these pre-installed apps are commonly used, thus saving the user time otherwise spent downloading from the Play Store.
The system demonstrates a robust background app management, effortlessly handling over 20 regular apps simultaneously. App launches are seamless and accompanied by smooth transition animations.
Moreover, the notification and control centers of the system feature an intuitive design, enhanced by a vibrant color scheme and well organized layout, ensuring user-friendly navigation.
High-Performance With Long Battery Life
The phone delivers an impressive performance with its Qualcomm Snapdragon 8 Plus Gen 1 processor and 12 GB of memory. This combination ensures a smooth and responsive gaming experience, handling popular titles with ease, including RPGs and elimination puzzles.
During gameplay, the phone maintains exceptional performance, promptly responding to taps and slides, even in games like Subway Surfers. It effortlessly handles demanding titles like Genshin Impact without noticeable frame drops, even at high default settings.
The phone's temperature remains within reasonable limits, avoiding excessive heat buildup during intense gaming sessions.
A standout feature of the phone is its long-lasting battery life, thanks to the 5,160 mAh battery. It easily accommodates heavy usage throughout the day, catering to users with extended screen time on social media apps and video platforms such as Bilibili and YouTube.
While not the fastest, the 67 W charging speed is commendable, charging the phone from 20% to 90% in just 46 minutes. Wireless charging is also supported at a slightly slower speed of 30 W, making it compatible with Xiaomi charging pads and providing a reliable charging experience.
Compromises Still Hit Bottom lines
Considering its price tag, the Poco F5 Pro does come with some compromises that have an impact on certain aspects. These compromises include subpar camera performance, weak haptic vibrations, and slower storage speeds in comparison to pricier flagship devices.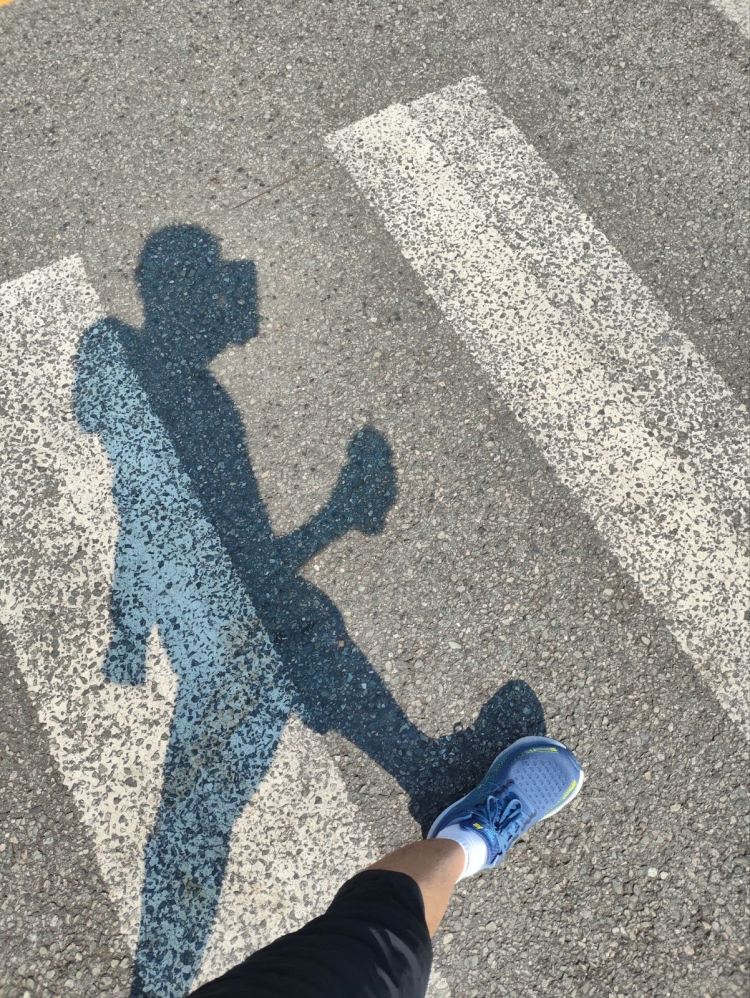 Poco F5 Pro camera sample. Image credit: PingWest.
The phone's camera can capture decent shots in most situations, with good quality and accurate color reproduction. It excels in well-lit environments. Effectively preserving fine details.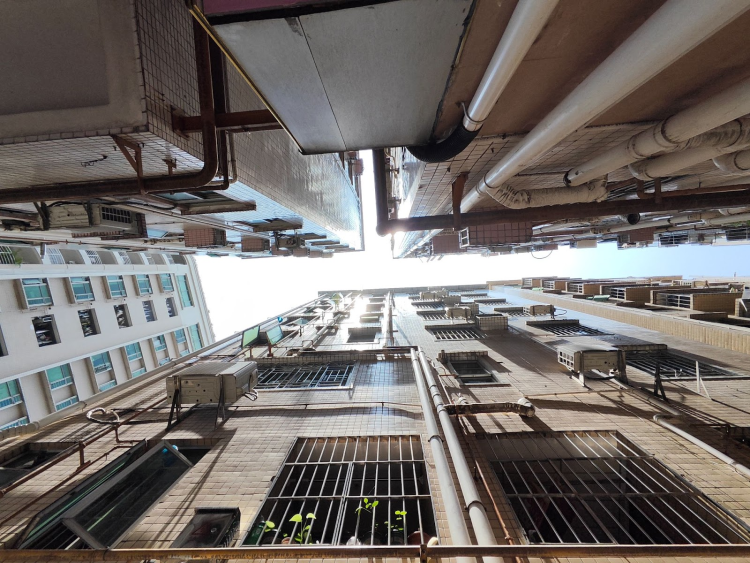 HDR ability of the camera. Image credit: PingWest.
The Poco F5 Pro's HDR feature is commendable, as it effectively captures rich details in both shadowed and highlighted areas. However, in cases of extremely strong light, the highlighted regions may appear slightly messy, likely due to the algorithm's preference for preserving shadows details.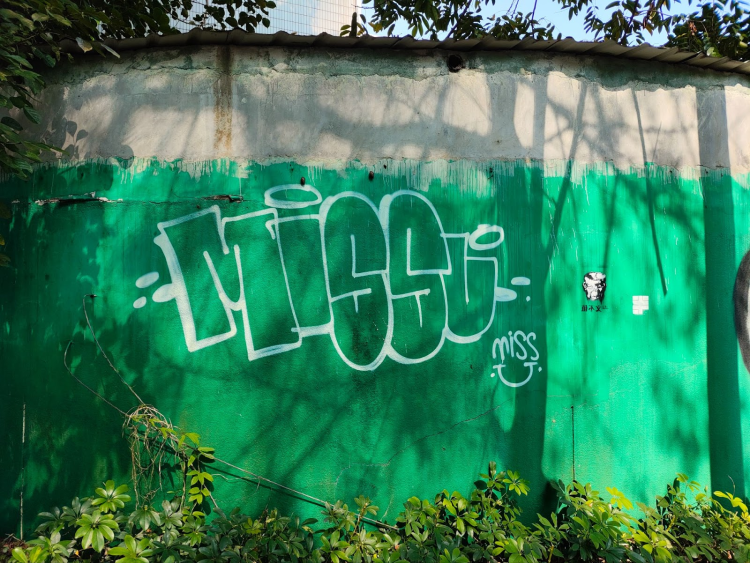 Brilliant color in some scenes. Image credit: PingWest.
In low-light conditions, the camera's performance is less stable, and the shutter speed can be slow, making it challenging to capture clear images of fast-moving objects like pets.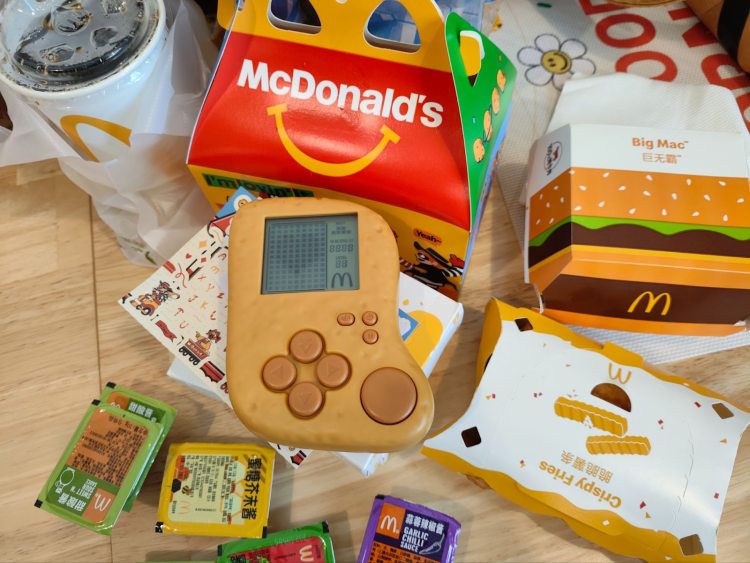 Poco F5 Pro camera sample. Image credit: PingWest.
For users who heavily rely on vibration for incoming calls and notifications, the weak haptic vibration of the phone may pose a problem, potentially leading to missed calls or messages.
Another issue observed is the slow installation speed for large apps, particularly those from third-party stores. This could be attributed to slow storage chips or suboptimal software optimization. Installing games larger than 1 GB can be a time-consuming process. It would be beneficial to address this issue through software improvements.
The phone's display is stunning, as mentioned previously. With a high resolution of 3200 x 1440 pixels and a peak brightness of 1,400 nits, it ensures clear visibility of content even when used outdoors in daylight.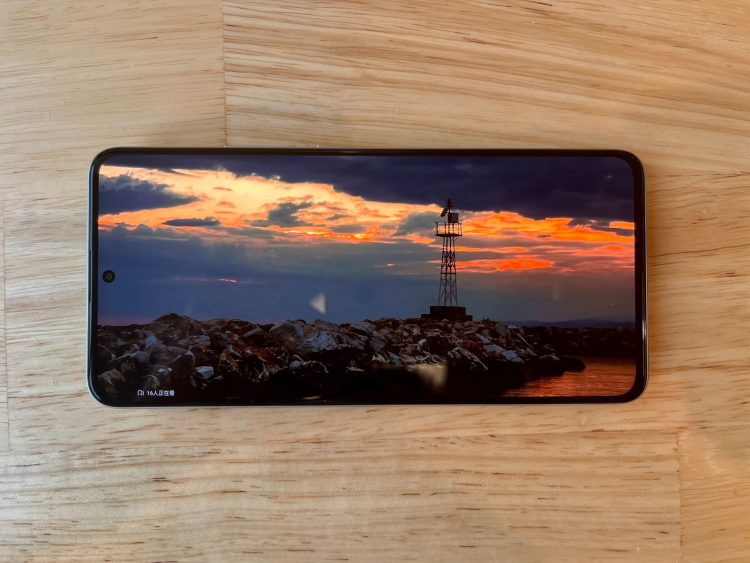 Poco F5 Pro playing HDR videos. Image credit: PingWest.
The display also supports a high refresh rate of up to 120 Hz, which delivers smooth and fluid visuals. However, the absence of LTPO technology means that the refresh rate is not adaptive at a delicated step, leading to potential battery inefficiencies. The available refresh rate options to switch are limited to 30 Hz, 60 Hz, and 120 Hz, and the phone may not always adjust to lower rates when not necessary. While the high refresh rate is impressive, a more optimized approach could enhance battery performance.
Conclusion
The Poco F5 Pro carves out a clear market position by offering promising core performance at a lower price. It is an appealing option available on the market for gamers, tech enthusiasts, and those who prioritize a great display for video consumption. Overall, my gaming experience with the phone was satisfying.
Additionally, MIUI 14 enhances the appeal of the device with its abundance of user-friendly features and designs, contributing to a greater user experience.
Poco spends its cost on these aspects, which means you have to endure some of its shortcomings, like a weaker haptic vibration.
Despite these limitations, the Poco F5 Pro delivers an enticing package within its price range. While it may not claim the title of a "perfect' smartphone, but for those who value functionality over frills, this phone is worth considering. Its solid performance, long battery life, and user-friendly software are its strongest selling points, making it a value-for-money choice for those in search of high-core performance on a budget.