Autopilot, an automated stock trading app powered by ChatGPT, is gaining traction within the Chinese-language community in the United States. (Please note that "Autopilot" in this context refers to the name of the app and should not be confused with Tesla's Autopilot feature.)
On May 23, Victor Yang shared on social media that his stock portfolio had risen 1.5% in a single day. By comparison, the Invesco QQQ ETF (QQQ), which tracks the Nasdaq-100 Index, experienced a decline of 1.27%, while the SPDR S&P 500 ETF (SPY), which tracks the S&P 500 Index, dropped by 1.12% on that same day.
Victor expressed his excitement by stating, "All transactions are done by ChatGPT, not me, and that's the coolest part."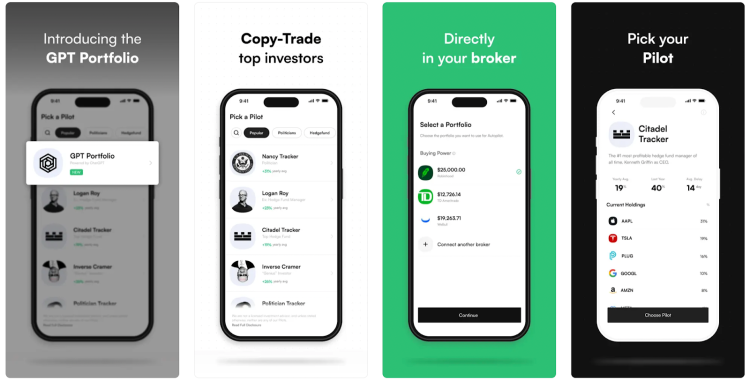 Yang's mention of Autopilot, an investment app that leverages ChatGPT for automated trading services, immediately sparked interest among his friends. They eagerly inquired about downloading the software, using it, and sought referrals.
"Some of my friends work in traditional industries, while others are employed by tech companies. However, they all appreciate ChatGPT's reasoning abilities and its potential to enhance productivity, which is why they are eager to try out this app," Yang shared. The 30-year-old man initially discovered Autopilot through Xiaohongshu, where he came across discussions about the GPT Portfolio service among multiple users.
Upon signing up for the app, users are greeted with a page displaying various services to choose from, with GPT Portfolio prominently featured at the top. "We are using ChatGPT to run advanced sentiment analysis on recent news articles in order to determine what stocks to pick," the company explained.
Once the GPT Portfolio service is plugged into your online brokerages, such as Robinhood, Webull, Fidelity, etc., it will automatically execute buying and selling activities. On a recent Tuesday, GPT Portfolio was observed to hold shares in 20 different companies, including notable names like AMD, Microsoft, Dollar Tree, P&G, and Starbucks.
According to the company's statement, GPT Portfolio selects these 20 stocks by analyzing a substantial amount of data, including 10,000 news articles and the top 100 financial statements. Trading activities take place at intervals of three to five days.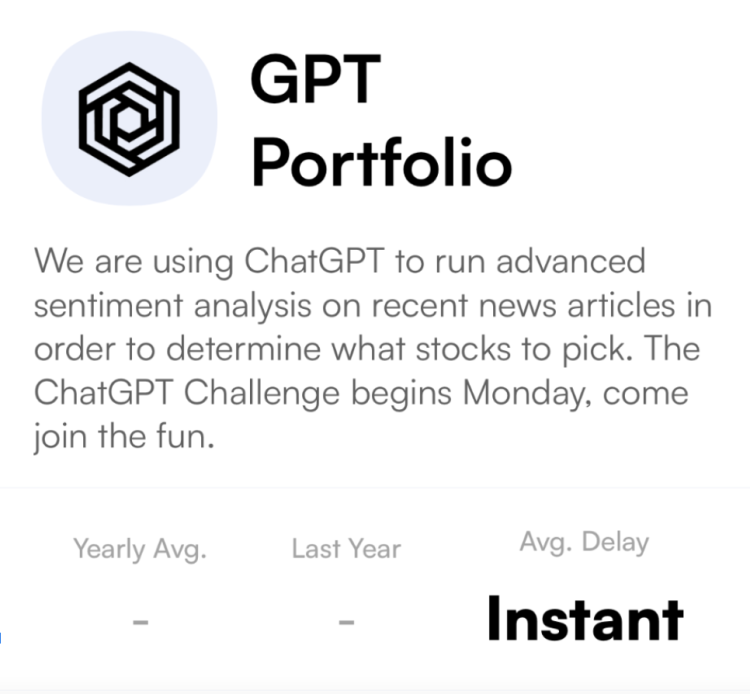 Autopilot, formerly known as Iris Finance, emerged in 2020, with its headquarters based in California. Initially, the company's focus revolved around enabling users to track the positions of prominent investors and providing automated trading services. Notable figures like House Speaker Nancy Pelosi, investment guru Warren Buffett, CNBC market commentator Jim Cramer, "The Big Short" protagonist Michael Burry, and the renowned hedge fund Citadel are all encompassed within Autopilot's scope.
For enhanced functionality, including future trading and unlimited pilots, the app offers a subscription service priced at $29.99 for a three-month period.
Drawing inspiration from a CNN article titled "ChatGPT can pick stocks better than your fund manager," Autopilot commenced the GPT Portfolio project on May 16 with a $50,000 investment, aiming to outperform hedge funds. Since then, it has allowed users to integrate automated GPT portfolio services into their brokerage accounts.
Citing an experiment from the financial comparison site Finder.com, the article showcased the impressive performance of a basket of stocks selected by ChatGPT. Between March 6 and April 28, the virtual portfolio consisting of 38 stocks gained an impressive 4.9%, in contrast to the average loss of 0.8% experienced by the top 10 investment funds in the UK.
Finder's analysts provided ChatGPT with criteria such as low debt levels and a history of growth when selecting stocks. Notable companies like Microsoft, Netflix, and Walmart were among the successful selections.
The momentum of Autopilot's GPT Portfolio is rapidly increasing. In just two days, by May 18, nearly 15,000 users had jumped on board, collectively contributing $8 million to the investment pool. As of May 30, the initiative has experienced even greater growth, with over 25,000 active investors participating alongside the project, resulting in total investment funds surpassing the $15 million mark.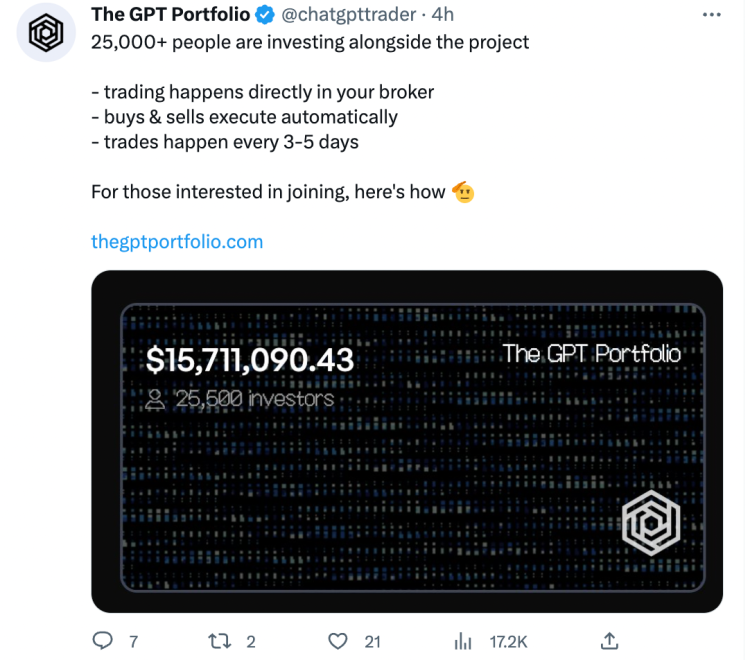 However, Autopilot doesn't consistently outperform the market or institutional investors. A tweet from the account @nextSignals revealed that Autopilot executed 20 transactions through the user's TD Ameritrade account on day one, resulting in a five-day return of 0.73%. In comparison, during the same period, SPY increased by 1.42% and QQ rose by 3.18%.
​​In addition to its inconsistent performance, Autopilot raises multiple concerns among users. Some individuals may question the security of logging into their trading account through Autopilot, as it is a third-party application and relatively new. If the app were to be hacked, there is a risk of personal information and brokerage funds being exposed to potential danger.
Concerns have been raised regarding high-frequency automated trading, as it may potentially result in "wash sales" and trigger corresponding tax penalties. Furthermore, there are concerns that "the standards of GPT Portfolio picking stocks are not transparent enough".
While trading with AI can offer valuable insights, it is crucial for individuals to exercise caution. Although the technology has the potential to provide helpful information, it can also generate inaccurate data, leading to poor investment decisions.
"Currently, my friends and I don't expect much profit from GPT Portfolio; we mainly do it for fun and testing. This may or may not be the future, but as you know, we Chinese are more open to new technology, so it's worth a shot," Yang said.
On Xiaohongshu, some users suggested that "just put in the minimum amount required for the app, which is $500, and see how far it can go, it will be fun."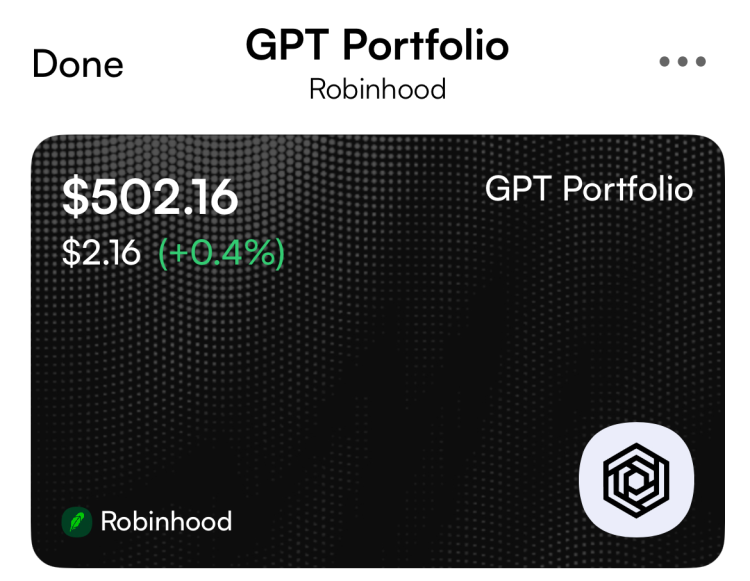 Recent developments in AI are poised to have a significant impact on trading, as revealed by a recent survey conducted by JPMorgan. More than half of institutional traders anticipate that AI and machine learning will play pivotal roles in the future. In line with this trend, the financial giant is reportedly working on IndexGPT, a software service similar to ChatGPT that aims to assist clients in selecting investments.
On May 25th, Autopilot's co-founder Chris Josephs, took to Twitter to announce a significant milestone for the company. Within just four months of its launch, Autopilot achieved a remarkable $1 million in annual recurring revenue (ARR) from subscriptions, facilitated over $100 million in transactions, and saw its assets under management (AUM) soar to over $31 million. However, Josephs did not specify how much of that ARR was attributable to the GPT Portfolio.