The most popular and successful phone maker in the entire African market is an obscure Chinese company called Transsion. However, not a good number of people know it is a Chinese phone company. It has seen booming growth over the last decade and has gradually expanded to India, Southeast Asia, the Middle East, and South America. And now, the successful company has applied for listing on the Science and Technology Innovation Board at the Shanghai Stock Exchange, bringing to light for the first time key data about its business.
Transsion's prospectus says the total revenue of Transsion Holdings in 2016, 2017, and 2018 were 11.64 billion RMB ($1.73 billion), 20.04 billion RMB ($2.98 billion), and 22.65 billion RMB ($3.37 billion), respectively. Mobile phone products represent over 96% of the total revenue.
King in Africa, Made in China
The prospectus for Transsion says that the company's market share in Africa was 48.71% in 2018, topping the African smartphone market according to the global market intelligence firm IDC. Additionally, Transsion's shipments were 124 million, ranking fourth globally.
Feature phones are the most popular class of phones in Africa. Total shipments in Africa in 2018 were 127.1 million, representing 59% of the total African market, with smartphones, at 88.2 million, representing the other 41%.
Transsion's market share comes from successes in both feature phones and smartphones.
IDC says that Transsion holds 58.7% of the feature phone market in Africa, beating out Nokia, while also holding 34.4% of the smartphone market in 2018, beating out Samsung and Huawei.
Transsion has three phone brands: Tecno, iTel, and Infinix. TECNO targets mid-range phones for the middle class at a slightly higher price than Samsung. ITel offers budget phones, while Infinix offers high-end phones which mainly target young people.

Transsion's Success
The philosophy "Think Globally, Act Locally," originally from China's largest phone vender Bird in the early 2000s, is what has guided Transsion's success as it duplicated Bird's tactics in Africa. In 2006, Zhu Zhaojiang left Bird and founded Transsion. He made a business strategy to appeal to customers with a lower price compared with competitors, followed by heavy spending on advertising. Zhu invested a lot in the product line, sales, and marketing, and created a sales network to promote sales in big cities as well as in rural areas. Bird's retail stores totaled in the tens of thousands, a strategy that allowed it to rank first for sales in China from 2000 to 2005 each year. The same seems to have worked for Transsion.
In November 2017, Transsion decided to push further in Africa as there was still no dominant phone maker and yet big potential growth. Arif Chowdhury, vice president of Transsion, said that "China and India boast a billion potential customers, and if we view Africa as a whole, it also boasts a billion potential customers." A study from RoyceFund shows that African phone penetration was only 6% in 2005, growing to 30% in 2008, lower than in China and India by 10%.
At the time, Chowdhury says, there was no clear rival to Nokia in the region.
Transsion, following Bird's approach, adopted a strategy of low price, localization, and marketing. More specifically, Transsion would continue to lower its price, and at the same time it worked hard to realize localization initiatives, including localizing its products, building sales networks, and offering warranty liabilities.
As for product localization, Transsion has been providing dual and even phones that could support four SIM cards because local people commonly juggle several SIM cards from different carriers to avoid expensive call charges.
Additionally, Transsion improved camera exposures calibrated to darker skin tones. Chowdhury said in an interview with Chinese internet giant Tencent that Transsion created a database through collecting a great number of photos of African people to learn how to improve portrait filters and processing, with results that arguably outstrip those of the iPhone.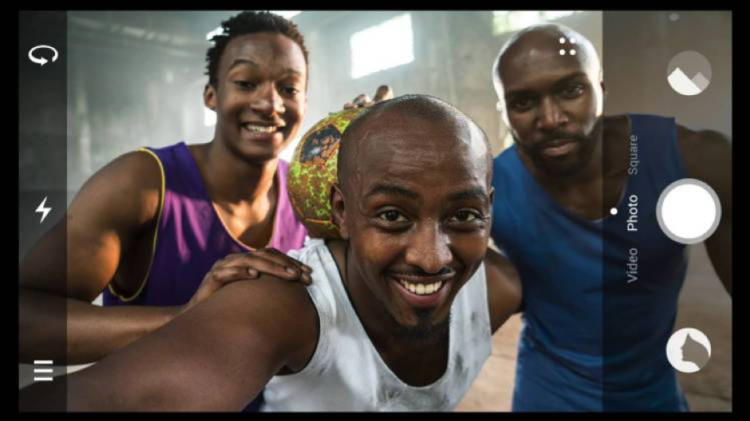 As for its sales network, Transsion chose to start selling products first in rural areas, which Nokia and Samsung had ignored. Transsion integrated private retailers into a whole sale network, which became more and more important as phones being calibrated for specific local carriers became less and less important due to slashes in subsidies.
What's noteworthy is that Transsion only accepts prepay for ordering phones from its for phone retailers, and only ships phones after payment is received.
As for warranty liability, Transsion did better than any other competitors in Africa, offering after-sales repair services that other phone makers don't. This service improves phone durability and brought positive feedback from African customers. Transsion was the first foreign phone company to build after-sales repair service network, South China reported.
Later, Transsion created an individual brand, Carlcare, for after-sales repair services. Besides offering repair services to its own brand's phones, Calcare also provides repair services for phones of other brands.
As for a marketing strategy, Transsion turned to outdoor advertisements. An article from East Africa Outlook described the scene in Kenya as Tecno ads running from Nairobi's airport all the way to the border with Rwanda.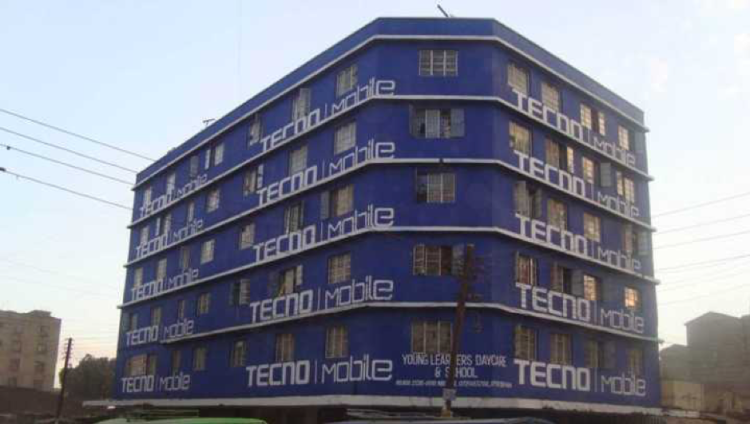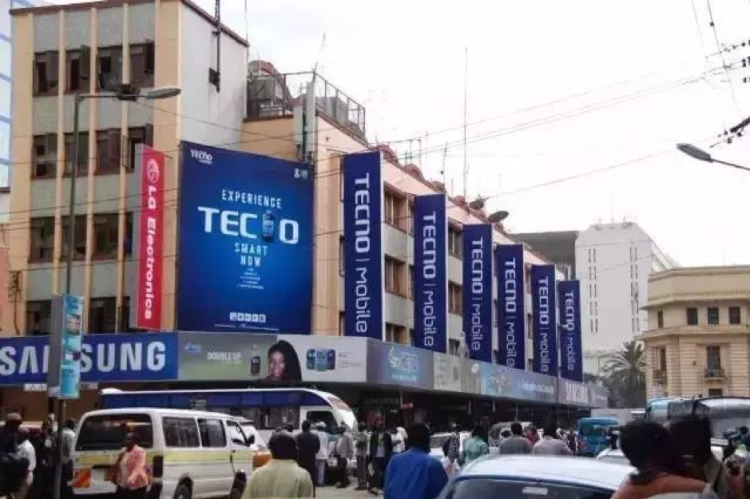 Besides mural advertising, Transsion also invited celebrities to endorse its products. For example, when an after-sales repair center opened in Nairobi, Transsion invited the then-mayor George Aladwa to attend, causing massive crowds on the roads.
Other advertising included partnerships with soccer club Manchester in November 2016 to advertise Transsion tablets and hardware in the next three game seasons.
Under the effect of low prices, localization, and strong marketing, Transsion's shipments of phones went up rapidly. Shipments in 2014 were 46 million, over 50 million in 2015, and 80 million in 2016.
Shipments in the first half 2017 were over 50 million, among which 11 million were smartphones, beating out Samsung to make Transsion the top smartphone maker in Africa. For 2017 and 2018, shipments were over 120 million each year, leading Transsion to become the top brand on the continent.
Transsion's Challenge: New Growth Points
Despite being "the king in Africa," Transsion is facing potential challenges from Chinese phone makers such as Xiaomi and Huawei. Xiaomi's low-price strategy will help it gain a substantial market share in Africa, as Xiaomi entered African market with the launch of a specialized African department. Huawei, another Chinese domestic phone maker giant, launched several low-price phones at a price range of $100–$200.
The average price of a Transsion phone is around $172.42. As Transsion is facing challenges from its competitors, raising prices is an option for revenue growth, but it would lose the company one of its main advantages.
Under such circumstances, Transsion has decided to expand in more markets as well as new products.
In 2016, Transsion announced a decision to enter the Indian market, where Huawei, Xiaomi, Oppo, Vivo and more Chinese phone makers had already entered and even built factories. Chowdhury said in 2017 in an interview with Jiemian that he felt it was urgent for Transsion to enter the Indian market, and if the company didn't do so as soon as possible, it would lose India completely.
As for product expansion, Transsion is doing the same as Xiaomi does: making ecosystem products. Transsion has launched its 3C brand Oraimo and household appliance brand Syinix.
The main products from Oraimo include smart refrigerators, smartwatches, portable power banks, and Bluetooth headphones that sell in Africa and over 30 countries and regions in Asia. Oraimo is one of the most popular 3C brand in Africa so far.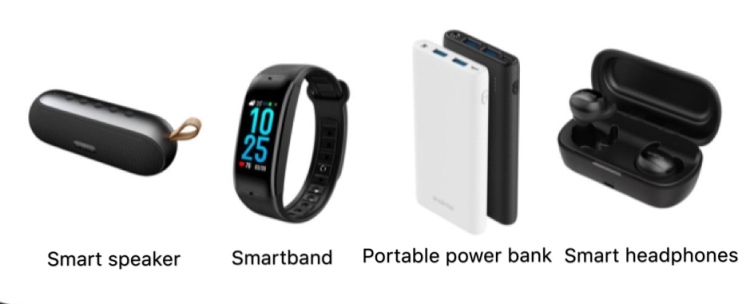 Syinix products include TVs, washing machines, fans, and air conditioners.
Besides hardware, Transsion also has developed a software system including HiOS, itelOS, and XOS, which see usage growth thanks to the increase of market share in phones. Additionally, app stores, game centers, and other apps working on these operating systems have been developing as well.
Transsion also partners with NetEase and many other Chinese internet companies in developing music, gaming, short video, and news aggregator apps, among which five apps have MAUs of over 10 million. For example, the monthly play volume of media streaming app Boomplay has hit 2 billion, contributed to by 43 million active users. Transsion's news aggregator app ranks in the top five in Nigeria, Kenya, Ghana, Egypt and other countries, while its Shor video app ranks in the top three in Nigeria, Kenya, Ethiopia, Ghana.
The essential challenge that Transsion is facing is the same as Apple and Google did ten years ago: a collision between smartphones and feature phones. In the wave of smartphones in Africa, does the "Bird strategy" still work?
What is certain is that Transsion is not being complacent about being the "king" in Africa, and is looking for listing on China's Sci-Tech Innovation Board at the Shanghai Stock Exchange to raise more funding as it faces challenges for new growth points.
(This article was written by Di Ou and translated and edited by Ran Yu)