The world has its eyes on Southeast Asia as an emerging market. The market, which consists of 11 nations and a total 682 million population, has a $30039.53 billion GDP. With the recent establishment of the RCEP free trade agreement, the SEA market has become highly appealing to China, its northern neighbor.
The owner of the popular short video app TikTok, ByteDance, was among the big techs that were unable to resist the allure of SEA. In February 2021, TikTok launched its e-commerce platform TikTok Shop in Indonesia. Thailand, Vietnam, Malaysia, and the Philippines followed in April 2022, and Singapore followed in June. The company expanded quickly. Like the western winter holidays, Indonesians shop most frequently during Ramadan. This year, TikTok Shop orders increased by 493%, and its GMV increased by 92%.
However, consumers in the UK, where TikTok launched its e-commerce operation late last year, seem to be less accepting. According to the most recent data from TikTok Shop, the average monthly GMV in Indonesia is $200 million, while it is only $24 million in the UK.
The stark contrast is surprising, given that the actual consumer spending per person in the UK was $21633 in 2020 and $2195 in Indonesia.
In the UK, TikTok has had no success with its e-commerce endeavors. Customers in the UK typically see TikTok as a social platform and are unfamiliar with livestream shopping. Some people might even find it irritating that a chance scroll could bring up a host of a livestream who is shouting at you.
Most customers did not fall for the tricks used by TikTok Shop despite its "best efforts" to establish itself in the UK, which included assigning employees heavy workloads, providing incentives and training programs for merchants, and luring customers with low prices.
"I would not consider shopping on TikTok because it just feels unreliable, "says an frequent Amazon user, who currently lives in London and even does his grocery shopping through Amazon Fresh.
The Amazon user who recently finished his internship and started working full time, was not tempted when he found out products on TikTok could be as cheap as 10 pounds for a jacket. "Something must be wrong if it's that cheap, and I'm not wasting 10 pounds to find out."
In Southeast Asian markets, the low-price strategy was a huge success. On the contrary, UK consumers tend to doubt the quality of the products because of the low price.
For instance, in Indonesia, a $3.594 whitening body lotion that sold 418700 bottles for a GMV of $1465250 in July was the month's top seller. With 15,700 pairs of a $23.537 wireless earbud sold in the UK, which amounted to a $85064 GMV, it was the best-selling product there.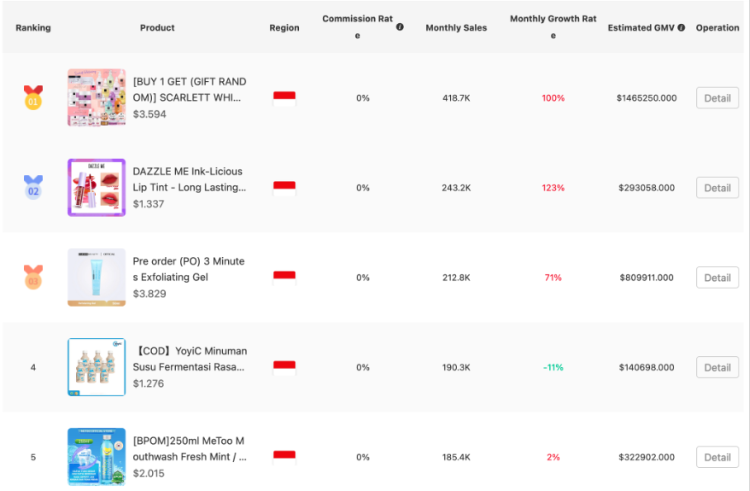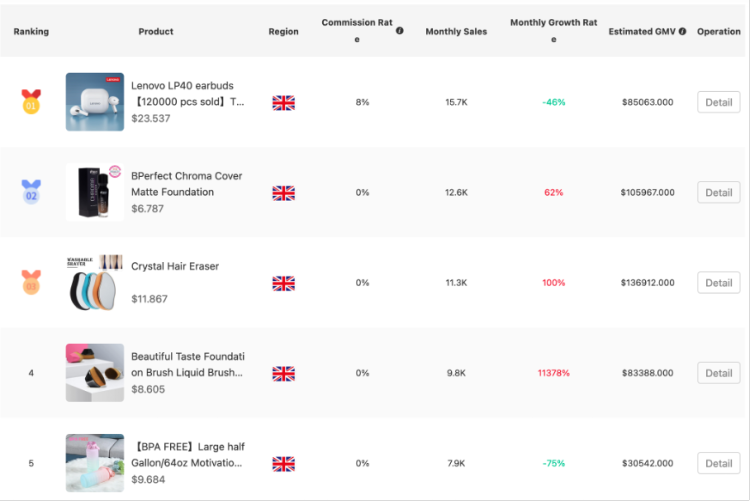 TikTok Shop's success in SEA is also driven by the region's famous COD(cash on delivery) payment mode. According to a cross-border seller who is considering quitting TikTok for Shopify, COD allows buyers in SEA to return products they don't like with zero hassles — they can just reject payment and return it upon receiving the packages. Consumers who are used to COD would not need to worry about impulsively making a purchase and wasting time to get a refund. Consequently, they are more accepting of new shopping platforms.
The cross-border seller claims that the COD method of payment is effective for merchants as well because sellers would account for the potential high return rate and adjust the price accordingly.
The cross-border seller, however, is avoiding TikTok Shop because she believes the price per order is too low for her company to expand. Only in Malaysia, where TikTok has been heavily incentivized, does her TikTok shop have some success. The seller claims that the business model is unsustainable and adds that while the combination of high incentives and low prices may be effective for generating sales it is undoubtedly ineffective for building brands.
Additionally, consumers in the SEA region are more mobile-adaptive overall. In contrast to western consumers, who rely on PCs and laptops for daily activities like bill payment, shopping, and entertainment, SEA consumers have skipped the PC era and entered the mobile internet era. The region's top online marketplaces, like Shopee and Lazada, were primarily established in the last ten years, making them considerably more recent than amazon, which is 28 years old. Users of SEA shopping platforms would consequently be less devoted to them.
The poor quality of the products, the lengthy return and refund process, and the slow logistics are all common complaints from UK customers of TikTok Shop. The logistical challenges and drawn-out return process are inevitable given that the majority of TikTok Shop's sellers are Chinese and ship their goods from China.
UK customers would find shopping on TikTok to be a downgrade from their previous experiences, as they are accustomed to the generally more reliable delivery and shopping experiences. The price-sensitive SEA consumers, who might be willing to sacrifice quality for low prices, might not notice a significant difference between shopping on TikTok and their typical online shopping experiences.
"Online shopping here(in SEA) is not as convenient as it might be in China or the U.S., " says an Airbnb owner who constantly travels in the region.
"I turn to online shopping mostly out of necessity, not out of convenience." The AirBnB owner explains that she shops online rarely and only searches for stuff that can not be found in local shops, as her packages often get lost in the delivery process.
In addition, online shopping can turn out to be scam, since credit cards are not that widely accepted in Indonesia, so sometimes buyers have to do bank transfers, which are less flexible and more challenging to reverse, says the Airbnb owner.
Despite her lack of trust in online shopping, she did not hesitate to try out TikTok Shop when it became available in her region. "Knowing that TikTok is a global company and has e-commerce experiences in China, I was hoping they could bring the sense of convenience here." She was pleased with her purchase — a pack of towels for $5.3.
According to a previous Financial Times report from July, TikTok Shop's expansion plans in Europe and the US had been temporarily put on hold. By the end of 2023, the company is reportedly planning to expand into more than 10 nations and reach a GMV of $470 billion. Finding a way to grow its e-commerce business in areas where consumers are less price-sensitive and hesitant to change their shopping habits may be the key to achieving those goals.
Photo by Solen Feyissa on Unsplash