When most people feel the education industry could hardly find a new way to make a living in China, where for-profit after-school tutoring is strictly prohibited, the bold and unprecedented move by edtech veteran New Oriental changed the situation.
On Friday, a video clip of New Oriental teacher Dong Yuhui selling steaks in English went viral on Chinese social media. By combining live shopping with English teaching, the company has found a walkaround to survive.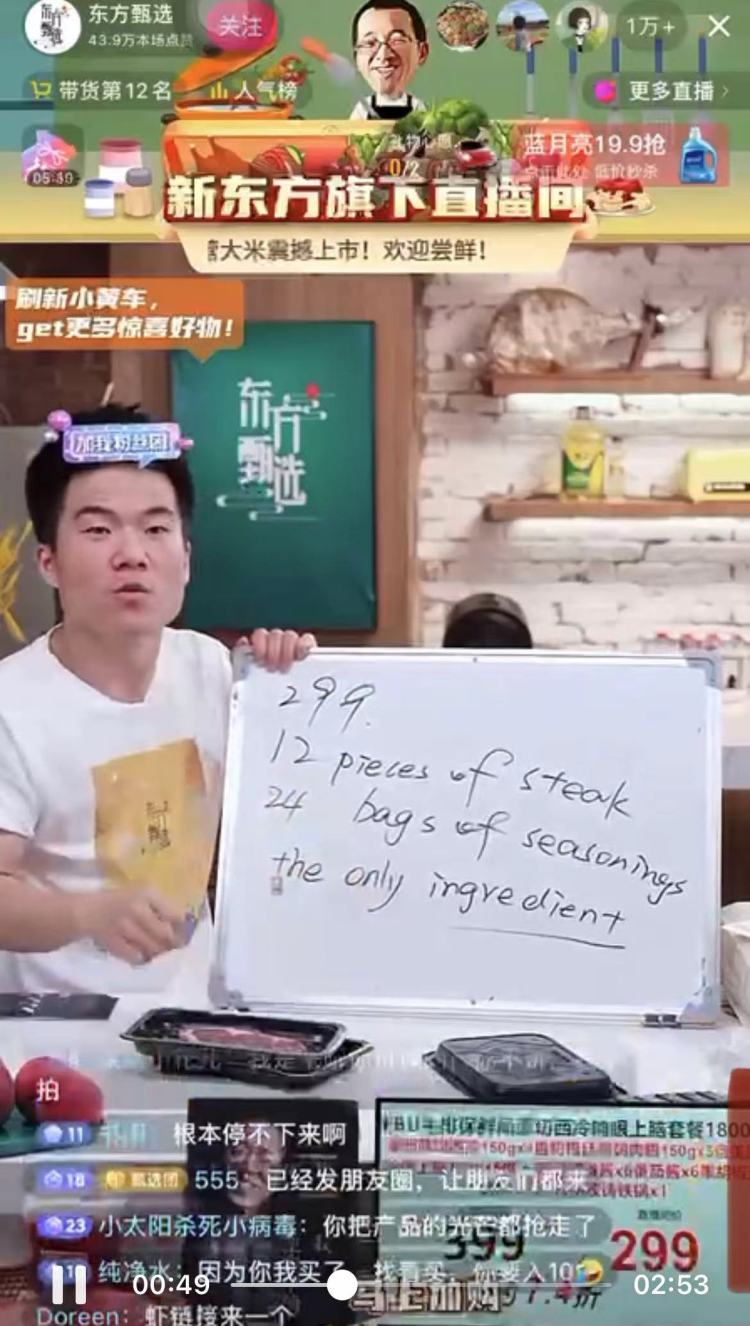 "12 steaks, 24 bags of seasoning, the only ingredient." During the live broadcast, Dong wrote on the whiteboard, explaining words and phrases in both Chinese and English. When selling fruit, Dong also explained the meaning of "you're the apple of my eye" to the viewers.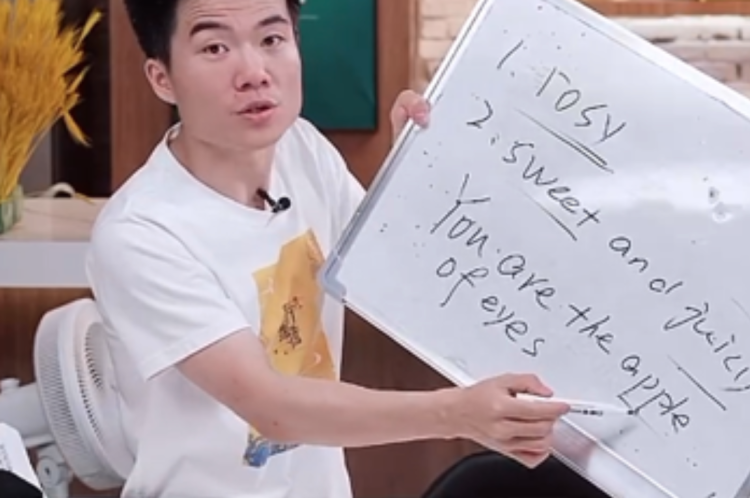 When the streamer started speaking Mandarin, one viewer commented, "If you don't speak English, I won't buy it." Seeing this, Dong immediately switched to English, saying, "I can speak English all the time, but remember to buy something."
In China, live e-commerce is common, but combining it with English teaching is something completely new. The unprecedented live shopping event earned Dong the nickname "The Steak Brothers," and when he sold steaks on Monday, more than 100,000 viewers tuned in.
The number of viewers in the live webcast topped 7.6 million from June 9th to June 10th, and the total sales volume in a single day also exceeded 15 million yuan. Boosted by the news, on June 13, New Oriental's Hong Kong-listed shares rose as much as 25% intraday.
Since last July, Beijing launched a series of crackdowns on after-school tutoring, including banning for-profit tutoring in subjects on the school curriculum, preventing edtech firms from raising capital through initial public offerings, etc.
The crackdown chilled the whole industry, forcing ed-tech companies to lay off staff and even go bankrupt. More than 60,000 workers at New Oriental have been let off and half of its 1,700 learning facilities have been shut down.
In the three months ending Feb. 28, the company's sales decreased 48 percent year over year, resulting in a loss of $122 million.
Then, Chinese economic headwinds and U.S. listed-Chinese companies delisting risks worsen the situation, pushing New Oriental to a 52-week low of about $1.4 billion in March 2022. This was a more than 95 percent drop from February of last year, when it was worth more than $30 billion. During the same period, the market value of another online education giant, TAL, plunged from $58.1 billion to around $1 billion.
To mitigate the severe damage to the company's core business, Yu Minhong, the company's founder and CEO, recommended starting the live e-commerce business and took the lead in hosting live shopping events. In last December, the company rolled out "Oriental Selection" (东方甄选) on Douyin, TikTok's sister app in China, and Yu himself became the first person to do live-streaming sales.
Dong used to be a renowned English teacher who spent eight years at the New Oriental Online School teaching high school students. When the firm restructured its operations last year, he joined the newly created streamer training unit, eventually becoming an e-commerce streamer.
As an old player in the education industry, New Oriental has cultivated and tapped many unique and talented teachers, and some of them have become influencers. For example, Luo Yonghao, a well-known English teacher who has worked for the edtech company for five years, owns more than 17 million followers on Douyin.
Interestingly, Luo recently declared that he was ceasing to engage in live e-commerce activities. After leaving New Oriental, he started a series of entrepreneurship, but eventually owed 600 million yuan in debt. In order to clear the debts, Luo began hosting live sales on Douyin in April, 2020, and set sales record on the platform at the time. According to media reports, after more than two years of doing live e-commerce, Luo's debt is suspected to be close to being paid off.
Although the live e-commerce business cannot make up for the collapse of the company's main business in a short period of time, its flexibility and agility in the face of the crisis have made people see more possibilities for its long-term growth.
According to Yu, New Oriental's live e-commerce campaigns will be utilized more to promote the company's educational-related products, including books, software, smart learning equipment, stationeries, and more.
Cover image by Libby Penner on Unsplash