On May 10, A-SOUL, the most popular virtual idol group in China with over 400,000 followers on Bilibili, China's de facto equivalent to YouTube, soared to the top of Weibo's trending list. A-SOUL fans were saddened by the group's sudden announcement of group member Carol's permanent departure.
Carol will enter "hibernation" and no longer host live streams on Bilibili starting this week, due to "health and education reasons," according to A-SOUL's public statement. The group's announcement on Bilibili notes that Carol's "live stream hibernation" does not mean she is quitting A-SOUL. The virtual idol would not be played by another human actor and her spot in the group will not be replaced by another character.
Since virtual idols are not entirely virtual and piloted by real humans, the statement is basically telling fans that Carol's actor will no longer be working for A-SOUL. Initially, although fans had been deeply saddened by the news, they nevertheless gave their blessings to her departure. However, this sadness quickly escalated into a widespread outrage as they learned more about the whole story.
Sansongxu, a NetEase Music user who had been identified by A-SOUL fans as Carol's human actor, published several ambiguous social media posts, alluding to workplace abuse. Turns out, Carol and other A-SOUL human actors have been forced to practice dance moves for long hours, suffering injuries caused by their motion capturing suits, and have been bullied by their management, according to Sansongxu.
Launched and managed by YueHua Entertainment and ByteDance, A-SOUL is a virtual idol group of five college girls of different personalities, each aspiring to become idols. The group first debuted in late 2020 and quickly became one of the most viral virtual idol groups in China. A-SOUL proved the commercial value of virtual idols by landing collaboration deals with big brands such as Keep, L'Oreal, and KFC. On November 2 last year, Carol hosted an online birthday party on Bilibili and raked in 2.14 million yuan from livestream tipping.
In China, the fan base of virtual idols or vTubers is largely composed of Erciyuan (which literally translates to '2D", or "two dimensional"), a group that is largely influenced by idealistic heroic storytelling often found in anime and manga contexts. Naturally, these fans were outraged by this abuse of A-SOUL actors, as they perceive the capitalistic management of A-SOUL to have tainted their spiritual wonderland. Fans went on a rampage, accusing YueHua and ByteDance of bringing the toxic 996 work culture into the virtual world.
As the situation rapidly evolves, A-SOUL released two follow-up statements on Bilibili on May 11, denying all allegations as well as claiming they are not yet able to offer actors high salaries according to what fans have demanded, since they haven't yet reached profitability standards. Fans, unconvinced and still infuriated, then swarmed into A-SOUL's livestream and left comments asking actors to leave the company.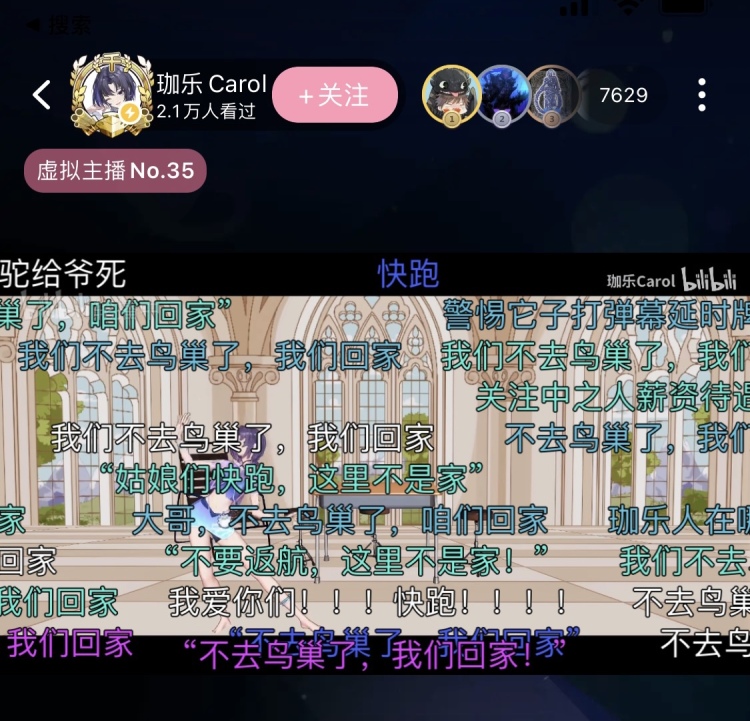 This incident has opened revelations to the A-SOUL managers a fact they had been precedently unaware of — the appeal of virtual idols primarily comes from the portrayal of human actors, and not the virtual appearance alone. (Or as the fans call it, 'soul' and 'skin'.) "Actors are everything, while the skins are just carriers. If the appeal was just the skin, why would we follow virtual idols, not anime characters," says A-SOUL fan and Weibo user @乐者不玉en.
A-SOUL fans 很难不乐 and 神秘少女 all seem to share a similar view, while 很难不乐 adds that "Virtual idols are like mech warriors, they are the most powerful only when the pilot and machine combine. While the virtual appearances determine the baseline(as in attracting initial followers), human actors determine the maximum potential(as in making fans further invest in the group)."
Fans of virtual idols now seem to be facing a dilemma. Previously, it was unanimously agreed in their circle that finding and exposing real human actors behind virtual idols should be forbidden. By doing so, fans wish to protect the privacy of human actors as well as their own experiences. Exposure of personal information about human actors will reveal a discrepancy between their lifestyles and the one they portray on screen. After the A-SOUL incident, fans are torn between protecting their idols' privacy or protecting their idol's best interests such as their health and wellbeing — what if other girl-group members are also falling victims to similar mistreatment?
A-SOUL managers might be able to learn a lesson from Kizuna AI, a Japanese virtual idol with over 3 million followers on YouTube and over 1.4 million followers on Bilibili. Kizuna "went into hibernation" in December last year. Many Kizuna fans suggest that Kizuna would not have lost her popularity if it weren't for "four Kizuna", a program launched in 2019, employing four human actors to play Kizuna. Fans had felt betrayed as they found out their idol was not one independent character, but rather one split and performed among four separate human actors.
If the human actors are the core of virtual idols, and they are deemed irreplaceable by fans, maybe virtual idols are not the scandal-free and never-tiring image of perfection people expect them to be. Virtual idol managements and companies might need to reconsider their approach and profitability models.
Cover image by Senad Palic on Unsplash