From the poetic cherry blossoms in Japan to the bustling busy crowds on Wall Street, or the ancient walls of the forbidden palace…… With short video apps, people can now travel around the globe without taking a single step out of the comfort of their own homes. In 2021, Kuaishou, the second-largest short-video app in China launched its panorama feature, enabling content creators to upload VR panorama videos that can be streamed on mobile devices.
Within a year, Kuaishou has added support for 4K resolution and accumulated over 6,000 VR panorama content creators, with over 50,000 VR shorts uploaded, and more than 100 million views per week. A variety of content has popped up, including jump-scare horror videos, virtual tours of popular locales around the world, workout instructions, and much more. Chinese National Geography, a magazine founded in 1950, has also opened an account on Kuaishou and has uploaded 142 panorama videos.
VR videos are nothing new to the Chinese audience, yet Kuaishou still brings a sense of novelty as it is the first short video app to support them. Major players like iQiyi, a Netflix-like video streaming platform, and Bilibili, an ACG-themed (Anime, Cartoons & Games) video platform, have also long supported VR videos. For one, iQiyi embarked on its VR journey as early as 2016 and has even made its own VR app and VR headsets — Qiyu VR.
Liu Yang, an 8 years veteran of the VR industry, and founder of Zhongji Technology is now a VR panorama video creator on Kuaishou. "Kuaishou's VR panorama function is exactly the opportunity that we've all been waiting for," said Liu. Ever since 2014, VR enthusiasts have been trying to develop ways of applying VR that can transform cutting-edge technology into something that can be enjoyed by the public. VR arcades were popular once but are not an easily profitable business as they require high rent costs and training of employees to operate the often complex and expensive equipment. They have also taken a hit since the pandemic.
Compared to other VR formats, VR panorama shorts are easy to make, especially with Kuaishou's support. Kuaishou has recently added a pay-per-view function to its VR panorama videos. Creators such as Zhongji Metaverse, MetaDreamer, and VeeR VR, a global VR content platform, have uploaded paid content with free trailers, available for purchase, averaging around 20-50 Kuai Coins (platform currency) or 2-7 yuan. The move was aimed at incentivizing existing content creators and encouraging more creators to join. Kuaishou also helps promote the content. When a creator publishes their first paid VR video, they get a "100,000 traffic(views) voucher", with an additional 50,000 traffic voucher for every new upload thereafter.
Waiting for a blockbuster
However, even with Kuaishou's aid, VR panorama videos have yet been able to gain significant momentum. One of the most viewed VR panorama videos on Kuaishou, published by @vrshow888, gained over 18.66 million views, but only 242,000 likes. The like/view ratio is roughly 1.3%. As for the paid videos, some of the top-selling ones would only have under 200 purchases. The videos have captured attention, but have no actual interest.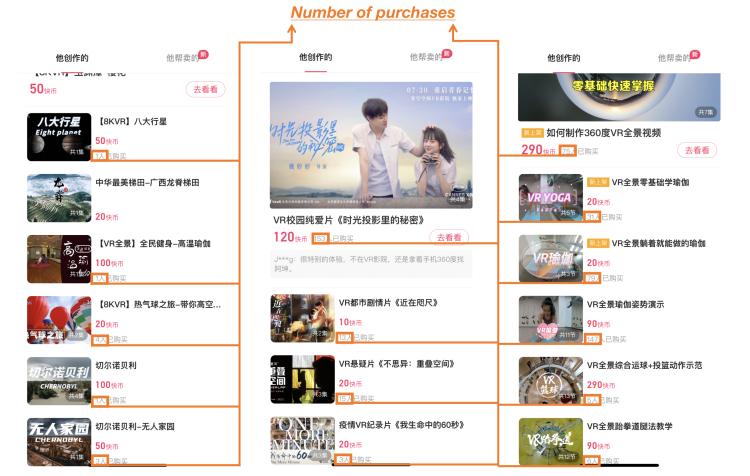 As Liu puts it, "current VR creators on Kuaishou are not the right creators." More often than not, it's VR enthusiasts or VR developers like Liu who are publishing in this format. The main appeal of their content is the wow factor, not the content itself. In order for the videos to truly gain momentum, there need to be content creators who can combine storytelling techniques with VR to create truly original & engaging content. "Travel bloggers who can immerse viewers, food bloggers who can demonstrate cooking techniques in multiple angles, educators that bring their classrooms to life… are some of the possible redemptions for this format."
Compared to regular videos, VR panorama videos are much more complicated to produce and VR equipment is also more expensive. Content creators are hesitant to explore this new filming technology as there appears to be no solid case for profitability. Liu's Kuaishou account currently has 1.18 million followers, which, albeit high amongst VR content creators, dwarfs in comparison to Kuaishou's top accounts. VR panorama videos need a phenomenal breakthrough to set an example, "something like Liuyexi," says Liu.
Liuyexi, a virtual demon catcher/makeup artist, has singlehandedly made virtual humans viral on Douyin (Chinese TikTok), accumulating over 1.3 million followers in a day with one post. Prior to Liuyexi, popular virtual humans are often seen on Xiaohongshu, an Instagram-like picture and video sharing app, as photos of virtual humans, are easier to make than videos. Chuangyi Technology, the creator of Liuyexi, had four years of short video content-making experience prior to launching Liuyexi. According to an AlphaSeeker report, the production costs roughly amount to 2 to 3 grams of gold per second, as there are over 100 people on their team.
VR short video-making needs someone like Liuyexi, or more specifically, someone like Chuangyi Technology, who is not only capable of combining storytelling with technology but also able to invest heavily into producing substantial content.
VR videos vs. VR shorts
In addition to lacking a blockbuster, VR panorama shorts videos face another challenge - the 'short'-ness. By nature, VR panorama videos' strong suit is providing an immersive experience, which might not grab users' attention at first, but will let users sink in overtime. Therefore, longer videos might offer a better immersive viewing experience than short ones.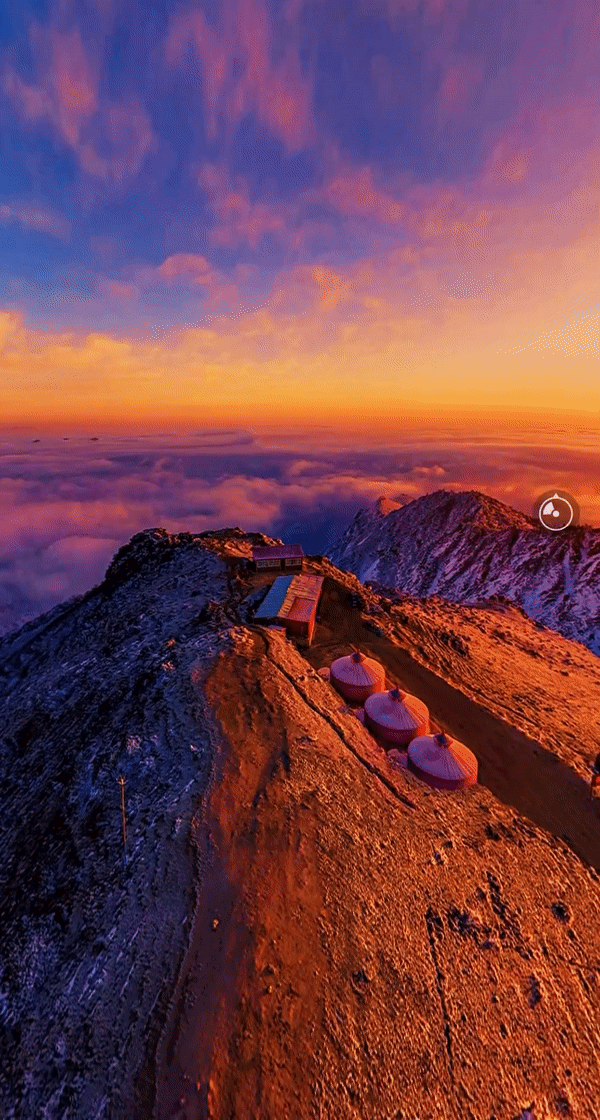 For the past decade, short video-sharing platforms have taken the world by storm, using algorithms to feed users with unlimited bite-sized content, anytime anywhere. The so-called attention economy has allowed platforms to profit by training their users to keep scrolling and be constantly excited for the next video.
A report published by China Netcasting Services Association suggests that as of June 2020, 110 minutes of short videos were streamed per capita per day, surpassing instant messaging apps in terms of length of use. In the net-casting industry, short video platforms have the highest market share of 130.24 billion, up 178.8% year over year. As a result, users who are used to short videos want faster, more exciting content, as they grow impatient with videos that can't grab their attention instantly.
Many studies have pointed out how social media, along with shorter entertainment formats, have impacted people's attention spans. A study published in 2019 suggests that "producing and consuming more content results in shortening of attention spans for individual topics and higher turnover rates between popular cultural items." The study also found that the duration of trends and hashtags has decreased dramatically — in 2013, a hashtag can stay in the top 50 for an average of 17.5 hours. That numbered has decreased to 11.9 hours in 2016.
Hence a question arises — do VR videos stand a chance on short video platforms as people grow accustomed to short videos and with their ever-decreasing attention spans?
Despite the challenges, in Liu's opinion, short videos are one of the best applications of VR panorama technology. Shorter panorama videos are more easily accepted by viewers, since "no one wants to keep turning their heads for an hour, they'd be exhausted," said Liu.
Furthermore, short video app users are getting tired of videos that are too short, as these videos consume people's time but do not offer enough content to provide a satisfying viewing experience. In comparison, a VR panorama short video can provide much more information in the same amount of time. Maybe there is potential for a turnaround after all.
Photo by Sara Kurig on Unsplash